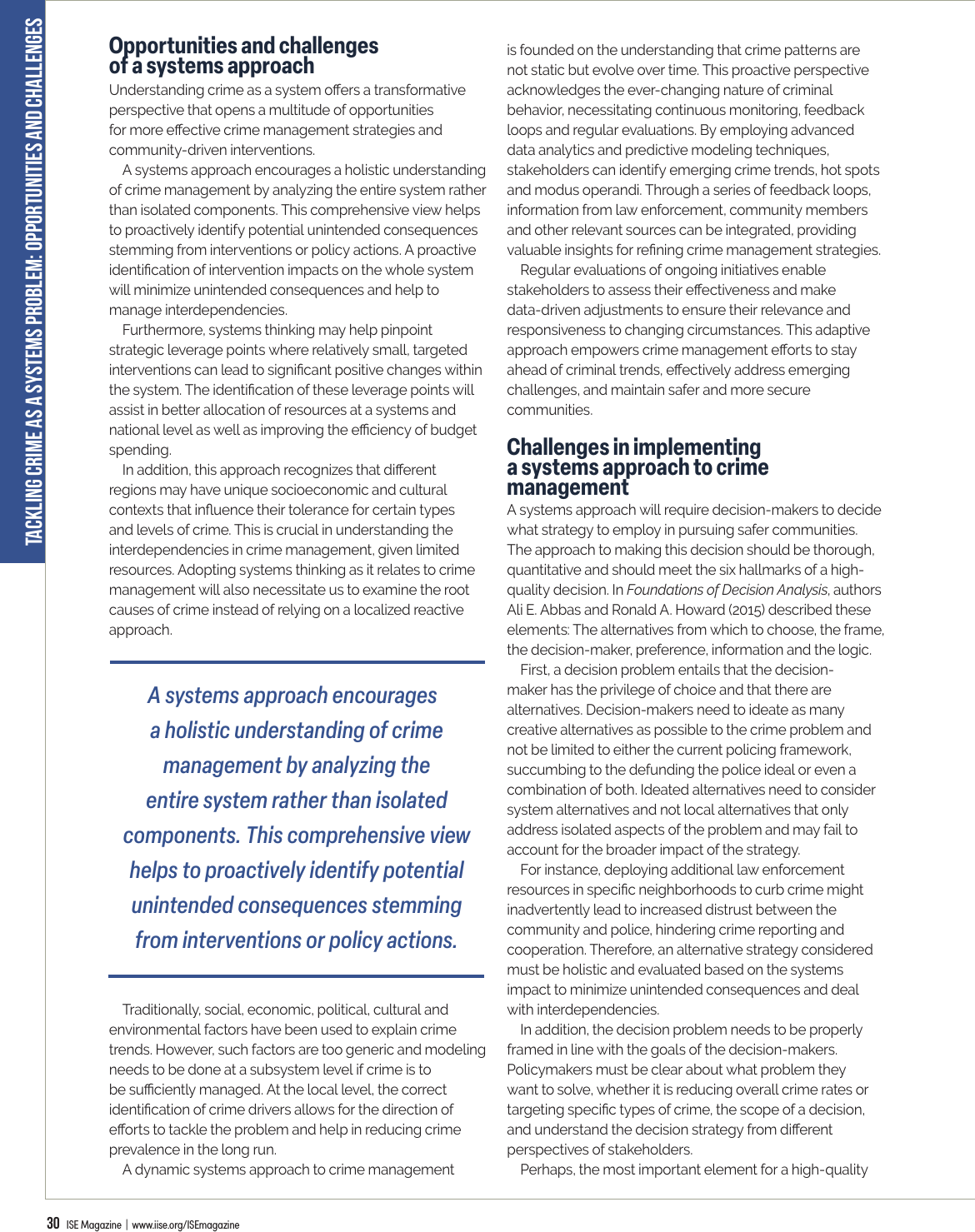 30
ISE Magazine | www.iise.org/ISEmagazine
Tackling crime as a systems problem: Opportunities and challenges
Opportunities and challenges
of a systems approach
Understanding crime as a system oers a transformative
perspective that opens a multitude of opportunities
for more eective crime management strategies and
community-driven interventions.
A systems approach encourages a holistic understanding
of crime management by analyzing the entire system rather
than isolated components. This comprehensive view helps
to proactively identify potential unintended consequences
stemming from interventions or policy actions. A proactive
identication of intervention impacts on the whole system
will minimize unintended consequences and help to
manage interdependencies.
Furthermore, systems thinking may help pinpoint
strategic leverage points where relatively small, targeted
interventions can lead to signicant positive changes within
the system. The identication of these leverage points will
assist in better allocation of resources at a systems and
national level as well as improving the eciency of budget
spending.
In addition, this approach recognizes that dierent
regions may have unique socioeconomic and cultural
contexts that inuence their tolerance for certain types
and levels of crime. This is crucial in understanding the
interdependencies in crime management, given limited
resources. Adopting systems thinking as it relates to crime
management will also necessitate us to examine the root
causes of crime instead of relying on a localized reactive
approach.
Traditionally, social, economic, political, cultural and
environmental factors have been used to explain crime
trends. However, such factors are too generic and modeling
needs to be done at a subsystem level if crime is to
be suciently managed. At the local level, the correct
identication of crime drivers allows for the direction of
eorts to tackle the problem and help in reducing crime
prevalence in the long run.
A dynamic systems approach to crime management
is founded on the understanding that crime patterns are
not static but evolve over time. This proactive perspective
acknowledges the ever-changing nature of criminal
behavior, necessitating continuous monitoring, feedback
loops and regular evaluations. By employing advanced
data analytics and predictive modeling techniques,
stakeholders can identify emerging crime trends, hot spots
and modus operandi. Through a series of feedback loops,
information from law enforcement, community members
and other relevant sources can be integrated, providing
valuable insights for rening crime management strategies.
Regular evaluations of ongoing initiatives enable
stakeholders to assess their eectiveness and make
data-driven adjustments to ensure their relevance and
responsiveness to changing circumstances. This adaptive
approach empowers crime management eorts to stay
ahead of criminal trends, eectively address emerging
challenges, and maintain safer and more secure
communities.
Challenges in implementing
a systems approach to crime
management
A systems approach will require decision-makers to decide
what strategy to employ in pursuing safer communities.
The approach to making this decision should be thorough,
quantitative and should meet the six hallmarks of a high-
quality decision. In
Foundations of Decision Analysis

, authors
Ali E. Abbas and Ronald A. Howard (2015) described these
elements: The alternatives from which to choose, the frame,
the decision-maker, preference, information and the logic.
First, a decision problem entails that the decision-
maker has the privilege of choice and that there are
alternatives. Decision-makers need to ideate as many
creative alternatives as possible to the crime problem and
not be limited to either the current policing framework,
succumbing to the defunding the police ideal or even a
combination of both. Ideated alternatives need to consider
system alternatives and not local alternatives that only
address isolated aspects of the problem and may fail to
account for the broader impact of the strategy.
For instance, deploying additional law enforcement
resources in specic neighborhoods to curb crime might
inadvertently lead to increased distrust between the
community and police, hindering crime reporting and
cooperation. Therefore, an alternative strategy considered
must be holistic and evaluated based on the systems
impact to minimize unintended consequences and deal
with interdependencies.
In addition, the decision problem needs to be properly
framed in line with the goals of the decision-makers.
Policymakers must be clear about what problem they
want to solve, whether it is reducing overall crime rates or
targeting specic types of crime, the scope of a decision,
and understand the decision strategy from dierent
perspectives of stakeholders.
Perhaps, the most important element for a high-quality
A systems approach encourages
a holistic understanding of crime
management by analyzing the
entire system rather than isolated
components. This comprehensive view
helps to proactively identify potential
unintended consequences stemming
from interventions or policy actions.