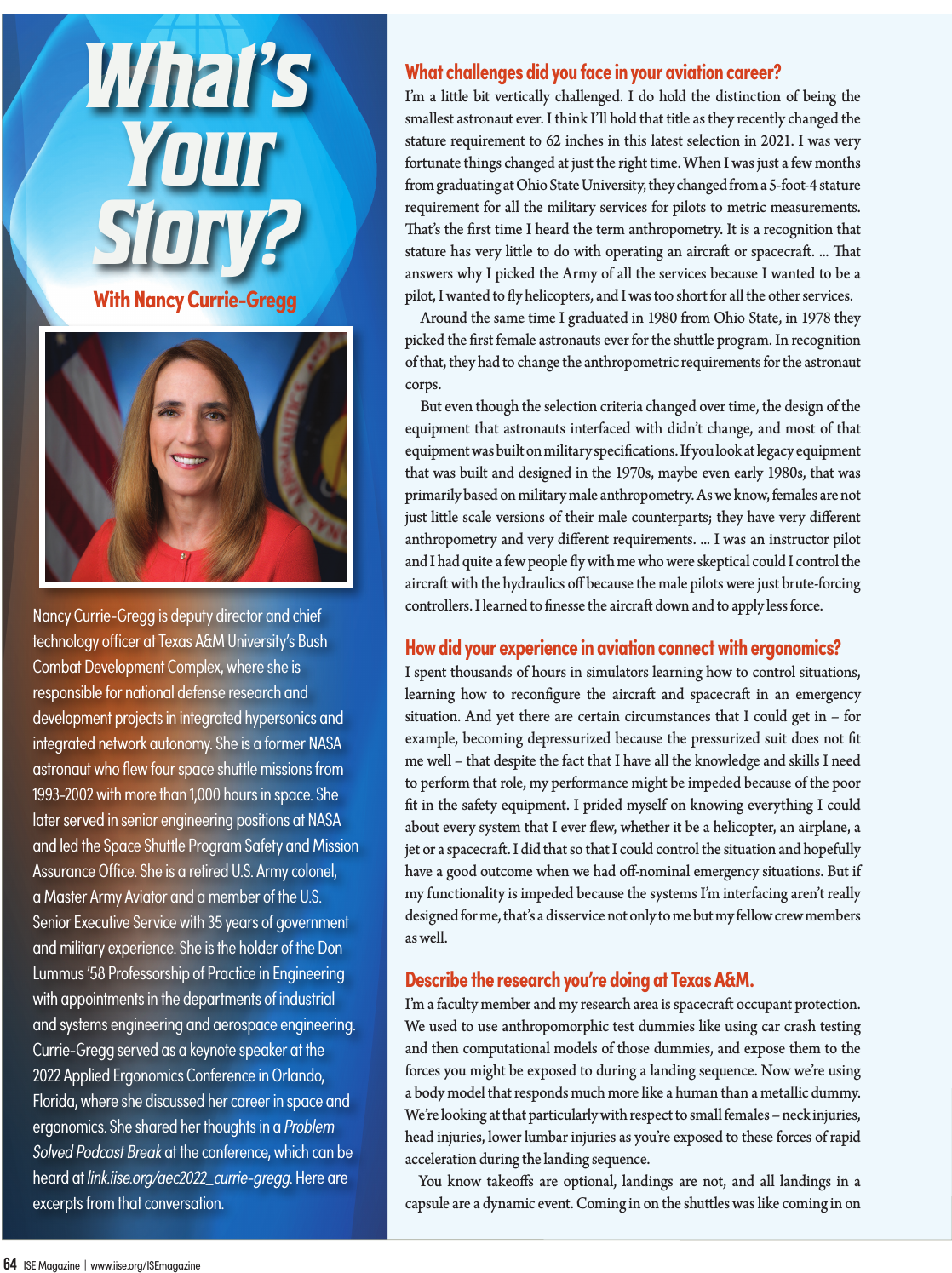 64
ISE Magazine | www.iise.org/ISEmagazine
What challenges did you face in your aviation career?
I'm a lile bit vertically challenged. I do hold the distinction of being the
smallest astronaut ever. I think I'll hold that title as they recently changed the
stature requirement to 62 inches in this latest selection in 2021. I was very
fortunate things changed at just the right time. When I was just a few months
from graduating at Ohio State University, they changed from a 5-foot-4 stature
requirement for all the military services for pilots to metric measurements.
at's the rst time I heard the term anthropometry. It is a recognition that
stature has very lile to do with operating an aircra or spacecra. ... at
answers why I picked the Army of all the services because I wanted to be a
pilot, I wanted to y helicopters, and I was too short for all the other services.
Around the same time I graduated in 1980 from Ohio State, in 1978 they
picked the rst female astronauts ever for the shule program. In recognition
of that, they had to change the anthropometric requirements for the astronaut
corps.
But even though the selection criteria changed over time, the design of the
equipment that astronauts interfaced with didn't change, and most of that
equipment was built on military specications. If you look at legacy equipment
that was built and designed in the 1970s, maybe even early 1980s, that was
primarily based on military male anthropometry. As we know, females are not
just lile scale versions of their male counterparts; they have very dierent
anthropometry and very dierent requirements. ... I was an instructor pilot
and I had quite a few people y with me who were skeptical could I control the
aircra with the hydraulics o because the male pilots were just brute-forcing
controllers. I learned to nesse the aircra down and to apply less force.
How did your experience in aviation connect with ergonomics?
I spent thousands of hours in simulators learning how to control situations,
learning how to recongure the aircra and spacecra in an emergency
situation. And yet there are certain circumstances that I could get in – for
example, becoming depressurized because the pressurized suit does not t
me well – that despite the fact that I have all the knowledge and skills I need
to perform that role, my performance might be impeded because of the poor
t in the safety equipment. I prided myself on knowing everything I could
about every system that I ever ew, whether it be a helicopter, an airplane, a
jet or a spacecra. I did that so that I could control the situation and hopefully
have a good outcome when we had o-nominal emergency situations. But if
my functionality is impeded because the systems I'm interfacing aren't really
designed for me, that's a disservice not only to me but my fellow crew members
as well.
Describe the research you're doing at Texas A&M.
I'm a faculty member and my research area is spacecra occupant protection.
We used to use anthropomorphic test dummies like using car crash testing
and then computational models of those dummies, and expose them to the
forces you might be exposed to during a landing sequence. Now we're using
a body model that responds much more like a human than a metallic dummy.
We're looking at that particularly with respect to small females – neck injuries,
head injuries, lower lumbar injuries as you're exposed to these forces of rapid
acceleration during the landing sequence.
You know takeos are optional, landings are not, and all landings in a
capsule are a dynamic event. Coming in on the shules was like coming in on
With Nancy Currie-Gregg
Nancy Currie-Gregg is deputy director and chief
technology ocer at Texas A&M University's Bush
Combat Development Complex, where she is
responsible for national defense research and
development projects in integrated hypersonics and
integrated network autonomy. She is a former NASA
astronaut who flew four space shuttle missions from
1993-2002 with more than 1,000 hours in space. She
later served in senior engineering positions at NASA
and led the Space Shuttle Program Safety and Mission
Assurance Oce. She is a retired U.S. Army colonel,
a Master Army Aviator and a member of the U.S.
Senior Executive Service with 35 years of government
and military experience. She is the holder of the Don
Lummus '58 Professorship of Practice in Engineering
with appointments in the departments of industrial
and systems engineering and aerospace engineering.
Currie-Gregg served as a keynote speaker at the
2022 Applied Ergonomics Conference in Orlando,
Florida, where she discussed her career in space and
ergonomics. She shared her thoughts in a
Problem
Solved Podcast Break
at the conference, which can be
heard at
link.iise.org/aec2022_currie-gregg

. Here are
excerpts from that conversation.
Story?