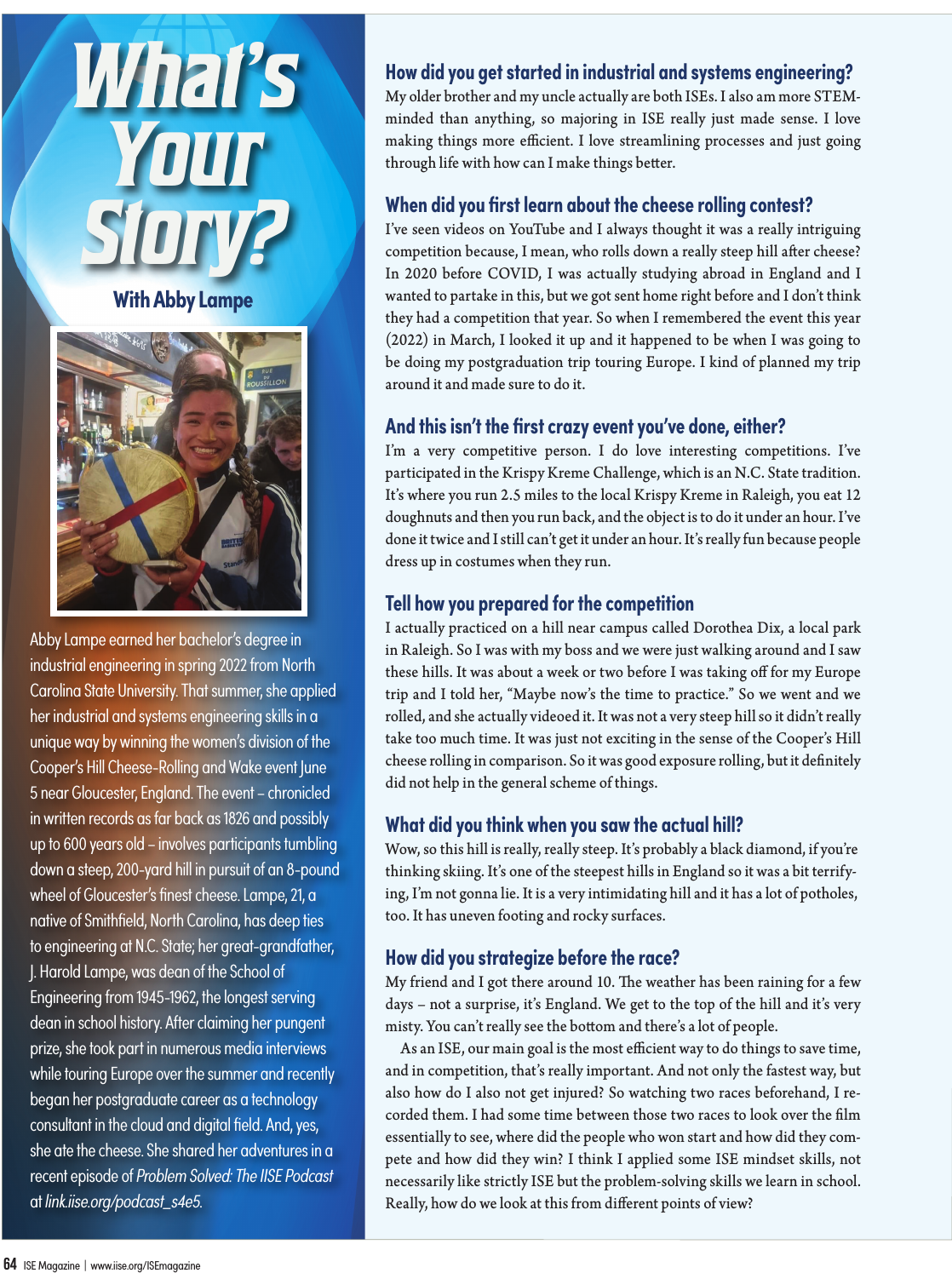 64
ISE Magazine | www.iise.org/ISEmagazine
How did you get started in industrial and systems engineering?
My older brother and my uncle actually are both ISEs. I also am more STEM-
minded than anything, so majoring in ISE really just made sense. I love
making things more ecient. I love streamlining processes and just going
through life with how can I make things beer.
When did you first learn about the cheese rolling contest?
I've seen videos on YouTube and I always thought it was a really intriguing
competition because, I mean, who rolls down a really steep hill aer cheese?
In 2020 before COVID, I was actually studying abroad in England and I
wanted to partake in this, but we got sent home right before and I don't think
they had a competition that year. So when I remembered the event this year
(2022) in March, I looked it up and it happened to be when I was going to
be doing my postgraduation trip touring Europe. I kind of planned my trip
around it and made sure to do it.
And this isn't the first crazy event you've done, either?
I'm a very competitive person. I do love interesting competitions. I've
participated in the Krispy Kreme Challenge, which is an N.C. State tradition.
It's where you run 2.5 miles to the local Krispy Kreme in Raleigh, you eat 12
doughnuts and then you run back, and the object is to do it under an hour. I've
done it twice and I still can't get it under an hour. It's really fun because people
dress up in costumes when they run.
Tell how you prepared for the competition
I actually practiced on a hill near campus called Dorothea Dix, a local park
in Raleigh. So I was with my boss and we were just walking around and I saw
these hills. It was about a week or two before I was taking o for my Europe
trip and I told her, "Maybe now's the time to practice." So we went and we
rolled, and she actually videoed it. It was not a very steep hill so it didn't really
take too much time. It was just not exciting in the sense of the Cooper's Hill
cheese rolling in comparison. So it was good exposure rolling, but it denitely
did not help in the general scheme of things.
What did you think when you saw the actual hill?
Wow, so this hill is really, really steep. It's probably a black diamond, if you're
thinking skiing. It's one of the steepest hills in England so it was a bit terrify-
ing, I'm not gonna lie. It is a very intimidating hill and it has a lot of potholes,
too. It has uneven footing and rocky surfaces.
How did you strategize before the race?
My friend and I got there around 10. e weather has been raining for a few
days – not a surprise, it's England. We get to the top of the hill and it's very
misty. You can't really see the boom and there's a lot of people.
As an ISE, our main goal is the most ecient way to do things to save time,
and in competition, that's really important. And not only the fastest way, but
also how do I also not get injured? So watching two races beforehand, I re
-
corded them. I had some time between those two races to look over the lm
essentially to see, where did the people who won start and how did they com
-
pete and how did they win? I think I applied some ISE mindset skills, not
necessarily like strictly ISE but the problem-solving skills we learn in school.
Really, how do we look at this from dierent points of view?
With Abby Lampe
Abby Lampe earned her bachelor's degree in
industrial engineering in spring 2022 from North
Carolina State University. That summer, she applied
her industrial and systems engineering skills in a
unique way by winning the women's division of the
Cooper's Hill Cheese-Rolling and Wake event June
5 near Gloucester, England. The event – chronicled
in written records as far back as 1826 and possibly
up to 600 years old – involves participants tumbling
down a steep, 200-yard hill in pursuit of an 8-pound
wheel of Gloucester's finest cheese. Lampe, 21, a
native of Smithfield, North Carolina, has deep ties
to engineering at N.C. State; her great-grandfather,
J. Harold Lampe, was dean of the School of
Engineering from 1945-1962, the longest serving
dean in school history. After claiming her pungent
prize, she took part in numerous media interviews
while touring Europe over the summer and recently
began her postgraduate career as a technology
consultant in the cloud and digital field. And, yes,
she ate the cheese. She shared her adventures in a
recent episode of
Problem Solved: The IISE Podcast
at
link.iise.org/podcast_s4e5

.
Story?