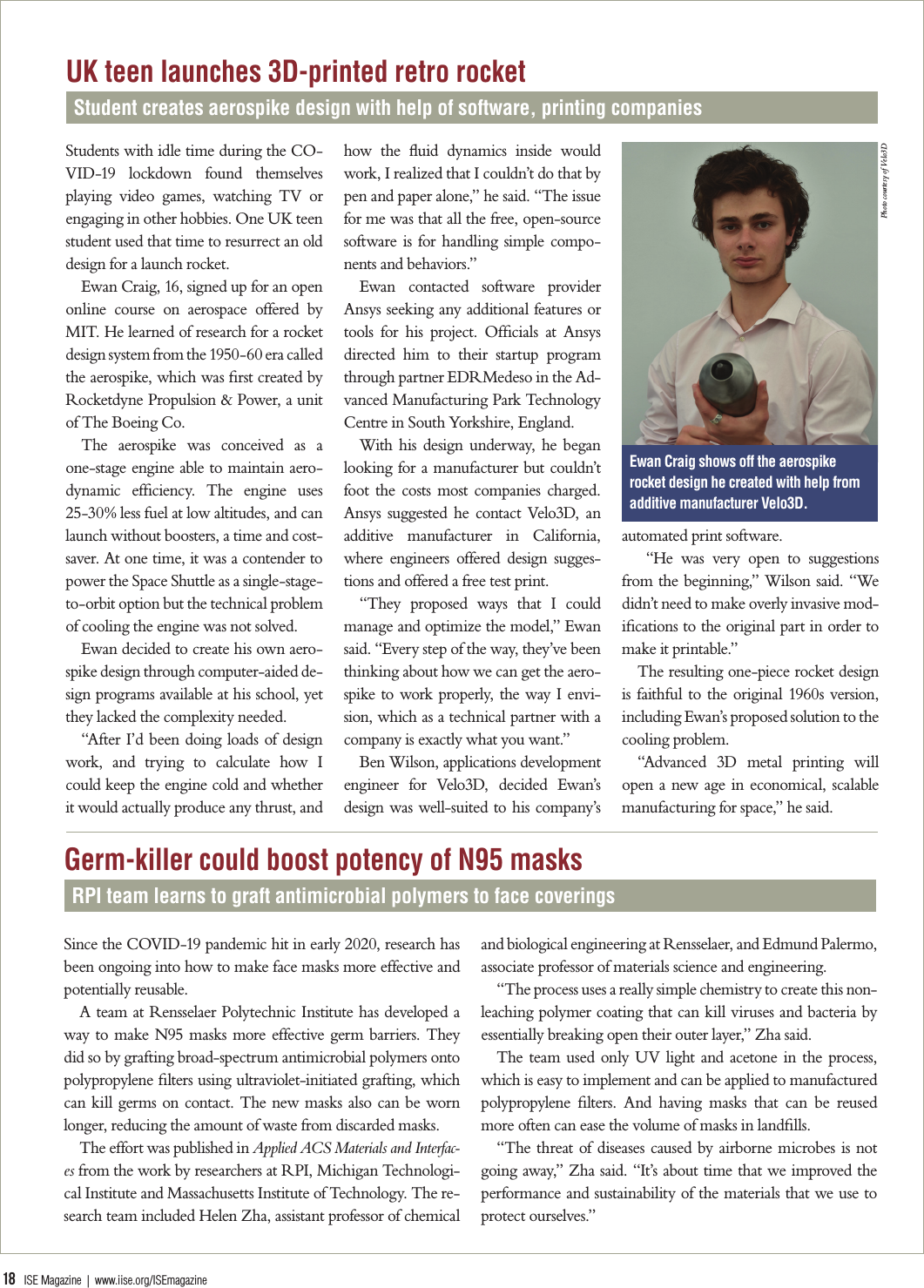 18
ISE Magazine | www.iise.org/ISEmagazine
Students with idle time during the CO
-
VID-19 lockdown found themselves
playing video games, watching TV or
engaging in other hobbies. One UK teen
student used that time to resurrect an old
design for a launch rocket.
Ewan Craig, 16, signed up for an open
online course on aerospace offered by
MIT. He learned of research for a rocket
design system from the 1950-60 era called
the aerospike, which was first created by
Rocketdyne Propulsion & Power, a unit
of The Boeing Co.
The aerospike was conceived as a
one-stage engine able to maintain aero
-
dynamic efficiency. The engine uses
25-30% less fuel at low altitudes, and can
launch without boosters, a time and cost-
saver. At one time, it was a contender to
power the Space Shuttle as a single-stage-
to-orbit option but the technical problem
of cooling the engine was not solved.
Ewan decided to create his own aero
-
spike design through computer-aided de
-
sign programs available at his school, yet
they lacked the complexity needed.
"After I'd been doing loads of design
work, and trying to calculate how I
could keep the engine cold and whether
it would actually produce any thrust, and
how the fluid dynamics inside would
work, I realized that I couldn't do that by
pen and paper alone," he said. "The issue
for me was that all the free, open-source
software is for handling simple compo
-
nents and behaviors."
Ewan contacted software provider
Ansys seeking any additional features or
tools for his project. Officials at Ansys
directed him to their startup program
through partner EDRMedeso in the Ad
-
vanced Manufacturing Park Technology
Centre in South Yorkshire, England.
With his design underway, he began
looking for a manufacturer but couldn't
foot the costs most companies charged.
Ansys suggested he contact Velo3D, an
additive manufacturer in California,
where engineers offered design sugges
-
tions and offered a free test print.
"They proposed ways that I could
manage and optimize the model," Ewan
said. "Every step of the way, they've been
thinking about how we can get the aero
-
spike to work properly, the way I envi
-
sion, which as a technical partner with a
company is exactly what you want."
Ben Wilson, applications development
engineer for Velo3D, decided Ewan's
design was well-suited to his company's
automated print software.
"He was very open to suggestions
from the beginning," Wilson said. "We
didn't need to make overly invasive mod
-
ifications to the original part in order to
make it printable."
The resulting one-piece rocket design
is faithful to the original 1960s version,
including Ewan's proposed solution to the
cooling problem.
"Advanced 3D metal printing will
open a new age in economical, scalable
manufacturing for space," he said.
UK teen launches 3D-printed retro rocket
Student creates aerospike design with help of software, printing companies
Ewan Craig shows off the aerospike
rocket design he created with help from
additive manufacturer Velo3D.
Photo courtesy of Velo3D
Since the COVID-19 pandemic hit in early 2020, research has
been ongoing into how to make face masks more effective and
potentially reusable.
A team at Rensselaer Polytechnic Institute has developed a
way to make N95 masks more effective germ barriers. They
did so by grafting broad-spectrum antimicrobial polymers onto
polypropylene filters using ultraviolet-initiated grafting, which
can kill germs on contact. The new masks also can be worn
longer, reducing the amount of waste from discarded masks.
The effort was published in
Applied ACS Materials and Interfac

-
es
from the work by researchers at RPI, Michigan Technologi

-
cal Institute and Massachusetts Institute of Technology. The re
-
search team included Helen Zha, assistant professor of chemical
and biological engineering at Rensselaer, and Edmund Palermo,
associate professor of materials science and engineering.
"The process uses a really simple chemistry to create this non
-
leaching polymer coating that can kill viruses and bacteria by
essentially breaking open their outer layer," Zha said.
The team used only UV light and acetone in the process,
which is easy to implement and can be applied to manufactured
polypropylene filters. And having masks that can be reused
more often can ease the volume of masks in landfills.
"The threat of diseases caused by airborne microbes is not
going away," Zha said. "It's about time that we improved the
performance and sustainability of the materials that we use to
protect ourselves."
Germ-killer could boost potency of N95 masks
RPI team learns to graft antimicrobial polymers to face coverings
What:
Advance your skills by entering the IISE/Rockwell Student Simulation
Competition, sponsored by Rockwell Automation.
Teams can comprise an adviser and:
• Four or fewer undergraduate students
• One or two graduate students
• One graduate student and up to two undergraduate students
The Fall session deadline is
Sept. 30, 2022
.
First Place:
$5,000 to the team, plus $500 to the team's chapter
Second Place:
$2,500 to the team, plus $250 to the team's chapter
Third Place:
$1,500 to the team, plus $250 to the team's chapter
1. Submit an entry form, found at www.iise.org/ArenaCompetition.
2. Rockwell will provide all teams with a real-world situational case study for analysis.
3. Teams have eight weeks to develop and submit their solutions.
4. Three finalist teams are selected to present their solutions for final judging at the IISE Annual
Conference & Expo, May 20-23, in New Orleans, Louisiana. Finalist teams receive $1,250 for travel
expenses as well as complimentary conference registrations and tickets to the Honors & Awards Banquet.
Who:
When:
Why:
How:
Enter your team at
www.iise.org/ArenaCompetition
Sponsored by:
IISE/Rockwell Student Simulation
Competition: Win $5,000!