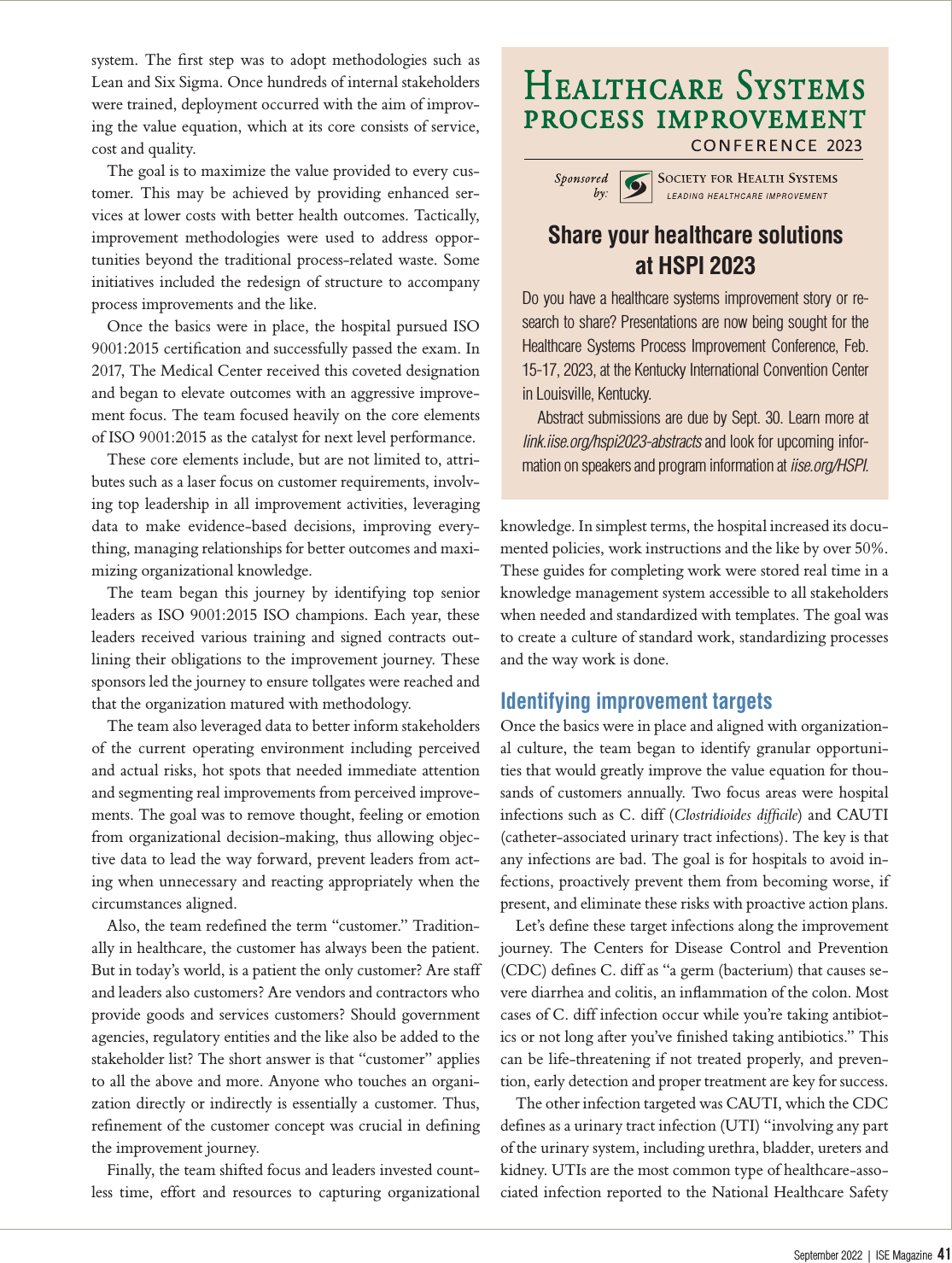 September 2022 | ISE Magazine
41
system. The first step was to adopt methodologies such as
Lean and Six Sigma. Once hundreds of internal stakeholders
were trained, deployment occurred with the aim of improv
-
ing the value equation, which at its core consists of service,
cost and quality.
The goal is to maximize the value provided to every cus
-
tomer. This may be achieved by providing enhanced ser
-
vices at lower costs with better health outcomes. Tactically,
improvement methodologies were used to address oppor
-
tunities beyond the traditional process-related waste. Some
initiatives included the redesign of structure to accompany
process improvements and the like.
Once the basics were in place, the hospital pursued ISO
9001:2015 certification and successfully passed the exam. In
2017, The Medical Center received this coveted designation
and began to elevate outcomes with an aggressive improve
-
ment focus. The team focused heavily on the core elements
of ISO 9001:2015 as the catalyst for next level performance.
These core elements include, but are not limited to, attri
-
butes such as a laser focus on customer requirements, involv
-
ing top leadership in all improvement activities, leveraging
data to make evidence-based decisions, improving every
-
thing, managing relationships for better outcomes and maxi
-
mizing organizational knowledge.
The team began this journey by identifying top senior
leaders as ISO 9001:2015 ISO champions. Each year, these
leaders received various training and signed contracts out
-
lining their obligations to the improvement journey. These
sponsors led the journey to ensure tollgates were reached and
that the organization matured with methodology.
The team also leveraged data to better inform stakeholders
of the current operating environment including perceived
and actual risks, hot spots that needed immediate attention
and segmenting real improvements from perceived improve
-
ments. The goal was to remove thought, feeling or emotion
from organizational decision-making, thus allowing objec
-
tive data to lead the way forward, prevent leaders from act
-
ing when unnecessary and reacting appropriately when the
circumstances aligned.
Also, the team redefined the term "customer." Tradition
-
ally in healthcare, the customer has always been the patient.
But in today's world, is a patient the only customer? Are staff
and leaders also customers? Are vendors and contractors who
provide goods and services customers? Should government
agencies, regulatory entities and the like also be added to the
stakeholder list? The short answer is that "customer" applies
to all the above and more. Anyone who touches an organi
-
zation directly or indirectly is essentially a customer. Thus,
refinement of the customer concept was crucial in defining
the improvement journey.
Finally, the team shifted focus and leaders invested count
-
less time, effort and resources to capturing organizational
knowledge. In simplest terms, the hospital increased its docu
-
mented policies, work instructions and the like by over 50%.
These guides for completing work were stored real time in a
knowledge management system accessible to all stakeholders
when needed and standardized with templates. The goal was
to create a culture of standard work, standardizing processes
and the way work is done.
Identifying improvement targets
Once the basics were in place and aligned with organization
-
al culture, the team began to identify granular opportuni
-
ties that would greatly improve the value equation for thou
-
sands of customers annually. Two focus areas were hospital
infections such as C. diff (
Clostridioides difficile
) and CAUTI
(catheter-associated urinary tract infections). The key is that
any infections are bad. The goal is for hospitals to avoid in
-
fections, proactively prevent them from becoming worse, if
present, and eliminate these risks with proactive action plans.
Let's define these target infections along the improvement
journey. The Centers for Disease Control and Prevention
(CDC) defines C. diff as "a germ (bacterium) that causes se
-
vere diarrhea and colitis, an inflammation of the colon. Most
cases of C. diff infection occur while you're taking antibiot
-
ics or not long after you've finished taking antibiotics." This
can be life-threatening if not treated properly, and preven
-
tion, early detection and proper treatment are key for success.
The other infection targeted was CAUTI, which the CDC
defines as a urinary tract infection (UTI) "involving any part
of the urinary system, including urethra, bladder, ureters and
kidney. UTIs are the most common type of healthcare-asso
-
ciated infection reported to the National Healthcare Safety
Share your healthcare solutions
at HSPI 2023
Do you have a healthcare systems improvement story or re
-
search to share? Presentations are now being sought for the
Healthcare Systems Process Improvement Conference, Feb.
15-17, 2023, at the Kentucky International Convention Center
in Louisville, Kentucky.
Abstract submissions are due by Sept. 30. Learn more at
link.iise.org/hspi2023-abstracts
and look for upcoming infor

-
mation on speakers and program information at
iise.org/HSPI
.