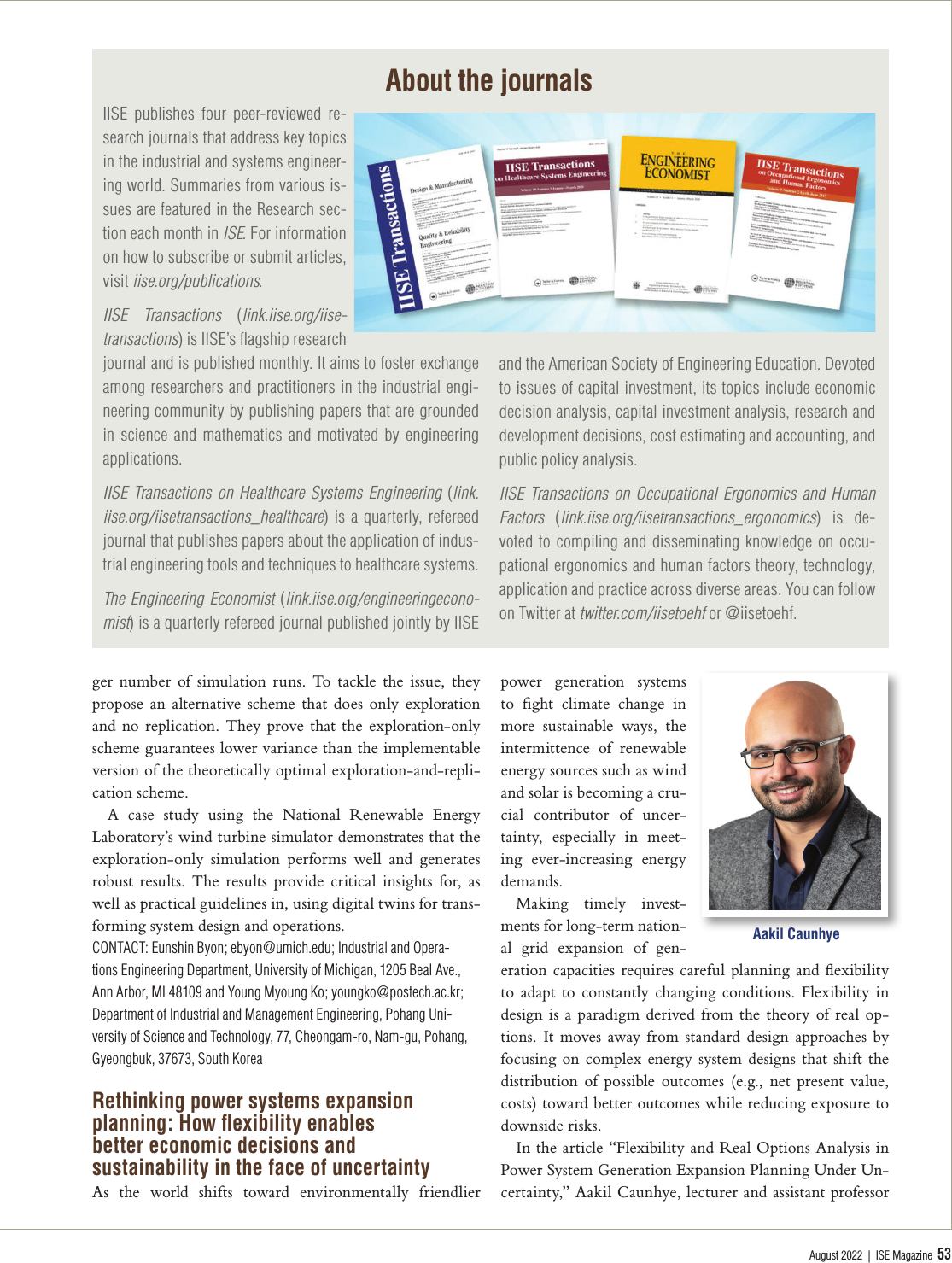 August 2022 | ISE Magazine
53
ger number of simulation runs. To tackle the issue, they
propose an alternative scheme that does only exploration
and no replication. They prove that the exploration-only
scheme guarantees lower variance than the implementable
version of the theoretically optimal exploration-and-repli
-
cation scheme.
A case study using the National Renewable Energy
Laboratory's wind turbine simulator demonstrates that the
exploration-only simulation performs well and generates
robust results. The results provide critical insights for, as
well as practical guidelines in, using digital twins for trans
-
forming system design and operations.
CONTACT: Eunshin Byon;
ebyon@umich.edu; Industrial and Opera

-
tions Engineering Department, University of Michigan, 1205 Beal Ave.,
Ann Arbor, MI 48109 and Young Myoung Ko;
youngko@postech.ac.kr

;
Department of Industrial and Management Engineering, Pohang Uni-
versity of Science and Technology, 77, Cheongam-ro, Nam-gu, Pohang,
Gyeongbuk, 37673, South Korea
Rethinking power systems expansion
planning: How flexibility enables
better economic decisions and
sustainability in the face of uncertainty
As the world shifts toward environmentally friendlier
power generation systems
to fight climate change in
more sustainable ways, the
intermittence of renewable
energy sources such as wind
and solar is becoming a cru
-
cial contributor of uncer
-
tainty, especially in meet
-
ing ever-increasing energy
demands.
ments for long-term nation
-
al grid expansion of gen
-
eration capacities requires careful planning and flexibility
to adapt to constantly changing conditions. Flexibility in
design is a paradigm derived from the theory of real op
-
tions. It moves away from standard design approaches by
focusing on complex energy system designs that shift the
distribution of possible outcomes (e.g., net present value,
costs) toward better outcomes while reducing exposure to
downside risks.
In the article "Flexibility and Real Options Analysis in
Power System Generation Expansion Planning Under Un
-
certainty," Aakil Caunhye, lecturer and assistant professor
Aakil Caunhye
IISE publishes four peer-reviewed re
-
search journals that address key topics
in the industrial and systems engineer
-
ing world. Summaries from various is
-
sues are featured in the Research sec
-
tion each month in
ISE

. For information
on how to subscribe or submit articles,
visit
iise.org/publications

.
IISE Transactions
(
link.iise.org/iise

-
transactions
) is IISE's flagship research
journal and is published monthly. It aims to foster exchange
among researchers and practitioners in the industrial engi
-
neering community by publishing papers that are grounded
in science and mathematics and motivated by engineering
applications.
IISE Transactions on Healthcare Systems Engineering
(
link.
iise.org/iisetransactions_healthcare
) is a quarterly, refereed
journal that publishes papers about the application of indus
-
trial engineering tools and techniques to healthcare systems.
The Engineering Economist
(
link.iise.org/engineeringecono

-
mist
) is a quarterly refereed journal published jointly by IISE
and the American Society of Engineering Education. Devoted
to issues of capital investment, its topics include economic
decision analysis, capital investment analysis, research and
development decisions, cost estimating and accounting, and
public policy analysis.
IISE Transactions on Occupational Ergonomics and Human
Factors
(
link.iise.org/iisetransactions_ergonomics) is de

-
voted to compiling and disseminating knowledge on occu
-
pational ergonomics and human factors theory, technology,
application and practice across diverse areas. You can follow
on Twitter at
twitter.com/iisetoehf

or @iisetoehf.
About the journals