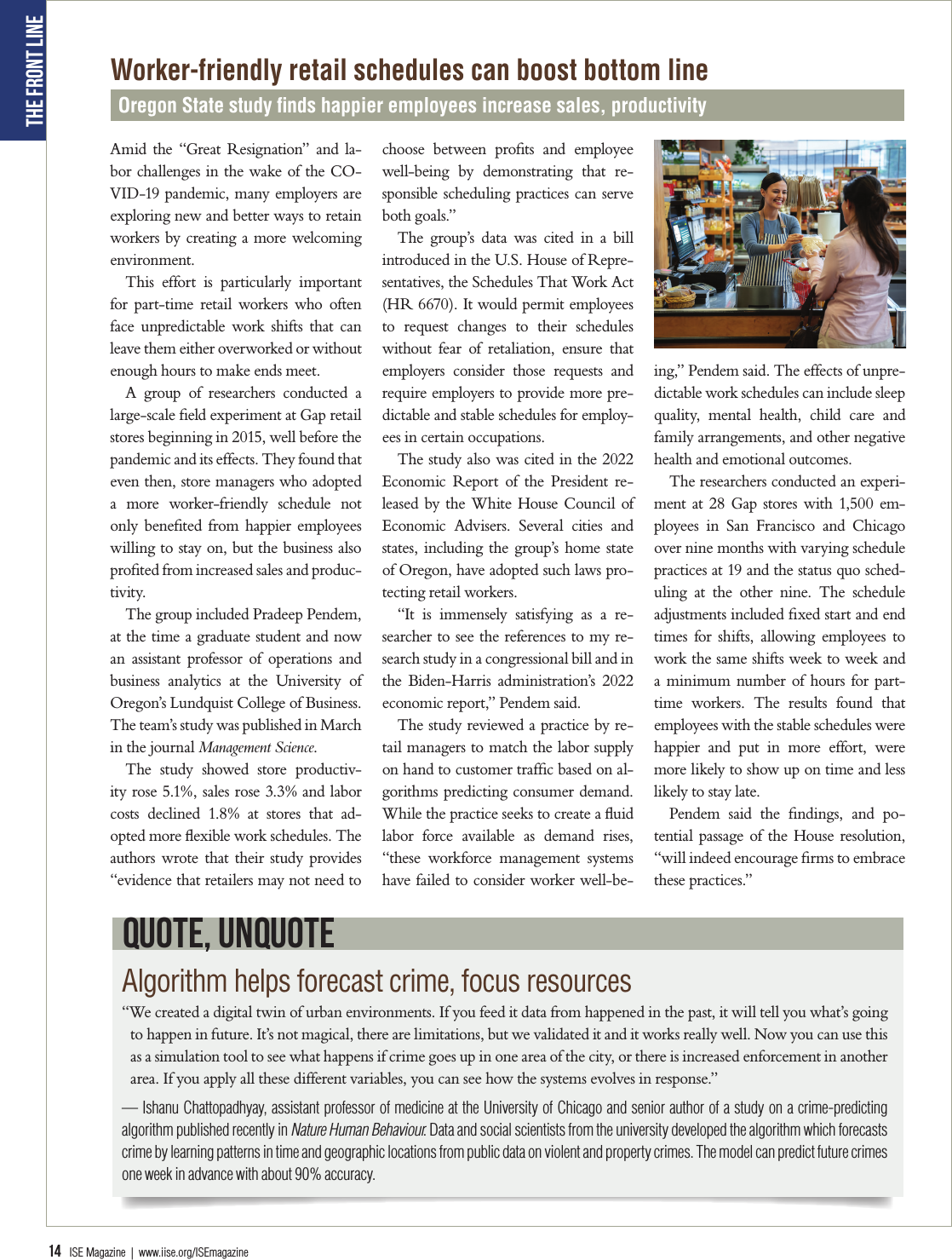 14
ISE Magazine | www.iise.org/ISEmagazine
the frontlinethe front line
Amid the "Great Resignation" and la
-
bor challenges in the wake of the CO
-
VID-19 pandemic, many employers are
exploring new and better ways to retain
workers by creating a more welcoming
environment.
This effort is particularly important
for part-time retail workers who often
face unpredictable work shifts that can
leave them either overworked or without
enough hours to make ends meet.
A group of researchers conducted a
large-scale field experiment at Gap retail
stores beginning in 2015, well before the
pandemic and its effects. They found that
even then, store managers who adopted
a more worker-friendly schedule not
only benefited from happier employees
willing to stay on, but the business also
profited from increased sales and produc
-
tivity.
The group included Pradeep Pendem,
at the time a graduate student and now
an assistant professor of operations and
business analytics at the University of
Oregon's Lundquist College of Business.
The team's study was published in March
in the journal
Management Science

.
The study showed store productiv
-
ity rose 5.1%, sales rose 3.3% and labor
costs declined 1.8% at stores that ad
-
opted more flexible work schedules. The
authors wrote that their study provides
"evidence that retailers may not need to
choose between profits and employee
well-being by demonstrating that re
-
sponsible scheduling practices can serve
both goals."
The group's data was cited in a bill
introduced in the U.S. House of Repre
-
sentatives, the Schedules That Work Act
(HR 6670). It would permit employees
to request changes to their schedules
without fear of retaliation, ensure that
employers consider those requests and
require employers to provide more pre
-
dictable and stable schedules for employ
-
ees in certain occupations.
The study also was cited in the 2022
Economic Report of the President re
-
leased by the White House Council of
Economic Advisers. Several cities and
states, including the group's home state
of Oregon, have adopted such laws pro
-
tecting retail workers.
"It is immensely satisfying as a re
-
searcher to see the references to my re
-
search study in a congressional bill and in
the Biden-Harris administration's 2022
economic report," Pendem said.
The study reviewed a practice by re
-
tail managers to match the labor supply
on hand to customer traffic based on al
-
gorithms predicting consumer demand.
While the practice seeks to create a fluid
labor force available as demand rises,
"these workforce management systems
have failed to consider worker well-be
-
ing," Pendem said. The effects of unpre
-
dictable work schedules can include sleep
quality, mental health, child care and
family arrangements, and other negative
health and emotional outcomes.
The researchers conducted an experi
-
ment at 28 Gap stores with 1,500 em
-
ployees in San Francisco and Chicago
over nine months with varying schedule
practices at 19 and the status quo sched
-
uling at the other nine. The schedule
adjustments included fixed start and end
times for shifts, allowing employees to
work the same shifts week to week and
a minimum number of hours for part-
time workers. The results found that
employees with the stable schedules were
happier and put in more effort, were
more likely to show up on time and less
likely to stay late.
Pendem said the findings, and po
-
tential passage of the House resolution,
"will indeed encourage firms to embrace
these practices."
Worker-friendly retail schedules can boost bottom line
Oregon State study finds happier employees increase sales, productivity
SAVE THE DATE
MAY
20 – 23, 2023
Hyatt Regency New Orleans
New Orleans, Louisiana
#IISEAnnual2023
IISE's Annual Conference & Expo descends on New Orleans next year!
The Crescent City, known as a blend of influences French, Spanish, Creole and American, is
the perfect place for 2023's largest gathering of ISEs – the problem-solving profession that
has a hand in almost every engineering and business sector.
Quote, unquote
Algorithm helps forecast crime, focus resources
"We created a digital twin of urban environments. If you feed it data from happened in the past, it will tell you what's going
to happen in future. It's not magical, there are limitations, but we validated it and it works really well. Now you can use this
as a simulation tool to see what happens if crime goes up in one area of the city, or there is increased enforcement in another
area. If you apply all these different variables, you can see how the systems evolves in response."
— Ishanu Chattopadhyay, assistant professor of medicine at the University of Chicago and senior author of a study on a crime-predicting
algorithm published recently in
Nature Human Behaviour

. Data and social scientists from the university developed the algorithm which forecasts
crime by learning patterns in time and geographic locations from public data on violent and property crimes. The model can predict future crimes
one week in advance with about 90% accuracy.