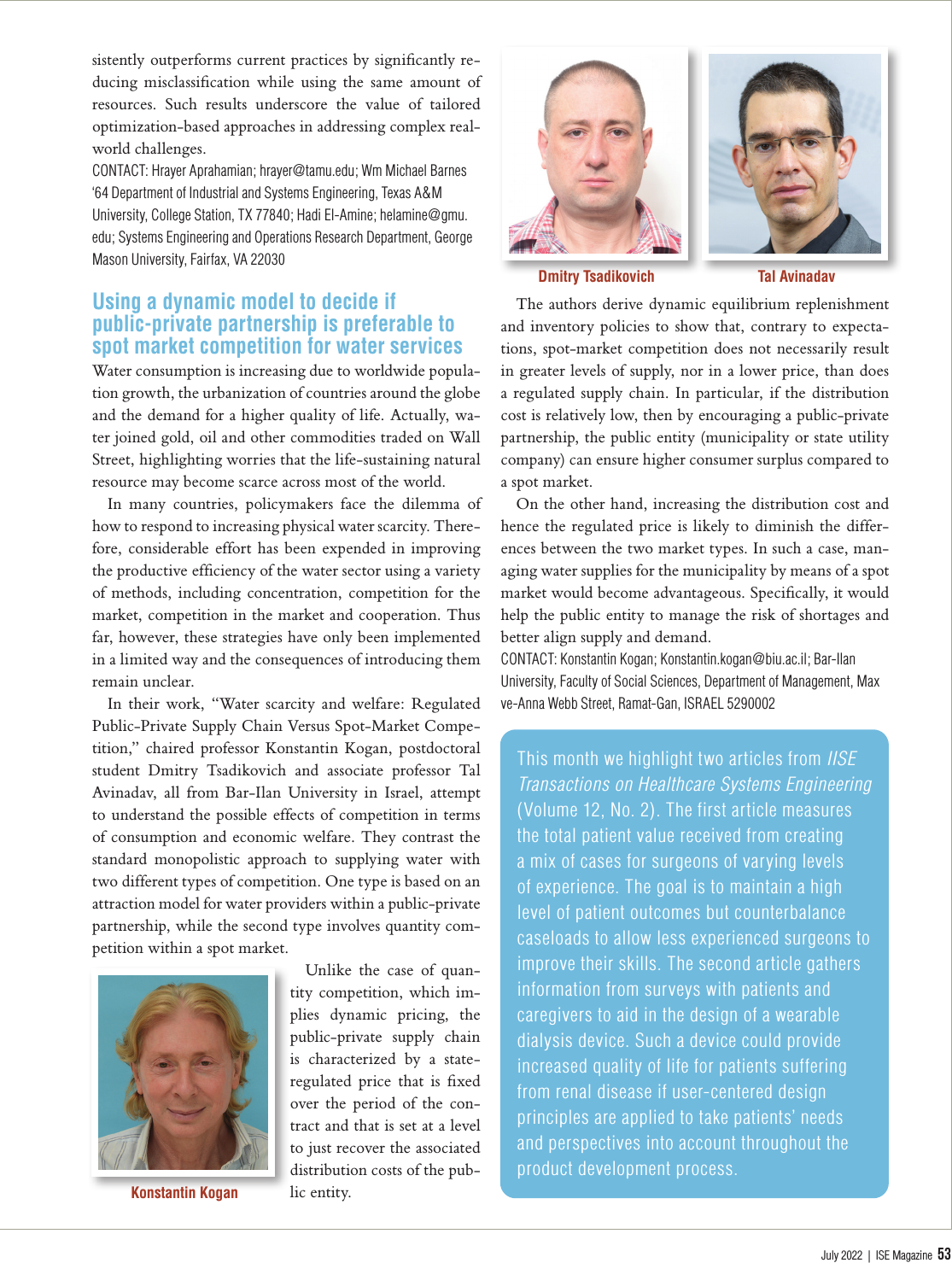 July 2022 | ISE Magazine
53
sistently outperforms current practices by significantly re
-
ducing misclassification while using the same amount of
resources. Such results underscore the value of tailored
optimization-based approaches in addressing complex real-
world challenges.
CONTACT: Hrayer Aprahamian; hrayer@tamu.edu; Wm Michael Barnes
'64 Department of Industrial and Systems Engineering, Texas A&M
University, College Station, TX 77840; Hadi El-Amine; helamine@gmu.
edu; Systems Engineering and Operations Research Department, George
Mason University, Fairfax, VA 22030
Using a dynamic model to decide if
public-private partnership is preferable to
spot market competition for water services
Water consumption is increasing due to worldwide popula
-
tion growth, the urbanization of countries around the globe
and the demand for a higher quality of life. Actually, wa
-
ter joined gold, oil and other commodities traded on Wall
Street, highlighting worries that the life-sustaining natural
resource may become scarce across most of the world.
In many countries, policymakers face the dilemma of
how to respond to increasing physical water scarcity. There
-
fore, considerable effort has been expended in improving
the productive efficiency of the water sector using a variety
of methods, including concentration, competition for the
market, competition in the market and cooperation. Thus
far, however, these strategies have only been implemented
in a limited way and the consequences of introducing them
remain unclear.
In their work, "Water scarcity and welfare: Regulated
Public-Private Supply Chain Versus Spot-Market Compe
-
tition," chaired professor Konstantin Kogan, postdoctoral
student Dmitry Tsadikovich and associate professor Tal
Avinadav, all from Bar-Ilan University in Israel, attempt
to understand the possible effects of competition in terms
of consumption and economic welfare. They contrast the
standard monopolistic approach to supplying water with
two different types of competition. One type is based on an
attraction model for water providers within a public-private
partnership, while the second type involves quantity com
-
petition within a spot market.
tity competition, which im
-
plies dynamic pricing, the
public-private supply chain
is characterized by a state-
regulated price that is fixed
over the period of the con
-
tract and that is set at a level
to just recover the associated
distribution costs of the pub
-
lic entity.
The authors derive dynamic equilibrium replenishment
and inventory policies to show that, contrary to expecta
-
tions, spot-market competition does not necessarily result
in greater levels of supply, nor in a lower price, than does
a regulated supply chain. In particular, if the distribution
cost is relatively low, then by encouraging a public-private
partnership, the public entity (municipality or state utility
company) can ensure higher consumer surplus compared to
a spot market.
On the other hand, increasing the distribution cost and
hence the regulated price is likely to diminish the differ
-
ences between the two market types. In such a case, man
-
aging water supplies for the municipality by means of a spot
market would become advantageous. Specifically, it would
help the public entity to manage the risk of shortages and
better align supply and demand.
CONTACT: Konstantin Kogan; Konstantin.kogan@biu.ac.il; Bar-Ilan
University, Faculty of Social Sciences, Department of Management, Max
ve-Anna Webb Street, Ramat-Gan, ISRAEL 5290002
This month we highlight two articles from
IISE
Transactions on Healthcare Systems Engineering
(Volume 12, No. 2). The first article measures
the total patient value received from creating
a mix of cases for surgeons of varying levels
of experience. The goal is to maintain a high
level of patient outcomes but counterbalance
caseloads to allow less experienced surgeons to
improve their skills. The second article gathers
information from surveys with patients and
caregivers to aid in the design of a wearable
dialysis device. Such a device could provide
increased quality of life for patients suffering
from renal disease if user-centered design
principles are applied to take patients' needs
and perspectives into account throughout the
product development process.
Konstantin Kogan
Dmitry Tsadikovich
Tal Avinadav