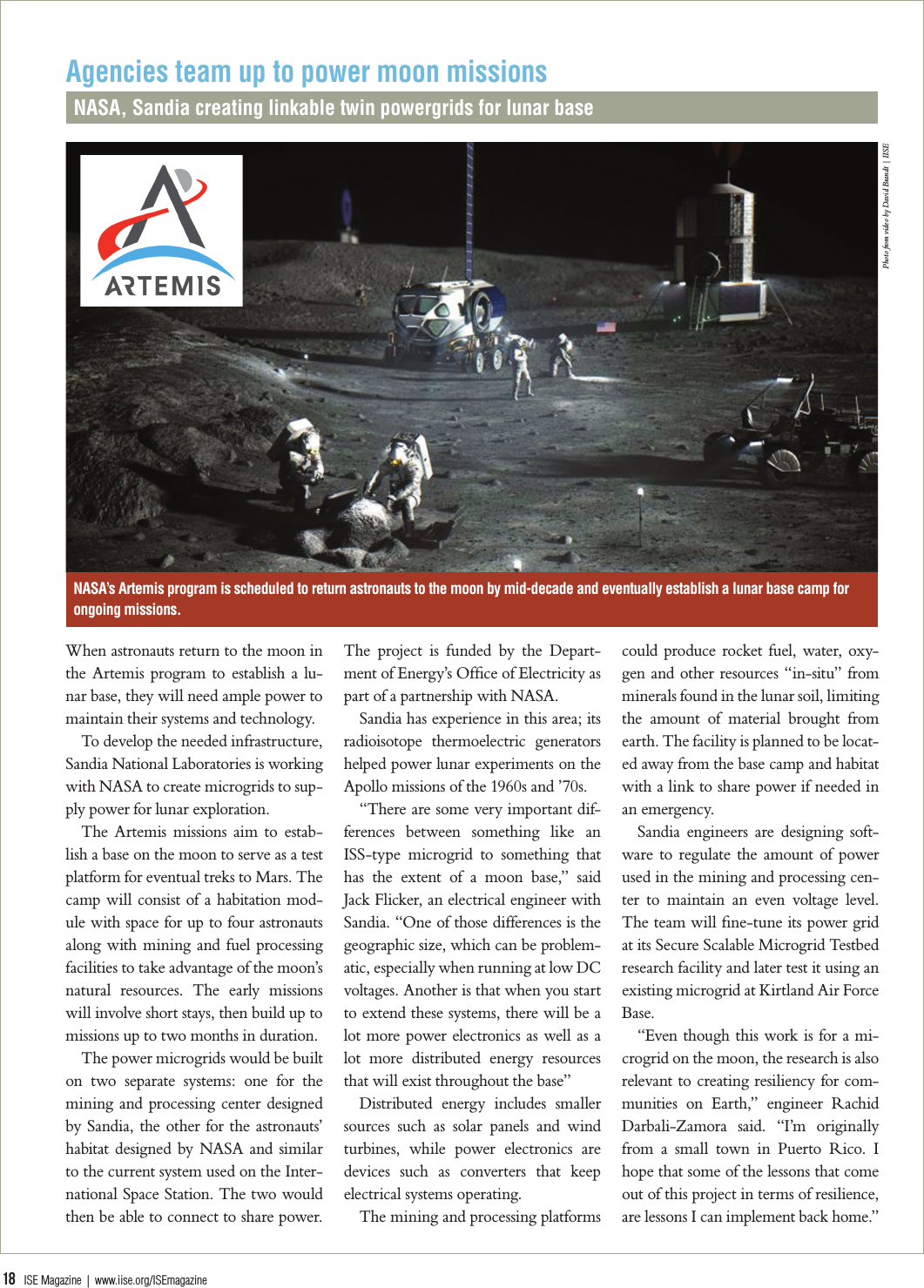 18
ISE Magazine | www.iise.org/ISEmagazine
When astronauts return to the moon in
the Artemis program to establish a lu
-
nar base, they will need ample power to
maintain their systems and technology.
To develop the needed infrastructure,
Sandia National Laboratories is working
with NASA to create microgrids to sup
-
ply power for lunar exploration.
The Artemis missions aim to estab
-
lish a base on the moon to serve as a test
platform for eventual treks to Mars. The
camp will consist of a habitation mod
-
ule with space for up to four astronauts
along with mining and fuel processing
facilities to take advantage of the moon's
natural resources. The early missions
will involve short stays, then build up to
missions up to two months in duration.
The power microgrids would be built
on two separate systems: one for the
mining and processing center designed
by Sandia, the other for the astronauts'
habitat designed by NASA and similar
to the current system used on the Inter
-
national Space Station. The two would
then be able to connect to share power.
The project is funded by the Depart
-
ment of Energy's Office of Electricity as
part of a partnership with NASA.
Sandia has experience in this area; its
radioisotope thermoelectric generators
helped power lunar experiments on the
Apollo missions of the 1960s and '70s.
"There are some very important dif
-
ferences between something like an
ISS-type microgrid to something that
has the extent of a moon base," said
Jack Flicker, an electrical engineer with
Sandia. "One of those differences is the
geographic size, which can be problem
-
atic, especially when running at low DC
voltages. Another is that when you start
to extend these systems, there will be a
lot more power electronics as well as a
lot more distributed energy resources
that will exist throughout the base"
Distributed energy includes smaller
sources such as solar panels and wind
turbines, while power electronics are
devices such as converters that keep
electrical systems operating.
The mining and processing platforms
could produce rocket fuel, water, oxy
-
gen and other resources "in-situ" from
minerals found in the lunar soil, limiting
the amount of material brought from
earth. The facility is planned to be locat
-
ed away from the base camp and habitat
with a link to share power if needed in
an emergency.
Sandia engineers are designing soft
-
ware to regulate the amount of power
used in the mining and processing cen
-
ter to maintain an even voltage level.
The team will fine-tune its power grid
at its Secure Scalable Microgrid Testbed
research facility and later test it using an
existing microgrid at Kirtland Air Force
Base.
"Even though this work is for a mi
-
crogrid on the moon, the research is also
relevant to creating resiliency for com
-
munities on Earth," engineer Rachid
Darbali-Zamora said. "I'm originally
from a small town in Puerto Rico. I
hope that some of the lessons that come
out of this project in terms of resilience,
are lessons I can implement back home."
Agencies team up to power moon missions
NASA, Sandia creating linkable twin powergrids for lunar base
NASA's Artemis program is scheduled to return astronauts to the moon by mid-decade and eventually establish a lunar base camp for
ongoing missions.
Photo from video by David Brandt | IISE
Get the latest news, and network and benchmark with other members in industry- and
discipline-specific groups. IISE's member-run sociees and divisions provide a unique
opportunity for member-to-member knowledge exchange across diverse industries, which
is crical to advancing your career. Join more than 7,000 colleagues already parcipang.
Customize information from IISE by joining a Technical
Society, Division or Technical Interest Group
Join as many Societies or Divisions as you wish.
It's easy. Go to www.iise.org/myiise and "Update Account Info."
Applied Ergonomics Society (AES)
Society for Engineering &
Management Systems (SEMS)
Society for Health Systems (SHS)
Construcon and Engineering
Management (CEM) Division
Data Analycs & Informaon
Systems Division
Energy Systems Division
Engineering Economy Division
Logiscs & Supply Chain Division
Manufacturing & Design Division
Modeling & Simulaon Division
Operaonal Excellence Division
Operaons Research Division
Quality Control & Reliability
Engineering Division
Sustainable Development Division
Work Systems Division
Arficial Intelligence Interest Group
Integrated Systems Engineering Interest Group
Process Industries Interest Group
Security Engineering Interest Group
Service Systems Engineering Interest Group