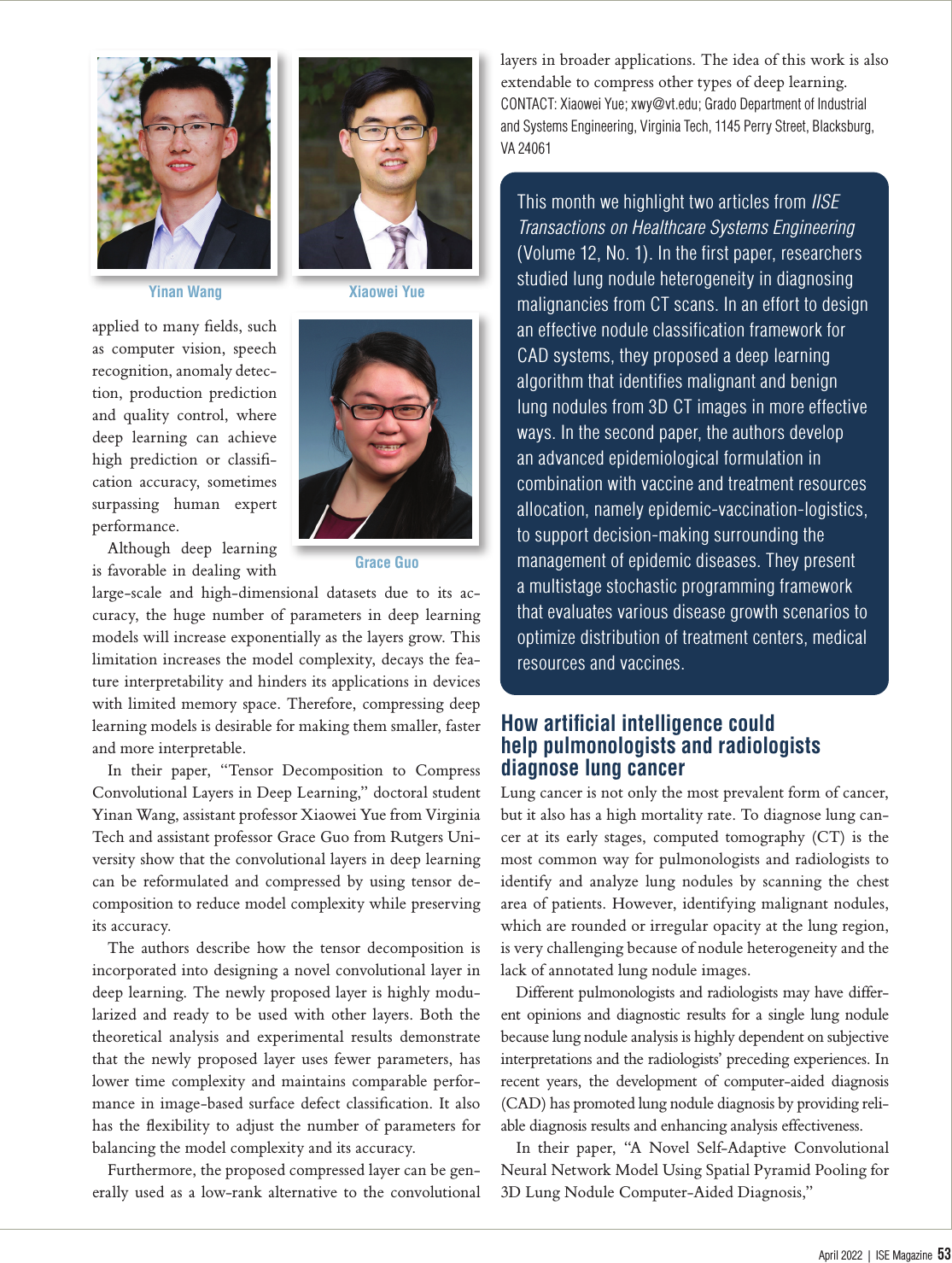 April 2022 | ISE Magazine
53
applied to many fields, such
as computer vision, speech
recognition, anomaly detec
-
tion, production prediction
and quality control, where
deep learning can achieve
high prediction or classifi
-
cation accuracy, sometimes
surpassing human expert
performance.
Although deep learning
is favorable in dealing with
large-scale and high-dimensional datasets due to its ac
-
curacy, the huge number of parameters in deep learning
models will increase exponentially as the layers grow. This
limitation increases the model complexity, decays the fea
-
ture interpretability and hinders its applications in devices
with limited memory space. Therefore, compressing deep
learning models is desirable for making them smaller, faster
and more interpretable.
In their paper, "Tensor Decomposition to Compress
Convolutional Layers in Deep Learning," doctoral student
Yinan Wang, assistant professor Xiaowei Yue from Virginia
Tech and assistant professor Grace Guo from Rutgers Uni
-
versity show that the convolutional layers in deep learning
can be reformulated and compressed by using tensor de
-
composition to reduce model complexity while preserving
its accuracy.
The authors describe how the tensor decomposition is
incorporated into designing a novel convolutional layer in
deep learning. The newly proposed layer is highly modu
-
larized and ready to be used with other layers. Both the
theoretical analysis and experimental results demonstrate
that the newly proposed layer uses fewer parameters, has
lower time complexity and maintains comparable perfor
-
mance in image-based surface defect classification. It also
has the flexibility to adjust the number of parameters for
balancing the model complexity and its accuracy.
Furthermore, the proposed compressed layer can be gen
-
erally used as a low-rank alternative to the convolutional
layers in broader applications. The idea of this work is also
extendable to compress other types of deep learning.
CONTACT: Xiaowei Yue; xwy@vt.edu; Grado Department of Industrial
and Systems Engineering, Virginia Tech, 1145 Perry Street, Blacksburg,
VA 24061
How artificial intelligence could
help pulmonologists and radiologists
diagnose lung cancer
Lung cancer is not only the most prevalent form of cancer,
but it also has a high mortality rate. To diagnose lung can
-
cer at its early stages, computed tomography (CT) is the
most common way for pulmonologists and radiologists to
identify and analyze lung nodules by scanning the chest
area of patients. However, identifying malignant nodules,
which are rounded or irregular opacity at the lung region,
is very challenging because of nodule heterogeneity and the
lack of annotated lung nodule images.
Different pulmonologists and radiologists may have differ
-
ent opinions and diagnostic results for a single lung nodule
because lung nodule analysis is highly dependent on subjective
interpretations and the radiologists' preceding experiences. In
recent years, the development of computer-aided diagnosis
(CAD) has promoted lung nodule diagnosis by providing reli
-
able diagnosis results and enhancing analysis effectiveness.
In their paper, "A Novel Self-Adaptive Convolutional
Neural Network Model Using Spatial Pyramid Pooling for
3D Lung Nodule Computer-Aided Diagnosis,"
This month we highlight two articles from
IISE
Transactions on Healthcare Systems Engineering
(Volume 12, No. 1). In the first paper, researchers
studied lung nodule heterogeneity in diagnosing
malignancies from CT scans. In an effort to design
an effective nodule classification framework for
CAD systems, they proposed a deep learning
algorithm that identifies malignant and benign
lung nodules from 3D CT images in more effective
ways. In the second paper, the authors develop
an advanced epidemiological formulation in
combination with vaccine and treatment resources
allocation, namely epidemic-vaccination-logistics,
to support decision-making surrounding the
management of epidemic diseases. They present
a multistage stochastic programming framework
that evaluates various disease growth scenarios to
optimize distribution of treatment centers, medical
resources and vaccines.
Grace Guo