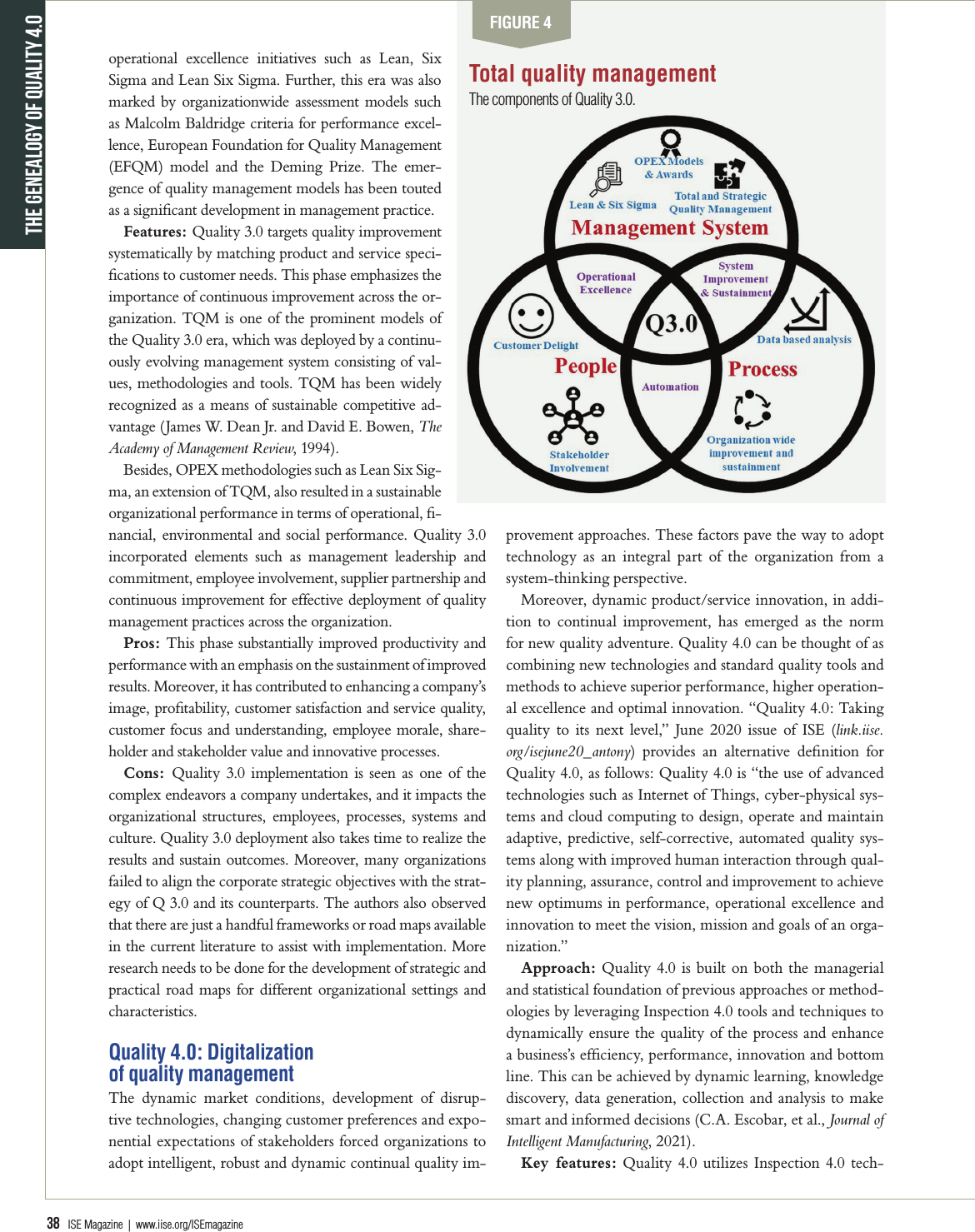 38
ISE Magazine | www.iise.org/ISEmagazine
The genealogy of Quality 4.0
operational excellence initiatives such as Lean, Six
Sigma and Lean Six Sigma. Further, this era was also
marked by organizationwide assessment models such
as Malcolm Baldridge criteria for performance excel
-
lence, European Foundation for Quality Management
(EFQM) model and the Deming Prize. The emer
-
gence of quality management models has been touted
as a significant development in management practice.
Features:
Quality 3.0 targets quality improvement
systematically by matching product and service speci
-
fications to customer needs. This phase emphasizes the
importance of continuous improvement across the or
-
ganization. TQM is one of the prominent models of
the Quality 3.0 era, which was deployed by a continu
-
ously evolving management system consisting of val
-
ues, methodologies and tools. TQM has been widely
recognized as a means of sustainable competitive ad
-
vantage (James W. Dean Jr. and David E. Bowen,
The
Academy of Management Review
, 1994).
Besides, OPEX methodologies such as Lean Six Sig
-
ma, an extension of TQM, also resulted in a sustainable
organizational performance in terms of operational, fi
-
nancial, environmental and social performance. Quality 3.0
incorporated elements such as management leadership and
commitment, employee involvement, supplier partnership and
continuous improvement for effective deployment of quality
management practices across the organization.
Pros:
This phase substantially improved productivity and
performance with an emphasis on the sustainment of improved
results. Moreover, it has contributed to enhancing a company's
image, profitability, customer satisfaction and service quality,
customer focus and understanding, employee morale, share
-
holder and stakeholder value and innovative processes.
Cons:
Quality 3.0 implementation is seen as one of the
complex endeavors a company undertakes, and it impacts the
organizational structures, employees, processes, systems and
culture. Quality 3.0 deployment also takes time to realize the
results and sustain outcomes. Moreover, many organizations
failed to align the corporate strategic objectives with the strat
-
egy of Q 3.0 and its counterparts. The authors also observed
that there are just a handful frameworks or road maps available
in the current literature to assist with implementation. More
research needs to be done for the development of strategic and
practical road maps for different organizational settings and
characteristics.
Quality 4.0: Digitalization
of quality management
The dynamic market conditions, development of disrup
-
tive technologies, changing customer preferences and expo
-
nential expectations of stakeholders forced organizations to
adopt intelligent, robust and dynamic continual quality im
-
provement approaches. These factors pave the way to adopt
technology as an integral part of the organization from a
system-thinking perspective.
Moreover, dynamic product/service innovation, in addi
-
tion to continual improvement, has emerged as the norm
for new quality adventure. Quality 4.0 can be thought of as
combining new technologies and standard quality tools and
methods to achieve superior performance, higher operation
-
al excellence and optimal innovation. "Quality 4.0: Taking
quality to its next level," June 2020 issue of ISE (
link.iise.
org/isejune20_antony
) provides an alternative definition for
Quality 4.0, as follows: Quality 4.0 is "the use of advanced
technologies such as Internet of Things, cyber-physical sys
-
tems and cloud computing to design, operate and maintain
adaptive, predictive, self-corrective, automated quality sys
-
tems along with improved human interaction through qual
-
ity planning, assurance, control and improvement to achieve
new optimums in performance, operational excellence and
innovation to meet the vision, mission and goals of an orga
-
nization."
Approach:
Quality 4.0 is built on both the managerial
and statistical foundation of previous approaches or method
-
ologies by leveraging Inspection 4.0 tools and techniques to
dynamically ensure the quality of the process and enhance
a business's efficiency, performance, innovation and bottom
line. This can be achieved by dynamic learning, knowledge
discovery, data generation, collection and analysis to make
smart and informed decisions (C.A. Escobar, et al.,
Journal of
Intelligent Manufacturing
, 2021).
Key features:
Quality 4.0 utilizes Inspection 4.0 tech

-
FIGURE 4
Total quality management
The components of Quality 3.0.