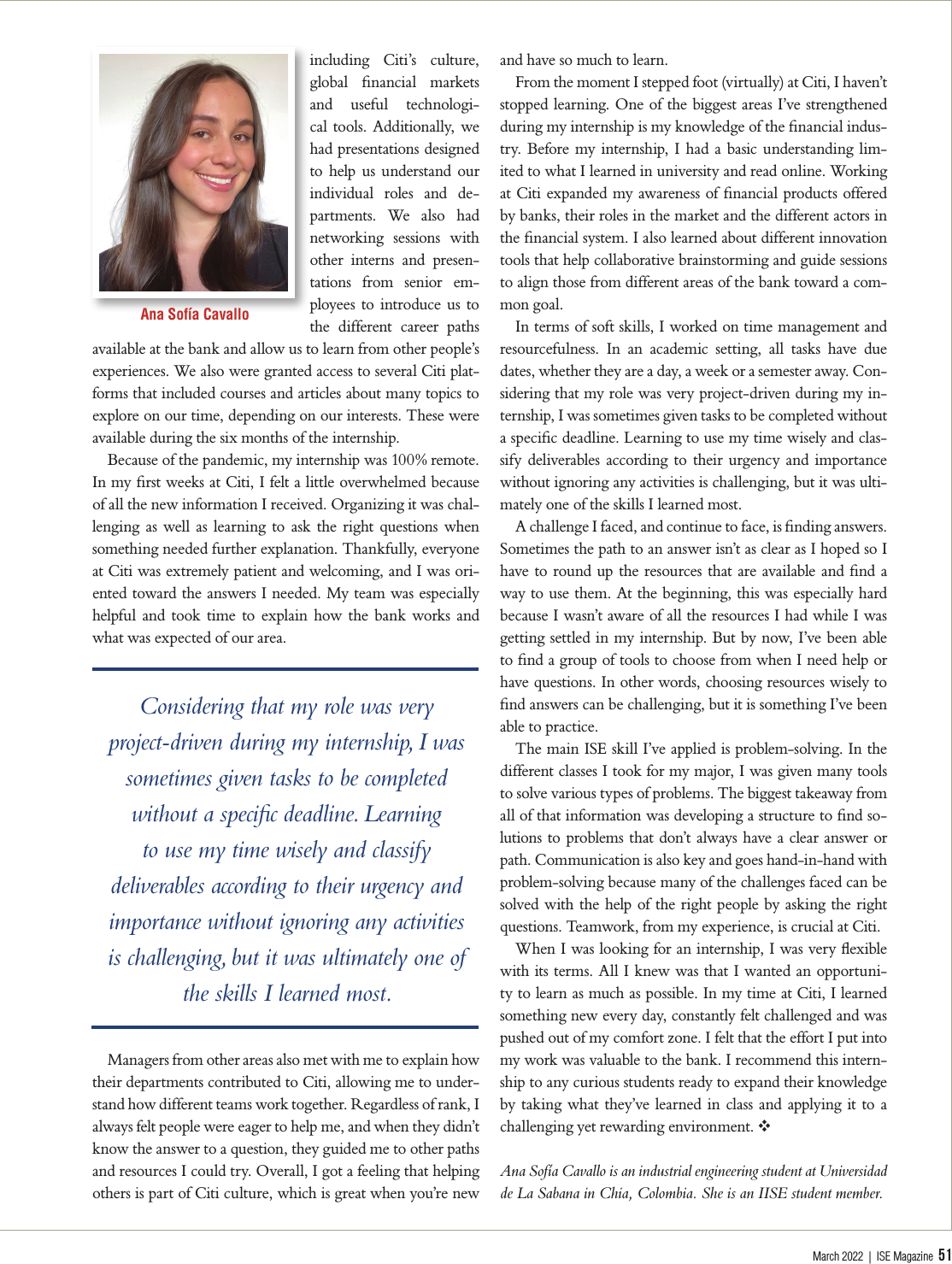 March 2022 | ISE Magazine
51
including Citi's culture,
global financial markets
cal tools. Additionally, we
had presentations designed
to help us understand our
partments. We also had
networking sessions with
other interns and presen
-
ployees to introduce us to
the different career paths
available at the bank and allow us to learn from other people's
experiences. We also were granted access to several Citi plat
-
forms that included courses and articles about many topics to
explore on our time, depending on our interests. These were
available during the six months of the internship.
Because of the pandemic, my internship was 100% remote.
In my first weeks at Citi, I felt a little overwhelmed because
of all the new information I received. Organizing it was chal
-
lenging as well as learning to ask the right questions when
something needed further explanation. Thankfully, everyone
at Citi was extremely patient and welcoming, and I was ori
-
ented toward the answers I needed. My team was especially
helpful and took time to explain how the bank works and
what was expected of our area.
Managers from other areas also met with me to explain how
their departments contributed to Citi, allowing me to under
-
stand how different teams work together. Regardless of rank, I
always felt people were eager to help me, and when they didn't
know the answer to a question, they guided me to other paths
and resources I could try. Overall, I got a feeling that helping
others is part of Citi culture, which is great when you're new
and have so much to learn.
From the moment I stepped foot (virtually) at Citi, I haven't
stopped learning. One of the biggest areas I've strengthened
during my internship is my knowledge of the financial indus
-
try. Before my internship, I had a basic understanding lim
-
ited to what I learned in university and read online. Working
at Citi expanded my awareness of financial products offered
by banks, their roles in the market and the different actors in
the financial system. I also learned about different innovation
tools that help collaborative brainstorming and guide sessions
to align those from different areas of the bank toward a com
-
mon goal.
In terms of soft skills, I worked on time management and
resourcefulness. In an academic setting, all tasks have due
dates, whether they are a day, a week or a semester away. Con
-
sidering that my role was very project-driven during my in
-
ternship, I was sometimes given tasks to be completed without
a specific deadline. Learning to use my time wisely and clas
-
sify deliverables according to their urgency and importance
without ignoring any activities is challenging, but it was ulti
-
mately one of the skills I learned most.
A challenge I faced, and continue to face, is finding answers.
Sometimes the path to an answer isn't as clear as I hoped so I
have to round up the resources that are available and find a
way to use them. At the beginning, this was especially hard
because I wasn't aware of all the resources I had while I was
getting settled in my internship. But by now, I've been able
to find a group of tools to choose from when I need help or
have questions. In other words, choosing resources wisely to
find answers can be challenging, but it is something I've been
able to practice.
The main ISE skill I've applied is problem-solving. In the
different classes I took for my major, I was given many tools
to solve various types of problems. The biggest takeaway from
all of that information was developing a structure to find so
-
lutions to problems that don't always have a clear answer or
path. Communication is also key and goes hand-in-hand with
problem-solving because many of the challenges faced can be
solved with the help of the right people by asking the right
questions. Teamwork, from my experience, is crucial at Citi.
When I was looking for an internship, I was very flexible
with its terms. All I knew was that I wanted an opportuni
-
ty to learn as much as possible. In my time at Citi, I learned
something new every day, constantly felt challenged and was
pushed out of my comfort zone. I felt that the effort I put into
my work was valuable to the bank. I recommend this intern
-
ship to any curious students ready to expand their knowledge
by taking what they've learned in class and applying it to a
challenging yet rewarding environment.

Ana Sofía Cavallo is an industrial engineering student at Universidad
de La Sabana in Chia, Colombia. She is an IISE student member.
Considering that my role was very
project-driven during my internship, I was
sometimes given tasks to be completed
without a specific deadline. Learning
to use my time wisely and classify
deliverables according to their urgency and
importance without ignoring any activities
is challenging, but it was ultimately one of
the skills I learned most.
Ana Sofía Cavallo