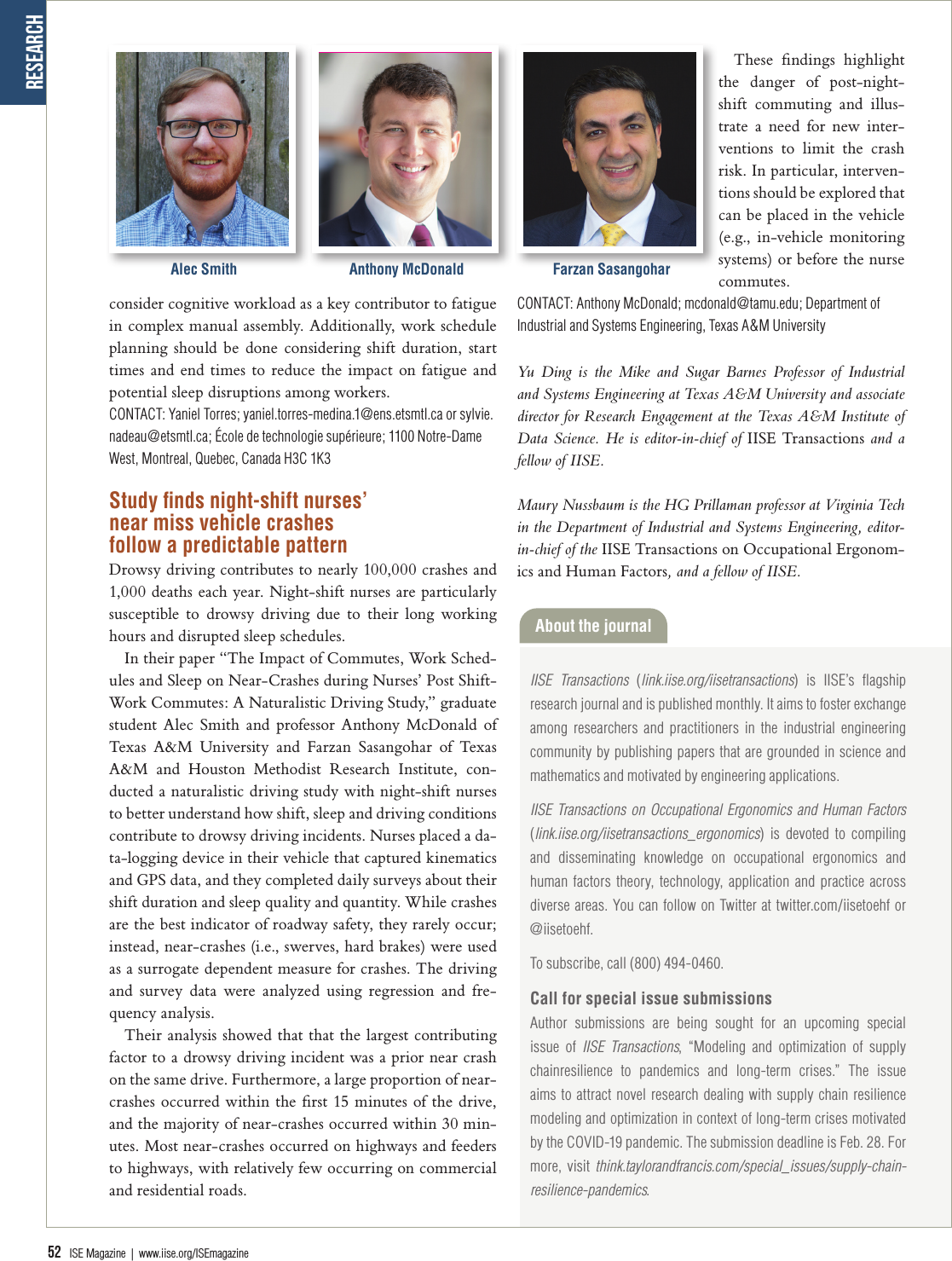 52
ISE Magazine | www.iise.org/ISEmagazine
consider cognitive workload as a key contributor to fatigue
in complex manual assembly. Additionally, work schedule
planning should be done considering shift duration, start
times and end times to reduce the impact on fatigue and
potential sleep disruptions among workers.
CONTACT: Yaniel Torres;
yaniel.torres-medina.1@ens.etsmtl.ca or

sylvie.
nadeau@etsmtl.ca
; École de technologie supérieure; 1100 Notre-Dame
West, Montreal, Quebec, Canada H3C 1K3
Study finds night-shift nurses'
near miss vehicle crashes
follow a predictable pattern
Drowsy driving contributes to nearly 100,000 crashes and
1,000 deaths each year. Night-shift nurses are particularly
susceptible to drowsy driving due to their long working
hours and disrupted sleep schedules.
In their paper "The Impact of Commutes, Work Sched
-
ules and Sleep on Near-Crashes during Nurses' Post Shift-
Work Commutes: A Naturalistic Driving Study," graduate
student Alec Smith and professor Anthony McDonald of
Texas A&M University and Farzan Sasangohar of Texas
A&M and Houston Methodist Research Institute, con
-
ducted a naturalistic driving study with night-shift nurses
to better understand how shift, sleep and driving conditions
contribute to drowsy driving incidents. Nurses placed a da
-
ta-logging device in their vehicle that captured kinematics
and GPS data, and they completed daily surveys about their
shift duration and sleep quality and quantity. While crashes
are the best indicator of roadway safety, they rarely occur;
instead, near-crashes (i.e., swerves, hard brakes) were used
as a surrogate dependent measure for crashes. The driving
and survey data were analyzed using regression and fre
-
quency analysis.
Their analysis showed that that the largest contributing
factor to a drowsy driving incident was a prior near crash
on the same drive. Furthermore, a large proportion of near-
crashes occurred within the first 15 minutes of the drive,
and the majority of near-crashes occurred within 30 min
-
utes. Most near-crashes occurred on highways and feeders
to highways, with relatively few occurring on commercial
and residential roads.
These findings highlight
the danger of post-night-
shift commuting and illus
-
trate a need for new inter
-
ventions to limit the crash
risk. In particular, interven
-
tions should be explored that
can be placed in the vehicle
(e.g., in-vehicle monitoring
systems) or before the nurse
commutes.
CONTACT: Anthony McDonald;
mcdonald@tamu.edu

; Department of
Industrial and Systems Engineering, Texas A&M University
Yu Ding is the Mike and Sugar Barnes Professor of Industrial
and Systems Engineering at Texas A&M University and associate
director for Research Engagement at the Texas A&M Institute of
Data Science. He is editor-in-chief of
IISE Transactions

and a
fellow of IISE.
Maury Nussbaum is the HG Prillaman professor at Virginia Tech
in the Department of Industrial and Systems Engineering, editor-
in-chief of the
IISE Transactions on Occupational Ergonom

-
ics and Human Factors
, and a fellow of IISE.
research
IISE Transactions
(link.iise.org/iisetransactions

) is IISE's flagship
research journal and is published monthly. It aims to foster exchange
among researchers and practitioners in the industrial engineering
community by publishing papers that are grounded in science and
mathematics and motivated by engineering applications.
IISE Transactions on Occupational Ergonomics and Human Factors
(
link.iise.org/iisetransactions_ergonomics

) is devoted to compiling
and disseminating knowledge on occupational ergonomics and
human factors theory, technology, application and practice across
diverse areas. You can follow on Twitter at
twitter.com/iisetoehf

or
@iisetoehf.
To subscribe, call (800) 494-0460.
Call for special issue submissions
Author submissions are being sought for an upcoming special
issue of
IISE Transactions

, "Modeling and optimization of supply
chainresilience to pandemics and long-term crises." The issue
aims to attract novel research dealing with supply chain resilience
modeling and optimization in context of long-term crises motivated
by the COVID-19 pandemic. The submission deadline is Feb. 28. For
more, visit
think.taylorandfrancis.com/special_issues/supply-chain-
About the journal
Farzan SasangoharAlec Smith
Anthony McDonald
DO THE
WRITE THING
Become an author for
ISE
magazine
ISE
managers, educators, students, solutions
experts – even the C-suite …
ISE
is your
magazine. Earn respect among your peers by
writing about what you know and love best.
• Generate byline buzz by reaching thousands
worldwide.
• Prove yourself THE subject matter expert.
• Earn the exclusive
ISE
Magazine Writer badge.
• Beef up social profile, resume, email signature.
Ready?!
Contact Managing Editor Keith Albertson,
kalbertson@iise.org.
WRITER
I
N
D
U
S
T
R
I
A
L
A
N
D
S
Y
S
T
E
M
S
E
N
G
I
N
E
E
R
I
N
G
A
T
W
O
R
K
Pitt, UPRM students adapt remotely
2020, a long a year of disruptions
A model for operational excellence
Case Study: Improving university
cleaning processes
INDUSTRIAL AND SYSTEMS ENGINEERING AT WORK
What's Your Story?
ISE educator
Harriet B. Nembhard
Lessons
from the
pandemic
ISE students overcome
COVID-19 limitations
JANUARY 2021 | Volume 53 | Number 1 | $23
Supply chains to ease human
nutrition, healthcare needs
Why AI sparks the need
for general know-how
Forgotten hypothesis theory
gets a fresh look
Case Study: Hospital tiered
huddles tackle issues
Can water
fill power
gaps?
Hydroelectricity
may support clean
energy grid
JULY 2021 | Volume 53 | Number 7 | $23
What's Your Story?
Apple CEO Tim Cook
INDUSTRIAL AND SYSTEMS ENGINEERING AT WORK
JULY 2021 | Volume 53 | Number 7 | $23
JUNE 2021 | Volume 53 | Number 6 | $23
Building social capital
into your company culture
Celebrating women in engineering
Choosing the right AI
for your business
Highlighting IISE's
Honors & Awards winners
Following the
DMAIC path
to success
What's Your Story?
West Point systems
engineering instructor
Isabella T. Sanders
Six Sigma principles
improve production
Following the
DMAIC path
to success
smart meter installation
cuts costs, boosts efficiency
Kitting plan helps jet maker
fit out planes more efficiently
Ergonomists lead innovative
efforts to advocate safety
What's Your Story?
The Ergonomics Center
Executive Director Julia Abate
MARCH 2021 | Volume 53 | Number 3 | $23
unsung
HEROES
for shifting
workplaces