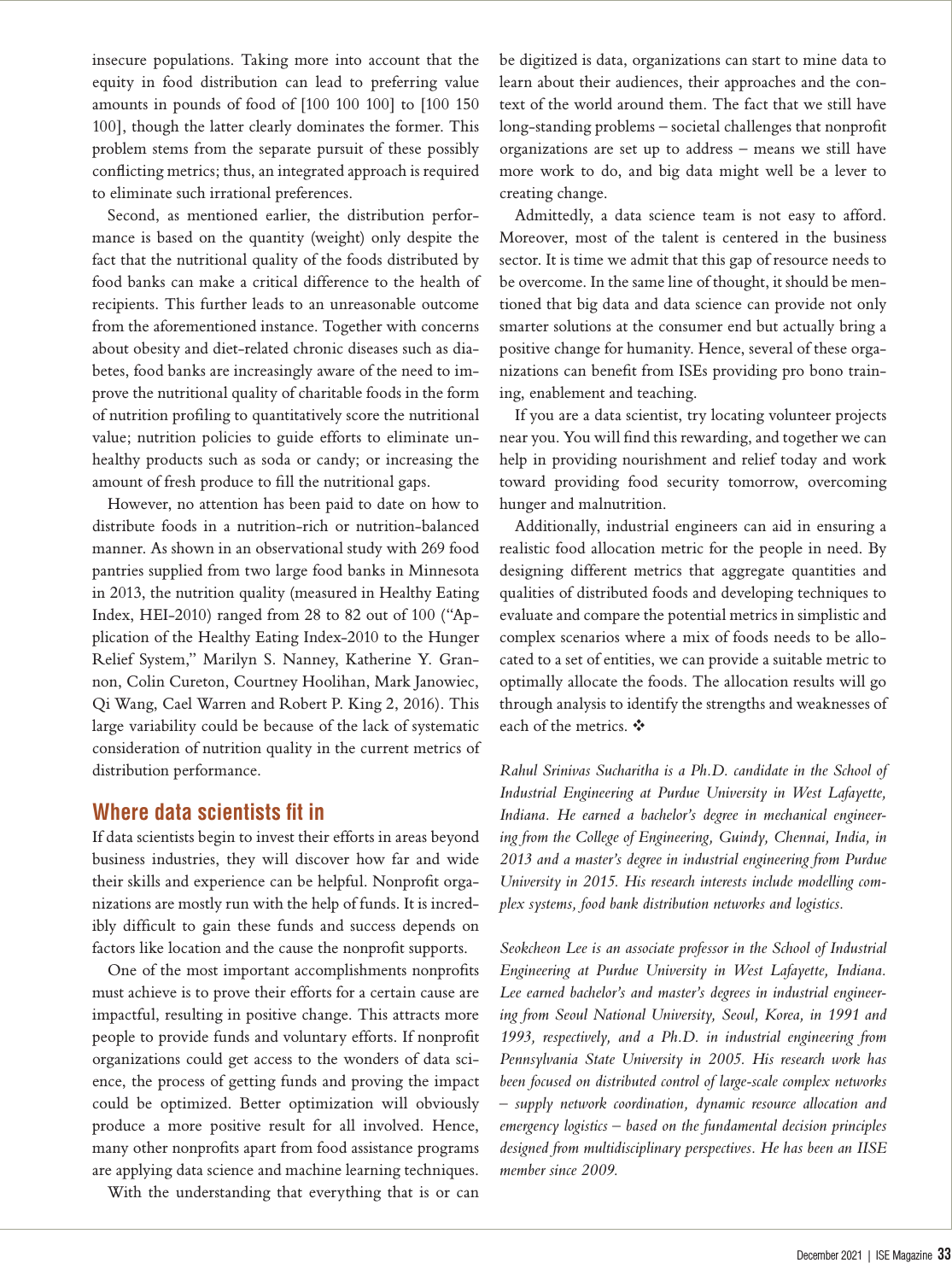 December 2021 | ISE Magazine
33
insecure populations. Taking more into account that the
equity in food distribution can lead to preferring value
amounts in pounds of food of [100 100 100] to [100 150
100], though the latter clearly dominates the former. This
problem stems from the separate pursuit of these possibly
conflicting metrics; thus, an integrated approach is required
to eliminate such irrational preferences.
Second, as mentioned earlier, the distribution perfor
-
mance is based on the quantity (weight) only despite the
fact that the nutritional quality of the foods distributed by
food banks can make a critical difference to the health of
recipients. This further leads to an unreasonable outcome
from the aforementioned instance. Together with concerns
about obesity and diet-related chronic diseases such as dia
-
betes, food banks are increasingly aware of the need to im
-
prove the nutritional quality of charitable foods in the form
of nutrition profiling to quantitatively score the nutritional
value; nutrition policies to guide efforts to eliminate un
-
healthy products such as soda or candy; or increasing the
amount of fresh produce to fill the nutritional gaps.
However, no attention has been paid to date on how to
distribute foods in a nutrition-rich or nutrition-balanced
manner. As shown in an observational study with 269 food
pantries supplied from two large food banks in Minnesota
in 2013, the nutrition quality (measured in Healthy Eating
Index, HEI-2010) ranged from 28 to 82 out of 100 ("Ap
-
plication of the Healthy Eating Index-2010 to the Hunger
Relief System," Marilyn S. Nanney, Katherine Y. Gran
-
non, Colin Cureton, Courtney Hoolihan, Mark Janowiec,
Qi Wang, Cael Warren and Robert P. King 2, 2016). This
large variability could be because of the lack of systematic
consideration of nutrition quality in the current metrics of
distribution performance.
Where data scientists fit in
If data scientists begin to invest their efforts in areas beyond
business industries, they will discover how far and wide
their skills and experience can be helpful. Nonprofit orga
-
nizations are mostly run with the help of funds. It is incred
-
ibly difficult to gain these funds and success depends on
factors like location and the cause the nonprofit supports.
One of the most important accomplishments nonprofits
must achieve is to prove their efforts for a certain cause are
impactful, resulting in positive change. This attracts more
people to provide funds and voluntary efforts. If nonprofit
organizations could get access to the wonders of data sci
-
ence, the process of getting funds and proving the impact
could be optimized. Better optimization will obviously
produce a more positive result for all involved. Hence,
many other nonprofits apart from food assistance programs
are applying data science and machine learning techniques.
With the understanding that everything that is or can
be digitized is data, organizations can start to mine data to
learn about their audiences, their approaches and the con
-
text of the world around them. The fact that we still have
long-standing problems – societal challenges that nonprofit
organizations are set up to address – means we still have
more work to do, and big data might well be a lever to
creating change.
Admittedly, a data science team is not easy to afford.
Moreover, most of the talent is centered in the business
sector. It is time we admit that this gap of resource needs to
be overcome. In the same line of thought, it should be men
-
tioned that big data and data science can provide not only
smarter solutions at the consumer end but actually bring a
positive change for humanity. Hence, several of these orga
-
nizations can benefit from ISEs providing pro bono train
-
ing, enablement and teaching.
If you are a data scientist, try locating volunteer projects
near you. You will find this rewarding, and together we can
help in providing nourishment and relief today and work
toward providing food security tomorrow, overcoming
hunger and malnutrition.
Additionally, industrial engineers can aid in ensuring a
realistic food allocation metric for the people in need. By
designing different metrics that aggregate quantities and
qualities of distributed foods and developing techniques to
evaluate and compare the potential metrics in simplistic and
complex scenarios where a mix of foods needs to be allo
-
cated to a set of entities, we can provide a suitable metric to
optimally allocate the foods. The allocation results will go
through analysis to identify the strengths and weaknesses of
Rahul Srinivas Sucharitha is a Ph.D. candidate in the School of
Industrial Engineering at Purdue University in West Lafayette,
Indiana. He earned a bachelor's degree in mechanical engineer
-
ing from the College of Engineering, Guindy, Chennai, India, in
2013 and a master's degree in industrial engineering from Purdue
University in 2015. His research interests include modelling com
-
plex systems, food bank distribution networks and logistics.
Seokcheon Lee is an associate professor in the School of Industrial
Engineering at Purdue University in West Lafayette, Indiana.
Lee earned bachelor's and master's degrees in industrial engineer
-
ing from Seoul National University, Seoul, Korea, in 1991 and
1993, respectively, and a Ph.D. in industrial engineering from
Pennsylvania State University in 2005. His research work has
been focused on distributed control of large-scale complex networks
– supply network coordination, dynamic resource allocation and
emergency logistics – based on the fundamental decision principles
designed from multidisciplinary perspectives. He has been an IISE
member since 2009.