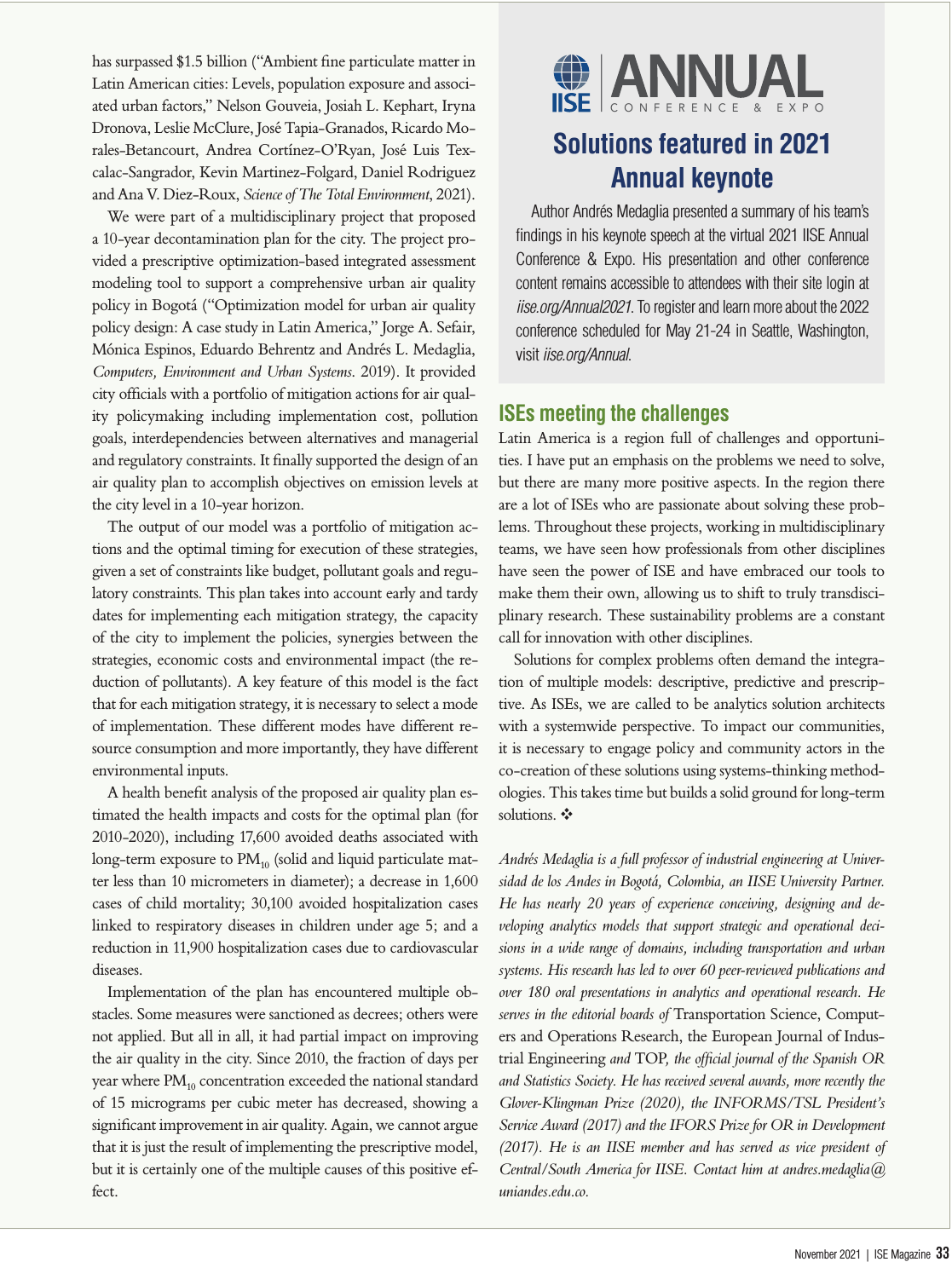 November 2021 | ISE Magazine
33
has surpassed $1.5 billion ("Ambient fine particulate matter in
Latin American cities: Levels, population exposure and associ
-
ated urban factors," Nelson Gouveia, Josiah L. Kephart, Iryna
Dronova, Leslie McClure, José Tapia-Granados, Ricardo Mo
-
rales-Betancourt, Andrea Cortínez-O'Ryan, José Luis Tex
-
calac-Sangrador, Kevin Martinez-Folgard, Daniel Rodriguez
and Ana V. Diez-Roux,
Science of The Total Environment

, 2021).
We were part of a multidisciplinary project that proposed
a 10-year decontamination plan for the city. The project pro
-
vided a prescriptive optimization-based integrated assessment
modeling tool to support a comprehensive urban air quality
policy in Bogotá ("Optimization model for urban air quality
policy design: A case study in Latin America," Jorge A. Sefair,
Mónica Espinos, Eduardo Behrentz and Andrés L. Medaglia,
Computers, Environment and Urban Systems
. 2019). It provided
city officials with a portfolio of mitigation actions for air qual
-
ity policymaking including implementation cost, pollution
goals, interdependencies between alternatives and managerial
and regulatory constraints. It finally supported the design of an
air quality plan to accomplish objectives on emission levels at
the city level in a 10-year horizon.
The output of our model was a portfolio of mitigation ac
-
tions and the optimal timing for execution of these strategies,
given a set of constraints like budget, pollutant goals and regu
-
latory constraints. This plan takes into account early and tardy
dates for implementing each mitigation strategy, the capacity
of the city to implement the policies, synergies between the
strategies, economic costs and environmental impact (the re
-
duction of pollutants). A key feature of this model is the fact
that for each mitigation strategy, it is necessary to select a mode
of implementation. These different modes have different re
-
source consumption and more importantly, they have different
environmental inputs.
A health benefit analysis of the proposed air quality plan es
-
timated the health impacts and costs for the optimal plan (for
2010-2020), including 17,600 avoided deaths associated with
long-term exposure to PM
10
(solid and liquid particulate mat
-
ter less than 10 micrometers in diameter); a decrease in 1,600
cases of child mortality; 30,100 avoided hospitalization cases
linked to respiratory diseases in children under age 5; and a
reduction in 11,900 hospitalization cases due to cardiovascular
diseases.
Implementation of the plan has encountered multiple ob
-
stacles. Some measures were sanctioned as decrees; others were
not applied. But all in all, it had partial impact on improving
the air quality in the city. Since 2010, the fraction of days per
year where PM
10
concentration exceeded the national standard
of 15 micrograms per cubic meter has decreased, showing a
significant improvement in air quality. Again, we cannot argue
that it is just the result of implementing the prescriptive model,
but it is certainly one of the multiple causes of this positive ef
-
fect.
ISEs meeting the challenges
Latin America is a region full of challenges and opportuni
-
ties. I have put an emphasis on the problems we need to solve,
but there are many more positive aspects. In the region there
are a lot of ISEs who are passionate about solving these prob
-
lems. Throughout these projects, working in multidisciplinary
teams, we have seen how professionals from other disciplines
have seen the power of ISE and have embraced our tools to
make them their own, allowing us to shift to truly transdisci
-
plinary research. These sustainability problems are a constant
call for innovation with other disciplines.
Solutions for complex problems often demand the integra
-
tion of multiple models: descriptive, predictive and prescrip
-
tive. As ISEs, we are called to be analytics solution architects
with a systemwide perspective. To impact our communities,
it is necessary to engage policy and community actors in the
co-creation of these solutions using systems-thinking method
-
ologies. This takes time but builds a solid ground for long-term
Andrés Medaglia is a full professor of industrial engineering at Univer
-
sidad de los Andes in Bogotá, Colombia, an IISE University Partner.
He has nearly 20 years of experience conceiving, designing and de
-
veloping analytics models that support strategic and operational deci
-
sions in a wide range of domains, including transportation and urban
systems. His research has led to over 60 peer-reviewed publications and
over 180 oral presentations in analytics and operational research. He
serves in the editorial boards of
Transportation Science, Comput

-
ers and Operations Research, the European Journal of Indus
-
trial Engineering
and
TOP

, the official journal of the Spanish OR
and Statistics Society. He has received several awards, more recently the
Glover-Klingman Prize (2020), the INFORMS/TSL President's
Service Award (2017) and the IFORS Prize for OR in Development
(2017). He is an IISE member and has served as vice president of
Central/South America for IISE. Contact him at
andres.medaglia@
Solutions featured in 2021
Annual keynote
Author Andrés Medaglia presented a summary of his team's
findings in his keynote speech at the virtual 2021 IISE Annual
Conference & Expo. His presentation and other conference
content remains accessible to attendees with their site login at
iise.org/Annual2021
. To register and learn more about the 2022
conference scheduled for May 21-24 in Seattle, Washington,