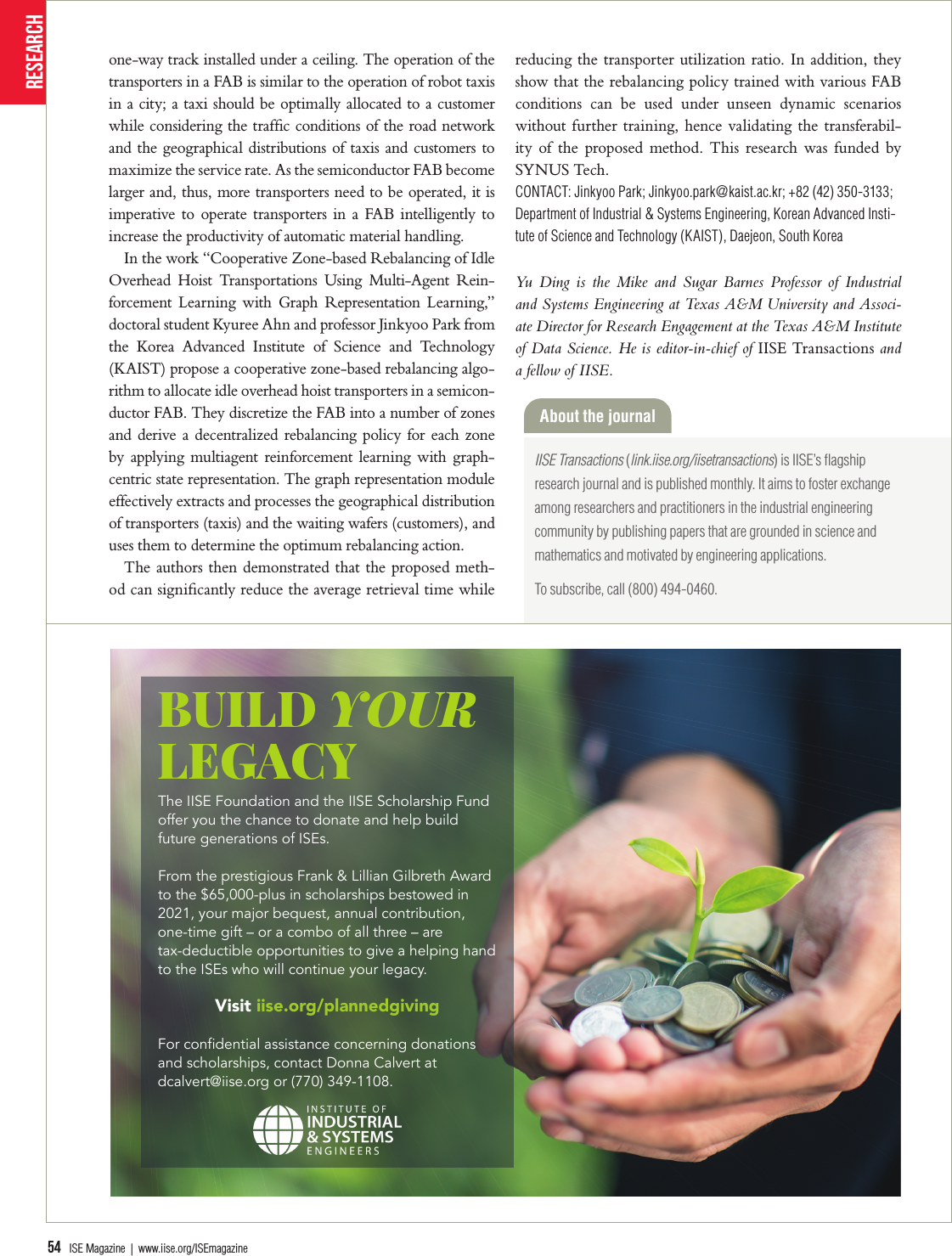 54
ISE Magazine | www.iise.org/ISEmagazine
one-way track installed under a ceiling. The operation of the
transporters in a FAB is similar to the operation of robot taxis
in a city; a taxi should be optimally allocated to a customer
while considering the traffic conditions of the road network
and the geographical distributions of taxis and customers to
maximize the service rate. As the semiconductor FAB become
larger and, thus, more transporters need to be operated, it is
imperative to operate transporters in a FAB intelligently to
increase the productivity of automatic material handling.
In the work "Cooperative Zone-based Rebalancing of Idle
Overhead Hoist Transportations Using Multi-Agent Rein
-
forcement Learning with Graph Representation Learning,"
doctoral student Kyuree Ahn and professor Jinkyoo Park from
the Korea Advanced Institute of Science and Technology
(KAIST) propose a cooperative zone-based rebalancing algo
-
rithm to allocate idle overhead hoist transporters in a semicon
-
ductor FAB. They discretize the FAB into a number of zones
and derive a decentralized rebalancing policy for each zone
by applying multiagent reinforcement learning with graph-
centric state representation. The graph representation module
effectively extracts and processes the geographical distribution
of transporters (taxis) and the waiting wafers (customers), and
uses them to determine the optimum rebalancing action.
The authors then demonstrated that the proposed meth
-
od can significantly reduce the average retrieval time while
reducing the transporter utilization ratio. In addition, they
show that the rebalancing policy trained with various FAB
conditions can be used under unseen dynamic scenarios
without further training, hence validating the transferabil
-
ity of the proposed method. This research was funded by
SYNUS Tech.
CONTACT: Jinkyoo Park;
Jinkyoo.park@kaist.ac.kr

; +82 (42) 350-3133;
Department of Industrial & Systems Engineering, Korean Advanced Insti-
tute of Science and Technology (KAIST), Daejeon, South Korea
Yu Ding is the Mike and Sugar Barnes Professor of Industrial
and Systems Engineering at Texas A&M University and Associ
-
ate Director for Research Engagement at the Texas A&M Institute
of Data Science. He is editor-in-chief of
IISE Transactions

and
a fellow of IISE.
research
IISE Transactions
(link.iise.org/iisetransactions

) is IISE's flagship
research journal and is published monthly. It aims to foster exchange
among researchers and practitioners in the industrial engineering
community by publishing papers that are grounded in science and
mathematics and motivated by engineering applications.
To subscribe, call (800) 494-0460.
About the journal
The IISE Foundation and the IISE Scholarship Fund
offer you the chance to donate and help build
future generations of ISEs.
From the prestigious Frank & Lillian Gilbreth Award
to the $65,000-plus in scholarships bestowed in
2021, your major bequest, annual contribution,
one-time gift – or a combo of all three – are
tax-deductible opportunities to give a helping hand
to the ISEs who will continue your legacy.
Visit iise.org/plannedgiving
For confidential assistance concerning donations
and scholarships, contact Donna Calvert at
dcalvert@iise.org or (770) 349-1108.
LEGACY
IISE, AES, SHS Partners get membership discounts of 15-50%
• Corporate Partners can affordably develop staff
and get them the training required to optimize the enterprise.
• IISE University Partners boost their faculty's opportunities to network and publish research.
• IISE tailors your Corporate or University Partnership to address your organization's unique needs.
• Discounts of
40% on
ISE

magazine and Career Center advertising.
SPIRIT AERO FLIES HIGH BY PARTNERING WITH IISE
Welcome new and renewing
Corporate and University Partners
Consumer Energy • Clemson University • Herren Associates
Universidad de San Carlos de Guatemala • Universidad Católica Boliviana
Contact Doug Long, Global
Director of Strategic Alliances, at
dlong@iise.org or (770) 349-1109
to learn more.
"
Our corporate membership provided many
unexpected benefits. We have made contacts via
IISE that have provided input to simulation and
other tools. We have strengthened our relationship
with the local university through joint meetings, tours
and partnerships. The process of
combining
memberships also helped bring our members and
diverse skills together and provided broader exposure
to how our company is applying their expertise within
our enterprise.
- David Logback, industrial engineer, Spirit AeroSystems Inc.
Spirit AeroSystems Inc., the world's largest first-tier
aerostructures manufacturer, found that an IISE
Corporate Partnership brought together employees with
diverse skills, such as lean, simulation, quality, systems
engineering, shop support and ergonomics. Spirit
employees use IISE's online resources, read ISE
magazine, attend conferences and network to stay up
to date with the latest applications and discover how
other professionals address similar challenges.