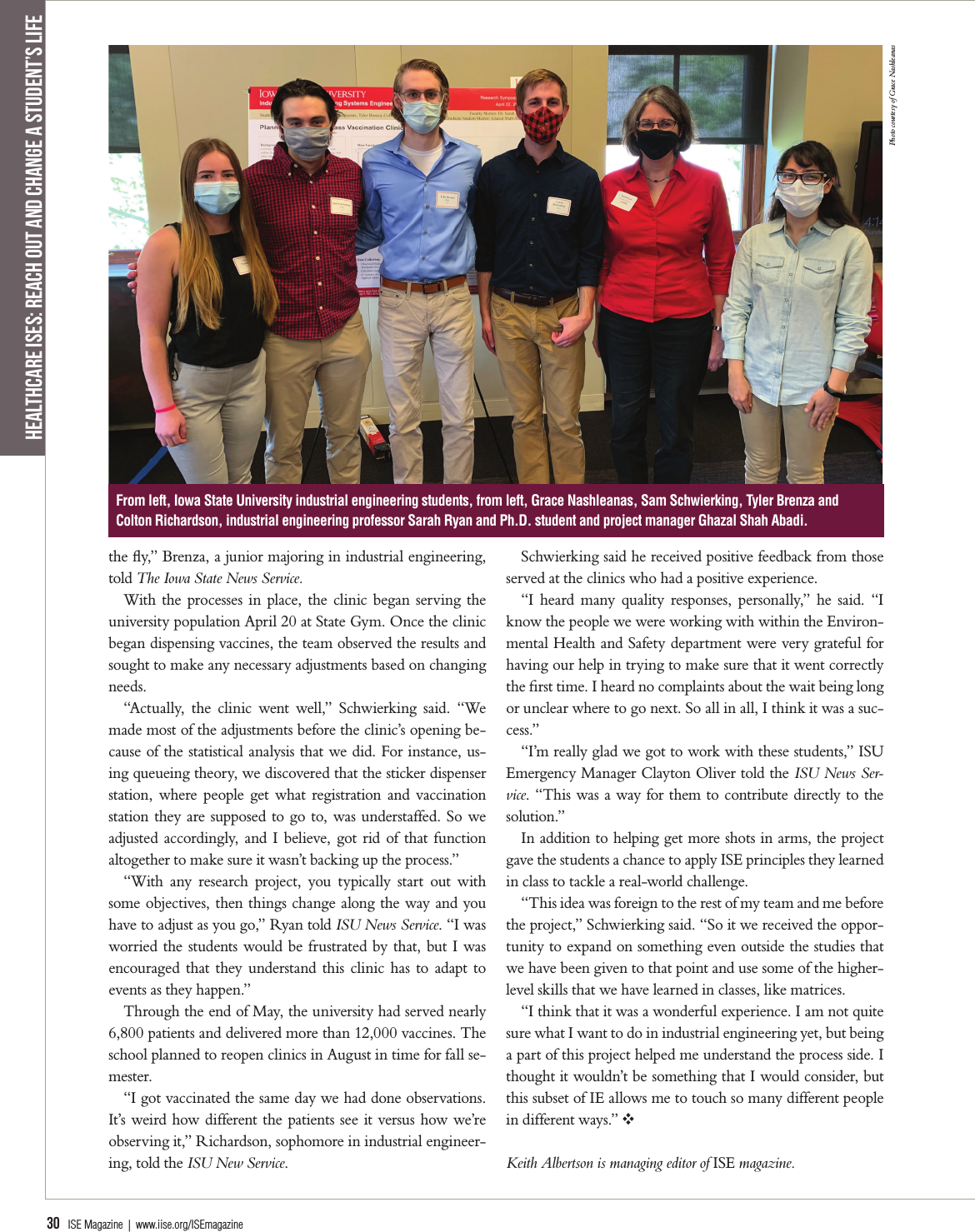 30
ISE Magazine | www.iise.org/ISEmagazine
Healthcare ISEs: Reach out and change a student's life
the fly," Brenza, a junior majoring in industrial engineering,
told
The Iowa State News Service.
With the processes in place, the clinic began serving the
university population April 20 at State Gym. Once the clinic
began dispensing vaccines, the team observed the results and
sought to make any necessary adjustments based on changing
needs.
"Actually, the clinic went well," Schwierking said. "We
made most of the adjustments before the clinic's opening be
-
cause of the statistical analysis that we did. For instance, us
-
ing queueing theory, we discovered that the sticker dispenser
station, where people get what registration and vaccination
station they are supposed to go to, was understaffed. So we
adjusted accordingly, and I believe, got rid of that function
altogether to make sure it wasn't backing up the process."
"With any research project, you typically start out with
some objectives, then things change along the way and you
have to adjust as you go," Ryan told
ISU News Service
. "I was
worried the students would be frustrated by that, but I was
encouraged that they understand this clinic has to adapt to
events as they happen."
Through the end of May, the university had served nearly
6,800 patients and delivered more than 12,000 vaccines. The
school planned to reopen clinics in August in time for fall se
-
mester.
"I got vaccinated the same day we had done observations.
It's weird how different the patients see it versus how we're
observing it," Richardson, sophomore in industrial engineer
-
ing, told the
ISU New Service
.
Schwierking said he received positive feedback from those
served at the clinics who had a positive experience.
"I heard many quality responses, personally," he said. "I
know the people we were working with within the Environ
-
mental Health and Safety department were very grateful for
having our help in trying to make sure that it went correctly
the first time. I heard no complaints about the wait being long
or unclear where to go next. So all in all, I think it was a suc
-
cess."
"I'm really glad we got to work with these students," ISU
Emergency Manager Clayton Oliver told the
ISU News Ser

-
vice
. "This was a way for them to contribute directly to the
solution."
In addition to helping get more shots in arms, the project
gave the students a chance to apply ISE principles they learned
in class to tackle a real-world challenge.
"This idea was foreign to the rest of my team and me before
the project," Schwierking said. "So it we received the oppor
-
tunity to expand on something even outside the studies that
we have been given to that point and use some of the higher-
level skills that we have learned in classes, like matrices.
"I think that it was a wonderful experience. I am not quite
sure what I want to do in industrial engineering yet, but being
a part of this project helped me understand the process side. I
thought it wouldn't be something that I would consider, but
this subset of IE allows me to touch so many different people
Keith Albertson is managing editor of
ISE
magazine.
From left, Iowa State University industrial engineering students, from left, Grace Nashleanas, Sam Schwierking, Tyler Brenza and
Colton Richardson, industrial engineering professor Sarah Ryan and Ph.D. student and project manager Ghazal Shah Abadi.
Photo courtesy of Grace Nashleanas