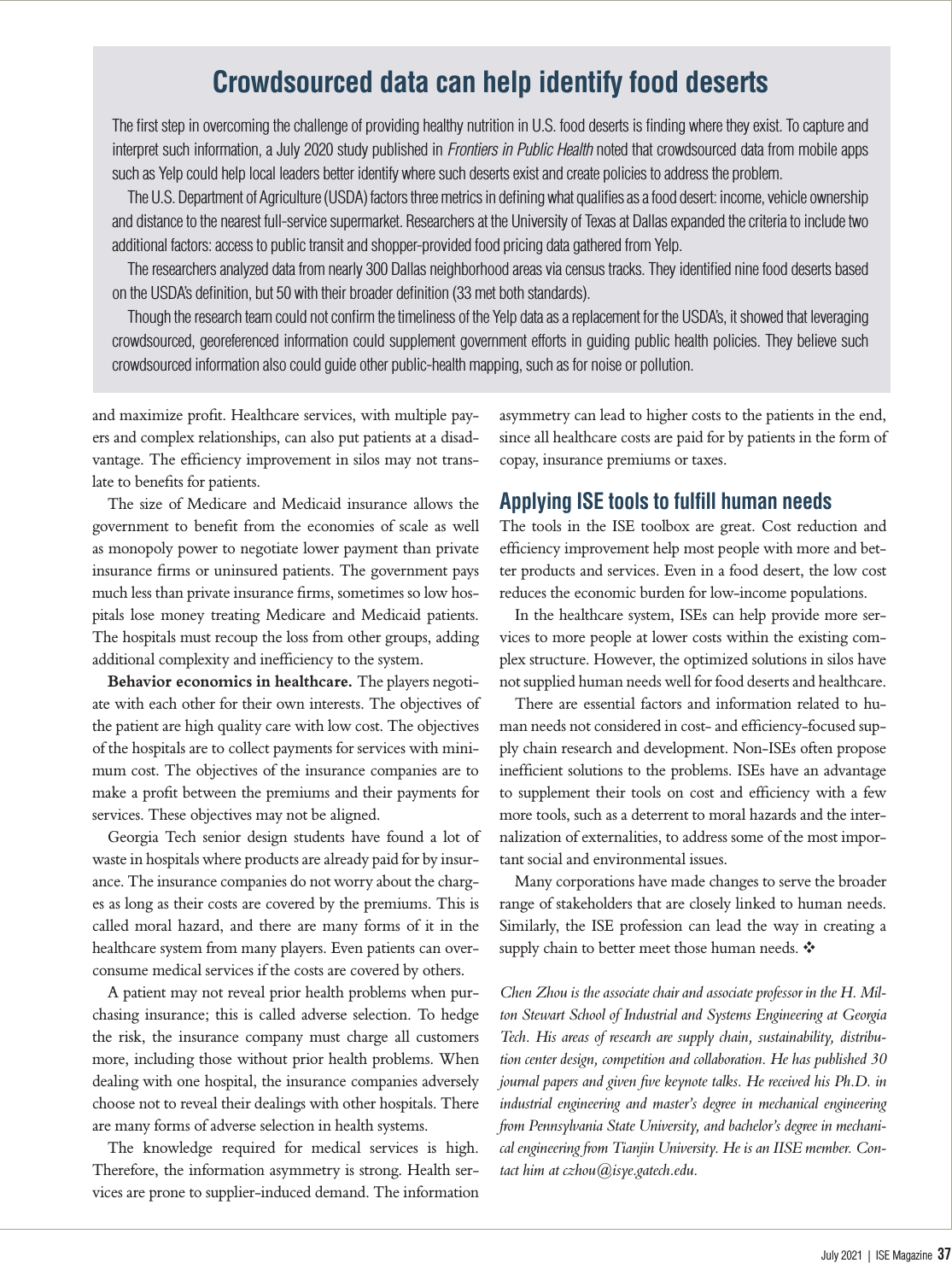 July 2021 | ISE Magazine
37
and maximize profit. Healthcare services, with multiple pay
-
ers and complex relationships, can also put patients at a disad
-
vantage. The efficiency improvement in silos may not trans
-
late to benefits for patients.
The size of Medicare and Medicaid insurance allows the
government to benefit from the economies of scale as well
as monopoly power to negotiate lower payment than private
insurance firms or uninsured patients. The government pays
much less than private insurance firms, sometimes so low hos
-
pitals lose money treating Medicare and Medicaid patients.
The hospitals must recoup the loss from other groups, adding
additional complexity and inefficiency to the system.
Behavior economics in healthcare.
The players negoti

-
ate with each other for their own interests. The objectives of
the patient are high quality care with low cost. The objectives
of the hospitals are to collect payments for services with mini
-
mum cost. The objectives of the insurance companies are to
make a profit between the premiums and their payments for
services. These objectives may not be aligned.
Georgia Tech senior design students have found a lot of
waste in hospitals where products are already paid for by insur
-
ance. The insurance companies do not worry about the charg
-
es as long as their costs are covered by the premiums. This is
called moral hazard, and there are many forms of it in the
healthcare system from many players. Even patients can over
-
consume medical services if the costs are covered by others.
A patient may not reveal prior health problems when pur
-
chasing insurance; this is called adverse selection. To hedge
the risk, the insurance company must charge all customers
more, including those without prior health problems. When
dealing with one hospital, the insurance companies adversely
choose not to reveal their dealings with other hospitals. There
are many forms of adverse selection in health systems.
The knowledge required for medical services is high.
Therefore, the information asymmetry is strong. Health ser
-
vices are prone to supplier-induced demand. The information
asymmetry can lead to higher costs to the patients in the end,
since all healthcare costs are paid for by patients in the form of
copay, insurance premiums or taxes.
Applying ISE tools to fulfill human needs
The tools in the ISE toolbox are great. Cost reduction and
efficiency improvement help most people with more and bet
-
ter products and services. Even in a food desert, the low cost
reduces the economic burden for low-income populations.
In the healthcare system, ISEs can help provide more ser
-
vices to more people at lower costs within the existing com
-
plex structure. However, the optimized solutions in silos have
not supplied human needs well for food deserts and healthcare.
There are essential factors and information related to hu
-
man needs not considered in cost- and efficiency-focused sup
-
ply chain research and development. Non-ISEs often propose
inefficient solutions to the problems. ISEs have an advantage
to supplement their tools on cost and efficiency with a few
more tools, such as a deterrent to moral hazards and the inter
-
nalization of externalities, to address some of the most impor
-
tant social and environmental issues.
Many corporations have made changes to serve the broader
range of stakeholders that are closely linked to human needs.
Similarly, the ISE profession can lead the way in creating a
supply chain to better meet those human needs.

Chen Zhou is the associate chair and associate professor in the H. Mil
-
ton Stewart School of Industrial and Systems Engineering at Georgia
Tech. His areas of research are supply chain, sustainability, distribu
-
tion center design, competition and collaboration. He has published 30
journal papers and given five keynote talks. He received his Ph.D. in
industrial engineering and master's degree in mechanical engineering
from Pennsylvania State University, and bachelor's degree in mechani
-
cal engineering from Tianjin University. He is an IISE member. Con
-
tact him at
czhou@isye.gatech.edu

.
Crowdsourced data can help identify food deserts
The first step in overcoming the challenge of providing healthy nutrition in U.S. food deserts is finding where they exist. To capture and
interpret such information, a July 2020 study published in
Frontiers in Public Health
noted that crowdsourced data from mobile apps
such as Yelp could help local leaders better identify where such deserts exist and create policies to address the problem.
The U.S. Department of Agriculture (USDA) factors three metrics in defining what qualifies as a food desert: income, vehicle ownership
and distance to the nearest full-service supermarket. Researchers at the University of Texas at Dallas expanded the criteria to include two
additional factors: access to public transit and shopper-provided food pricing data gathered from Yelp.
The researchers analyzed data from nearly 300 Dallas neighborhood areas via census tracks. They identified nine food deserts based
on the USDA's definition, but 50 with their broader definition (33 met both standards).
Though the research team could not confirm the timeliness of the Yelp data as a replacement for the USDA's, it showed that leveraging
crowdsourced, georeferenced information could supplement government efforts in guiding public health policies. They believe such
crowdsourced information also could guide other public-health mapping, such as for noise or pollution.