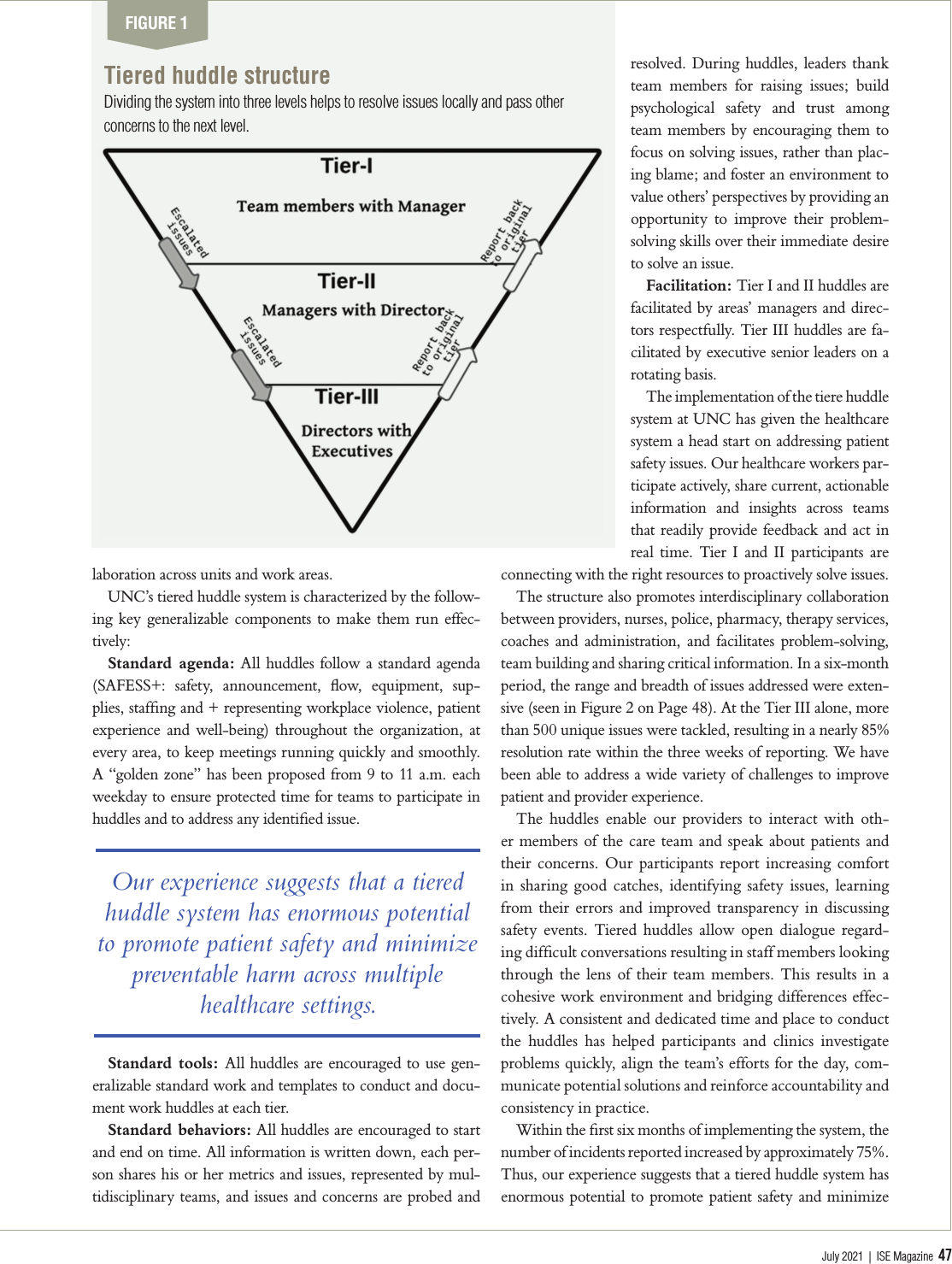 July 2021 | ISE Magazine
47
laboration across units and work areas.
UNC's tiered huddle system is characterized by the follow
-
ing key generalizable components to make them run effec
-
tively:
Standard agenda:
All huddles follow a standard agenda
(SAFESS+: safety, announcement, flow, equipment, sup
-
plies, staffing and + representing workplace violence, patient
experience and well-being) throughout the organization, at
every area, to keep meetings running quickly and smoothly.
A "golden zone" has been proposed from 9 to 11 a.m. each
weekday to ensure protected time for teams to participate in
huddles and to address any identified issue.
Standard tools:
All huddles are encouraged to use gen

-
eralizable standard work and templates to conduct and docu
-
ment work huddles at each tier.
Standard behaviors:
All huddles are encouraged to start
and end on time. All information is written down, each per
-
son shares his or her metrics and issues, represented by mul
-
tidisciplinary teams, and issues and concerns are probed and
resolved. During huddles, leaders thank
team members for raising issues; build
psychological safety and trust among
team members by encouraging them to
focus on solving issues, rather than plac
-
ing blame; and foster an environment to
value others' perspectives by providing an
opportunity to improve their problem-
solving skills over their immediate desire
to solve an issue.
Facilitation:
Tier I and II huddles are
facilitated by areas' managers and direc
-
tors respectfully. Tier III huddles are fa
-
cilitated by executive senior leaders on a
rotating basis.
The implementation of the tiere huddle
system at UNC has given the healthcare
system a head start on addressing patient
safety issues. Our healthcare workers par
-
ticipate actively, share current, actionable
information and insights across teams
that readily provide feedback and act in
real time. Tier I and II participants are
connecting with the right resources to proactively solve issues.
The structure also promotes interdisciplinary collaboration
between providers, nurses, police, pharmacy, therapy services,
coaches and administration, and facilitates problem-solving,
team building and sharing critical information. In a six-month
period, the range and breadth of issues addressed were exten
-
sive (seen in Figure 2 on Page 48). At the Tier III alone, more
than 500 unique issues were tackled, resulting in a nearly 85%
resolution rate within the three weeks of reporting. We have
been able to address a wide variety of challenges to improve
patient and provider experience.
The huddles enable our providers to interact with oth
-
er members of the care team and speak about patients and
their concerns. Our participants report increasing comfort
in sharing good catches, identifying safety issues, learning
from their errors and improved transparency in discussing
safety events. Tiered huddles allow open dialogue regard
-
ing difficult conversations resulting in staff members looking
through the lens of their team members. This results in a
cohesive work environment and bridging differences effec
-
tively. A consistent and dedicated time and place to conduct
the huddles has helped participants and clinics investigate
problems quickly, align the team's efforts for the day, com
-
municate potential solutions and reinforce accountability and
consistency in practice.
Within the first six months of implementing the system, the
number of incidents reported increased by approximately 75%.
Thus, our experience suggests that a tiered huddle system has
enormous potential to promote patient safety and minimize
FIGURE 1
Tiered huddle structure
Dividing the system into three levels helps to resolve issues locally and pass other
concerns to the next level.
Our experience suggests that a tiered
huddle system has enormous potential
to promote patient safety and minimize
preventable harm across multiple
healthcare settings.