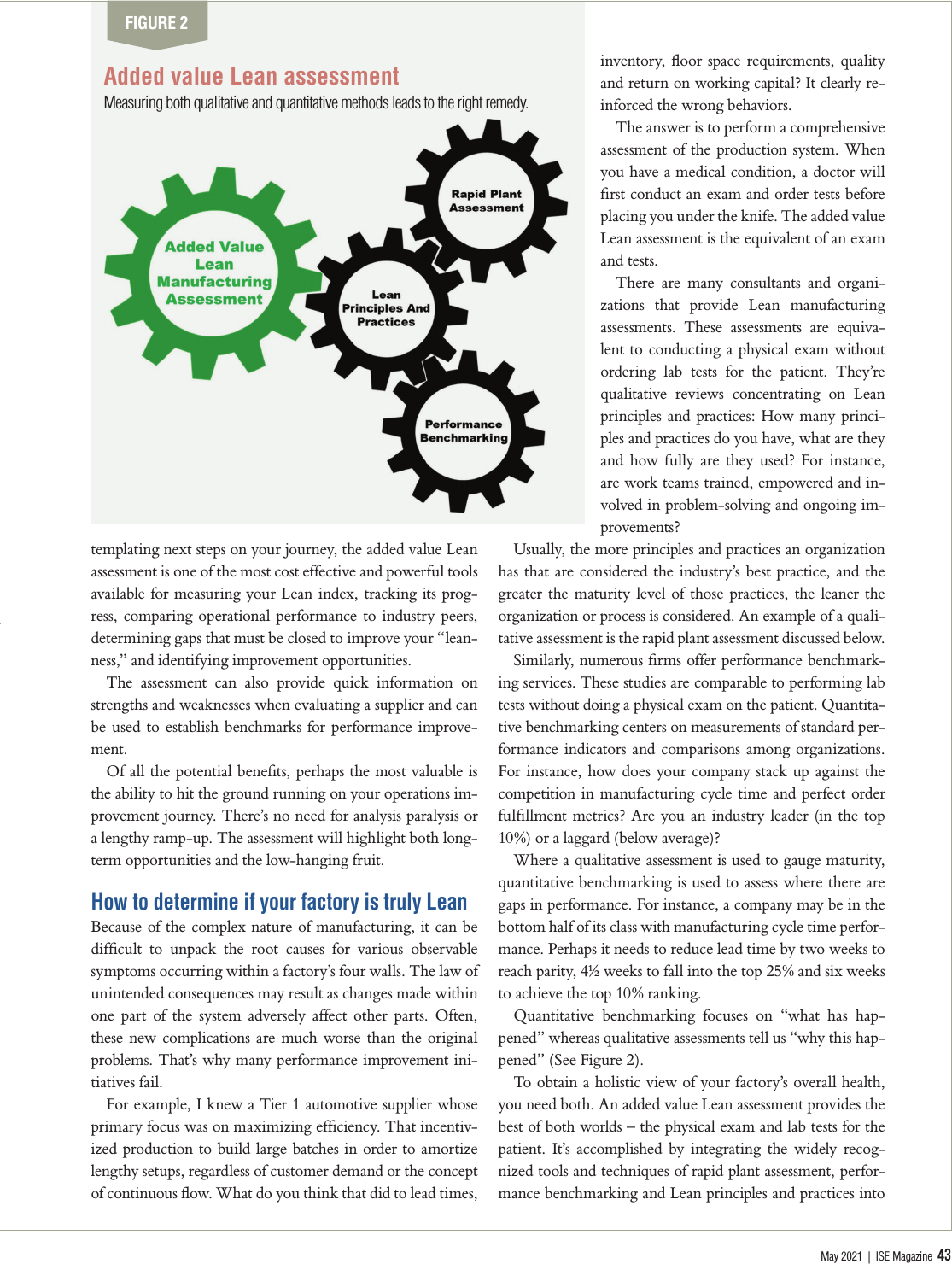 May 2021 | ISE Magazine
43
templating next steps on your journey, the added value Lean
assessment is one of the most cost effective and powerful tools
available for measuring your Lean index, tracking its prog
-
ress, comparing operational performance to industry peers,
determining gaps that must be closed to improve your "lean
-
ness," and identifying improvement opportunities.
The assessment can also provide quick information on
strengths and weaknesses when evaluating a supplier and can
be used to establish benchmarks for performance improve
-
ment.
Of all the potential benefits, perhaps the most valuable is
the ability to hit the ground running on your operations im
-
provement journey. There's no need for analysis paralysis or
a lengthy ramp-up. The assessment will highlight both long-
term opportunities and the low-hanging fruit.
How to determine if your factory is truly Lean
Because of the complex nature of manufacturing, it can be
difficult to unpack the root causes for various observable
symptoms occurring within a factory's four walls. The law of
unintended consequences may result as changes made within
one part of the system adversely affect other parts. Often,
these new complications are much worse than the original
problems. That's why many performance improvement ini
-
tiatives fail.
For example, I knew a Tier 1 automotive supplier whose
primary focus was on maximizing efficiency. That incentiv
-
ized production to build large batches in order to amortize
lengthy setups, regardless of customer demand or the concept
of continuous flow. What do you think that did to lead times,
inventory, floor space requirements, quality
and return on working capital? It clearly re
-
inforced the wrong behaviors.
The answer is to perform a comprehensive
assessment of the production system. When
you have a medical condition, a doctor will
first conduct an exam and order tests before
placing you under the knife. The added value
Lean assessment is the equivalent of an exam
and tests.
There are many consultants and organi
-
zations that provide Lean manufacturing
assessments. These assessments are equiva
-
lent to conducting a physical exam without
ordering lab tests for the patient. They're
qualitative reviews concentrating on Lean
principles and practices: How many princi
-
ples and practices do you have, what are they
and how fully are they used? For instance,
are work teams trained, empowered and in
-
volved in problem-solving and ongoing im
-
provements?
Usually, the more principles and practices an organization
has that are considered the industry's best practice, and the
greater the maturity level of those practices, the leaner the
organization or process is considered. An example of a quali
-
tative assessment is the rapid plant assessment discussed below.
Similarly, numerous firms offer performance benchmark
-
ing services. These studies are comparable to performing lab
tests without doing a physical exam on the patient. Quantita
-
tive benchmarking centers on measurements of standard per
-
formance indicators and comparisons among organizations.
For instance, how does your company stack up against the
competition in manufacturing cycle time and perfect order
fulfillment metrics? Are you an industry leader (in the top
10%) or a laggard (below average)?
Where a qualitative assessment is used to gauge maturity,
quantitative benchmarking is used to assess where there are
gaps in performance. For instance, a company may be in the
bottom half of its class with manufacturing cycle time perfor
-
mance. Perhaps it needs to reduce lead time by two weeks to
reach parity, 4½ weeks to fall into the top 25% and six weeks
to achieve the top 10% ranking.
Quantitative benchmarking focuses on "what has hap
-
pened" whereas qualitative assessments tell us "why this hap
-
pened" (See Figure 2).
To obtain a holistic view of your factory's overall health,
you need both. An added value Lean assessment provides the
best of both worlds – the physical exam and lab tests for the
patient. It's accomplished by integrating the widely recog
-
nized tools and techniques of rapid plant assessment, perfor
-
mance benchmarking and Lean principles and practices into
FIGURE 2
Added value Lean assessment
Measuring both qualitative and quantitative methods leads to the right remedy.