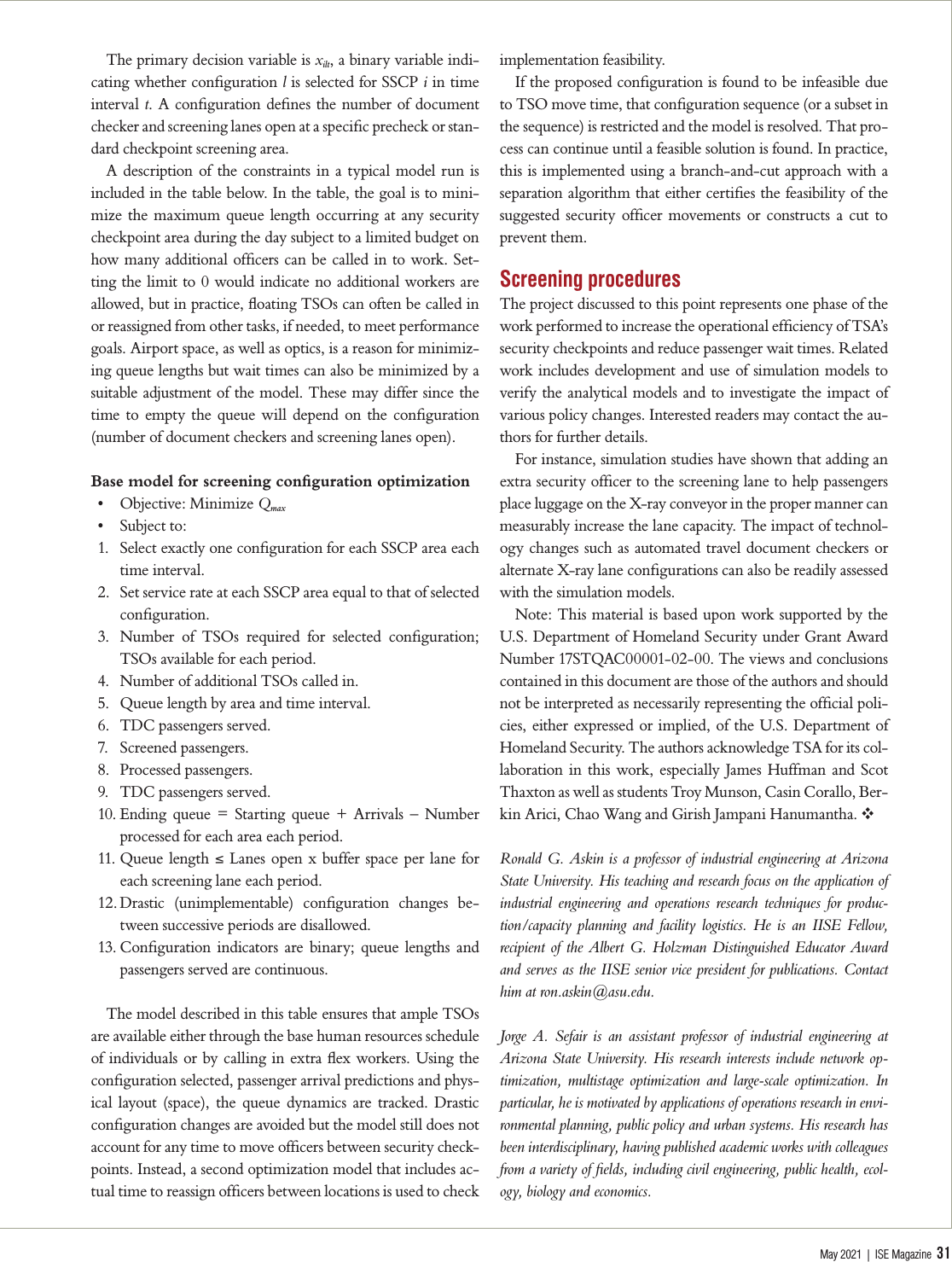 May 2021 | ISE Magazine
31
The primary decision variable is
x
ilt
, a binary variable indi
-
cating whether configuration
l is selected for SSCP i

in time
interval
t
. A configuration defines the number of document
checker and screening lanes open at a specific precheck or stan
-
dard checkpoint screening area.
A description of the constraints in a typical model run is
included in the table below. In the table, the goal is to mini
-
mize the maximum queue length occurring at any security
checkpoint area during the day subject to a limited budget on
how many additional officers can be called in to work. Set
-
ting the limit to 0 would indicate no additional workers are
allowed, but in practice, floating TSOs can often be called in
or reassigned from other tasks, if needed, to meet performance
goals. Airport space, as well as optics, is a reason for minimiz
-
ing queue lengths but wait times can also be minimized by a
suitable adjustment of the model. These may differ since the
time to empty the queue will depend on the configuration
(number of document checkers and screening lanes open).
Base model for screening configuration optimization
max
1.
Select exactly one configuration for each SSCP area each
time interval.
2.
Set service rate at each SSCP area equal to that of selected
configuration.
3.
Number of TSOs required for selected configuration;
TSOs available for each period.
4.
Number of additional TSOs called in.
5.
Queue length by area and time interval.
6.
TDC passengers served.
9.
TDC passengers served.
10. Ending queue = Starting queue + Arrivals – Number
processed for each area each period.
11. Queue length
≤

Lanes open x buffer space per lane for
each screening lane each period.
12. Drastic (unimplementable) configuration changes be
-
tween successive periods are disallowed.
13. Configuration indicators are binary; queue lengths and
passengers served are continuous.
The model described in this table ensures that ample TSOs
are available either through the base human resources schedule
of individuals or by calling in extra flex workers. Using the
configuration selected, passenger arrival predictions and phys
-
ical layout (space), the queue dynamics are tracked. Drastic
configuration changes are avoided but the model still does not
account for any time to move officers between security check
-
points. Instead, a second optimization model that includes ac
-
tual time to reassign officers between locations is used to check
implementation feasibility.
If the proposed configuration is found to be infeasible due
to TSO move time, that configuration sequence (or a subset in
the sequence) is restricted and the model is resolved. That pro
-
cess can continue until a feasible solution is found. In practice,
this is implemented using a branch-and-cut approach with a
separation algorithm that either certifies the feasibility of the
suggested security officer movements or constructs a cut to
prevent them.
Screening procedures
The project discussed to this point represents one phase of the
work performed to increase the operational efficiency of TSA's
security checkpoints and reduce passenger wait times. Related
work includes development and use of simulation models to
verify the analytical models and to investigate the impact of
various policy changes. Interested readers may contact the au
-
thors for further details.
For instance, simulation studies have shown that adding an
extra security officer to the screening lane to help passengers
place luggage on the X-ray conveyor in the proper manner can
measurably increase the lane capacity. The impact of technol
-
ogy changes such as automated travel document checkers or
alternate X-ray lane configurations can also be readily assessed
with the simulation models.
Note: This material is based upon work supported by the
U.S. Department of Homeland Security under Grant Award
Number 17STQAC00001-02-00. The views and conclusions
contained in this document are those of the authors and should
not be interpreted as necessarily representing the official poli
-
cies, either expressed or implied, of the U.S. Department of
Homeland Security. The authors acknowledge TSA for its col
-
laboration in this work, especially James Huffman and Scot
Thaxton as well as students Troy Munson, Casin Corallo, Ber
-
kin Arici, Chao Wang and Girish Jampani Hanumantha.

Ronald G. Askin is a professor of industrial engineering at Arizona
State University. His teaching and research focus on the application of
industrial engineering and operations research techniques for produc
-
tion/capacity planning and facility logistics. He is an IISE Fellow,
recipient of the Albert G. Holzman Distinguished Educator Award
and serves as the IISE senior vice president for publications. Contact
him at
ron.askin@asu.edu
.
Jorge A. Sefair is an assistant professor of industrial engineering at
Arizona State University. His research interests include network op
-
timization, multistage optimization and large-scale optimization. In
particular, he is motivated by applications of operations research in envi
-
ronmental planning, public policy and urban systems. His research has
been interdisciplinary, having published academic works with colleagues
from a variety of fields, including civil engineering, public health, ecol
-
ogy, biology and economics.