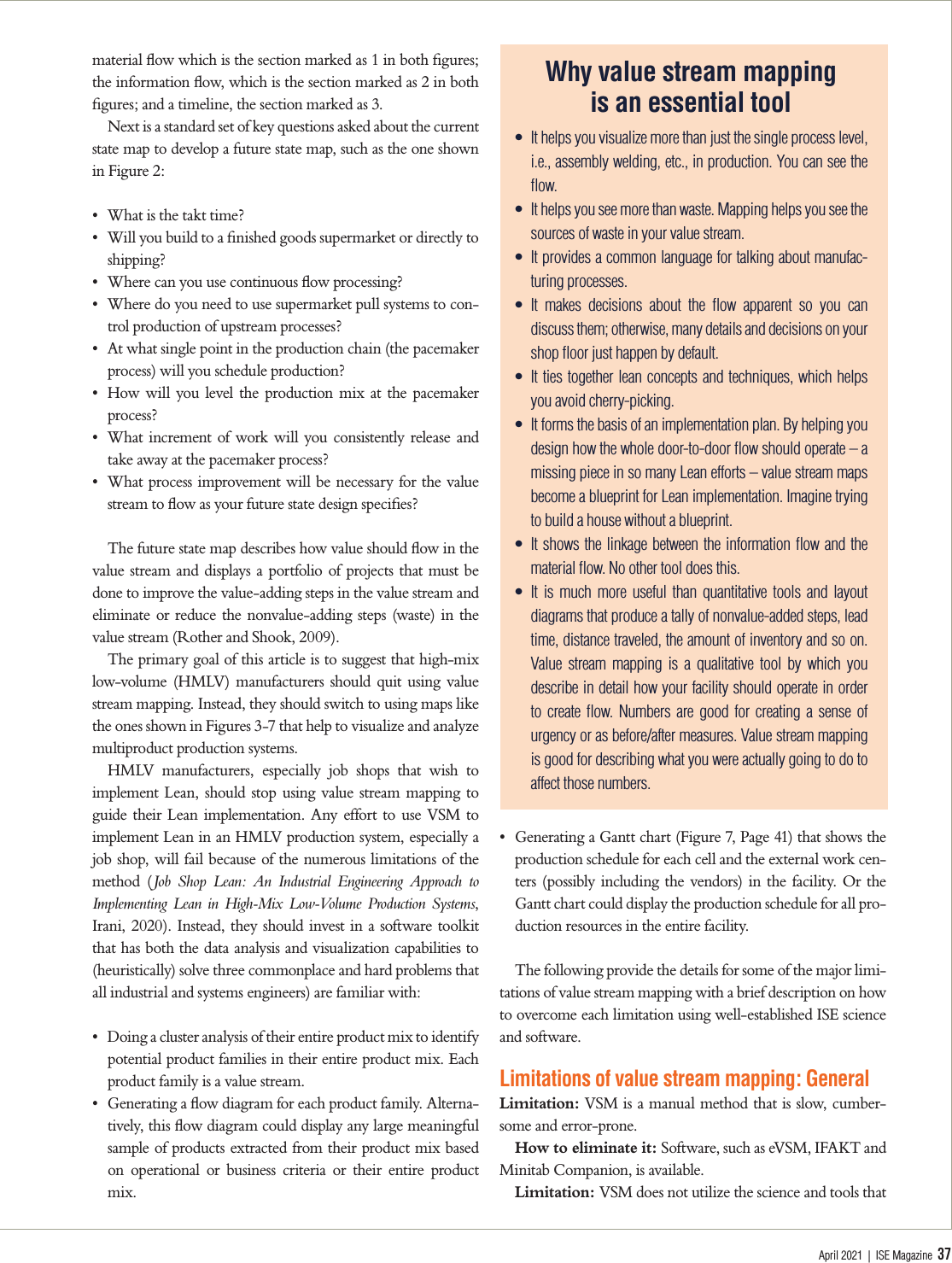 April 2021 | ISE Magazine
37
material flow which is the section marked as 1 in both figures;
the information flow, which is the section marked as 2 in both
figures; and a timeline, the section marked as 3.
Next is a standard set of key questions asked about the current
state map to develop a future state map, such as the one shown
in Figure 2:
•
Will you build to a finished goods supermarket or directly to
shipping?
•
Where can you use continuous flow processing?
•
Where do you need to use supermarket pull systems to con
-
trol production of upstream processes?
•
At what single point in the production chain (the pacemaker
process) will you schedule production?
•
How will you level the production mix at the pacemaker
process?
•
What increment of work will you consistently release and
take away at the pacemaker process?
•
What process improvement will be necessary for the value
stream to flow as your future state design specifies?
The future state map describes how value should flow in the
value stream and displays a portfolio of projects that must be
done to improve the value-adding steps in the value stream and
eliminate or reduce the nonvalue-adding steps (waste) in the
value stream (Rother and Shook, 2009).
The primary goal of this article is to suggest that high-mix
low-volume (HMLV) manufacturers should quit using value
stream mapping. Instead, they should switch to using maps like
the ones shown in Figures 3-7 that help to visualize and analyze
multiproduct production systems.
HMLV manufacturers, especially job shops that wish to
implement Lean, should stop using value stream mapping to
guide their Lean implementation. Any effort to use VSM to
implement Lean in an HMLV production system, especially a
job shop, will fail because of the numerous limitations of the
method (
Job Shop Lean: An Industrial Engineering Approach to
Implementing Lean in High-Mix Low-Volume Production Systems
,
Irani, 2020). Instead, they should invest in a software toolkit
that has both the data analysis and visualization capabilities to
(heuristically) solve three commonplace and hard problems that
all industrial and systems engineers) are familiar with:
•
Doing a cluster analysis of their entire product mix to identify
potential product families in their entire product mix. Each
product family is a value stream.
•
Generating a flow diagram for each product family. Alterna
-
tively, this flow diagram could display any large meaningful
sample of products extracted from their product mix based
on operational or business criteria or their entire product
mix.
•
Generating a Gantt chart (Figure 7, Page 41) that shows the
production schedule for each cell and the external work cen
-
ters (possibly including the vendors) in the facility. Or the
Gantt chart could display the production schedule for all pro
-
duction resources in the entire facility.
The following provide the details for some of the major limi
-
tations of value stream mapping with a brief description on how
to overcome each limitation using well-established ISE science
and software.
Limitations of value stream mapping: General
Limitation:
VSM is a manual method that is slow, cumber

-
some and error-prone.
How to eliminate it:
Software, such as eVSM, IFAKT and
Minitab Companion, is available.
Limitation:
VSM does not utilize the science and tools that
is an essential tool
•
It helps you visualize more than just the single process level,
i.e., assembly welding, etc., in production. You can see the
flow.
•
It helps you see more than waste. Mapping helps you see the
sources of waste in your value stream.
•
It provides a common language for talking about manufac
-
turing processes.
• It makes decisions about the flow apparent so you can
discuss them; otherwise, many details and decisions on your
shop floor just happen by default.
• It ties together lean concepts and techniques, which helps
you avoid cherry-picking.
• It forms the basis of an implementation plan. By helping you
design how the whole door-to-door flow should operate – a
missing piece in so many Lean efforts – value stream maps
become a blueprint for Lean implementation. Imagine trying
to build a house without a blueprint.
• It shows the linkage between the information flow and the
material flow. No other tool does this.
• It is much more useful than quantitative tools and layout
diagrams that produce a tally of nonvalue-added steps, lead
time, distance traveled, the amount of inventory and so on.
Value stream mapping is a qualitative tool by which you
describe in detail how your facility should operate in order
to create flow. Numbers are good for creating a sense of
urgency or as before/after measures. Value stream mapping
is good for describing what you were actually going to do to
affect those numbers.