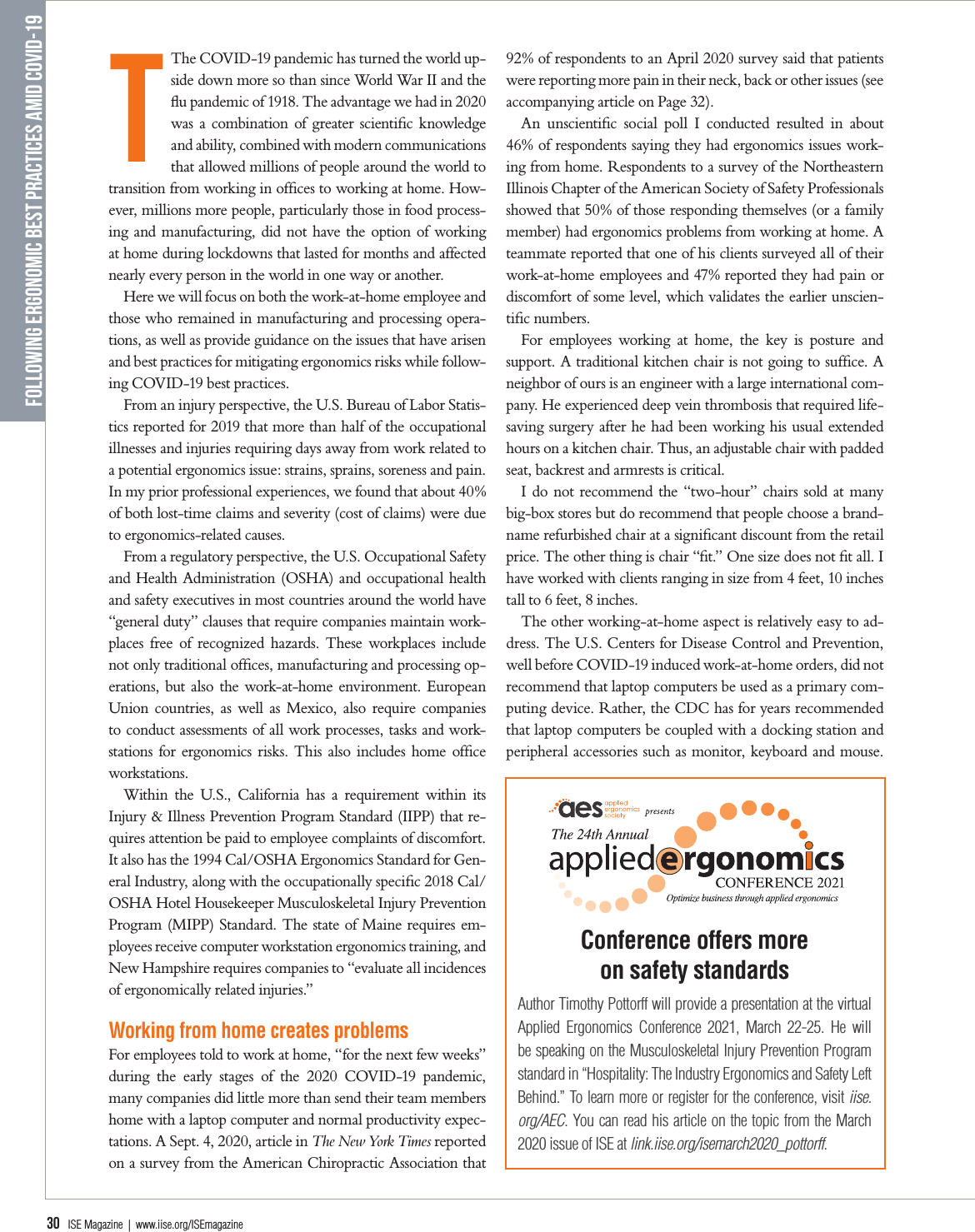 30
ISE Magazine | www.iise.org/ISEmagazine
Following ergonomic best practices amid COVID-19
The COVID-19 pandemic has turned the world up
-
side down more so than since World War II and the
flu pandemic of 1918. The advantage we had in 2020
was a combination of greater scientific knowledge
and ability, combined with modern communications
that allowed millions of people around the world to
transition from working in offices to working at home. How
-
ever, millions more people, particularly those in food process
-
ing and manufacturing, did not have the option of working
at home during lockdowns that lasted for months and affected
nearly every person in the world in one way or another.
Here we will focus on both the work-at-home employee and
those who remained in manufacturing and processing opera
-
tions, as well as provide guidance on the issues that have arisen
and best practices for mitigating ergonomics risks while follow
-
ing COVID-19 best practices.
From an injury perspective, the U.S. Bureau of Labor Statis
-
tics reported for 2019 that more than half of the occupational
illnesses and injuries requiring days away from work related to
a potential ergonomics issue: strains, sprains, soreness and pain.
In my prior professional experiences, we found that about 40%
of both lost-time claims and severity (cost of claims) were due
to ergonomics-related causes.
From a regulatory perspective, the U.S. Occupational Safety
and Health Administration (OSHA) and occupational health
and safety executives in most countries around the world have
"general duty" clauses that require companies maintain work
-
places free of recognized hazards. These workplaces include
not only traditional offices, manufacturing and processing op
-
erations, but also the work-at-home environment. European
Union countries, as well as Mexico, also require companies
to conduct assessments of all work processes, tasks and work
-
stations for ergonomics risks. This also includes home office
workstations.
Within the U.S., California has a requirement within its
Injury & Illness Prevention Program Standard (IIPP) that re
-
quires attention be paid to employee complaints of discomfort.
It also has the 1994 Cal/OSHA Ergonomics Standard for Gen
-
eral Industry, along with the occupationally specific 2018 Cal/
OSHA Hotel Housekeeper Musculoskeletal Injury Prevention
Program (MIPP) Standard. The state of Maine requires em
-
ployees receive computer workstation ergonomics training, and
New Hampshire requires companies to "evaluate all incidences
of ergonomically related injuries."
Working from home creates problems
For employees told to work at home, "for the next few weeks"
during the early stages of the 2020 COVID-19 pandemic,
many companies did little more than send their team members
home with a laptop computer and normal productivity expec
-
tations. A Sept. 4, 2020, article in
The New York Times

reported
on a survey from the American Chiropractic Association that
92% of respondents to an April 2020 survey said that patients
were reporting more pain in their neck, back or other issues (see
accompanying article on Page 32).
An unscientific social poll I conducted resulted in about
46% of respondents saying they had ergonomics issues work
-
ing from home. Respondents to a survey of the Northeastern
Illinois Chapter of the American Society of Safety Professionals
showed that 50% of those responding themselves (or a family
member) had ergonomics problems from working at home. A
teammate reported that one of his clients surveyed all of their
work-at-home employees and 47% reported they had pain or
discomfort of some level, which validates the earlier unscien
-
tific numbers.
For employees working at home, the key is posture and
support. A traditional kitchen chair is not going to suffice. A
neighbor of ours is an engineer with a large international com
-
pany. He experienced deep vein thrombosis that required life
-
saving surgery after he had been working his usual extended
hours on a kitchen chair. Thus, an adjustable chair with padded
seat, backrest and armrests is critical.
I do not recommend the "two-hour" chairs sold at many
big-box stores but do recommend that people choose a brand-
name refurbished chair at a significant discount from the retail
price. The other thing is chair "fit." One size does not fit all. I
have worked with clients ranging in size from 4 feet, 10 inches
tall to 6 feet, 8 inches.
The other working-at-home aspect is relatively easy to ad
-
dress. The U.S. Centers for Disease Control and Prevention,
well before COVID-19 induced work-at-home orders, did not
recommend that laptop computers be used as a primary com
-
puting device. Rather, the CDC has for years recommended
that laptop computers be coupled with a docking station and
peripheral accessories such as monitor, keyboard and mouse.
T
on safety standards
Author Timothy Pottorff will provide a presentation at the virtual
Applied Ergonomics Conference 2021, March 22-25. He will
be speaking on the Musculoskeletal Injury Prevention Program
standard in "Hospitality: The Industry Ergonomics and Safety Left
Behind." To learn more or register for the conference, visit
iise.
org/AEC
. You can read his article on the topic from the March
2020 issue of ISE at
link.iise.org/isemarch2020_pottorff
.