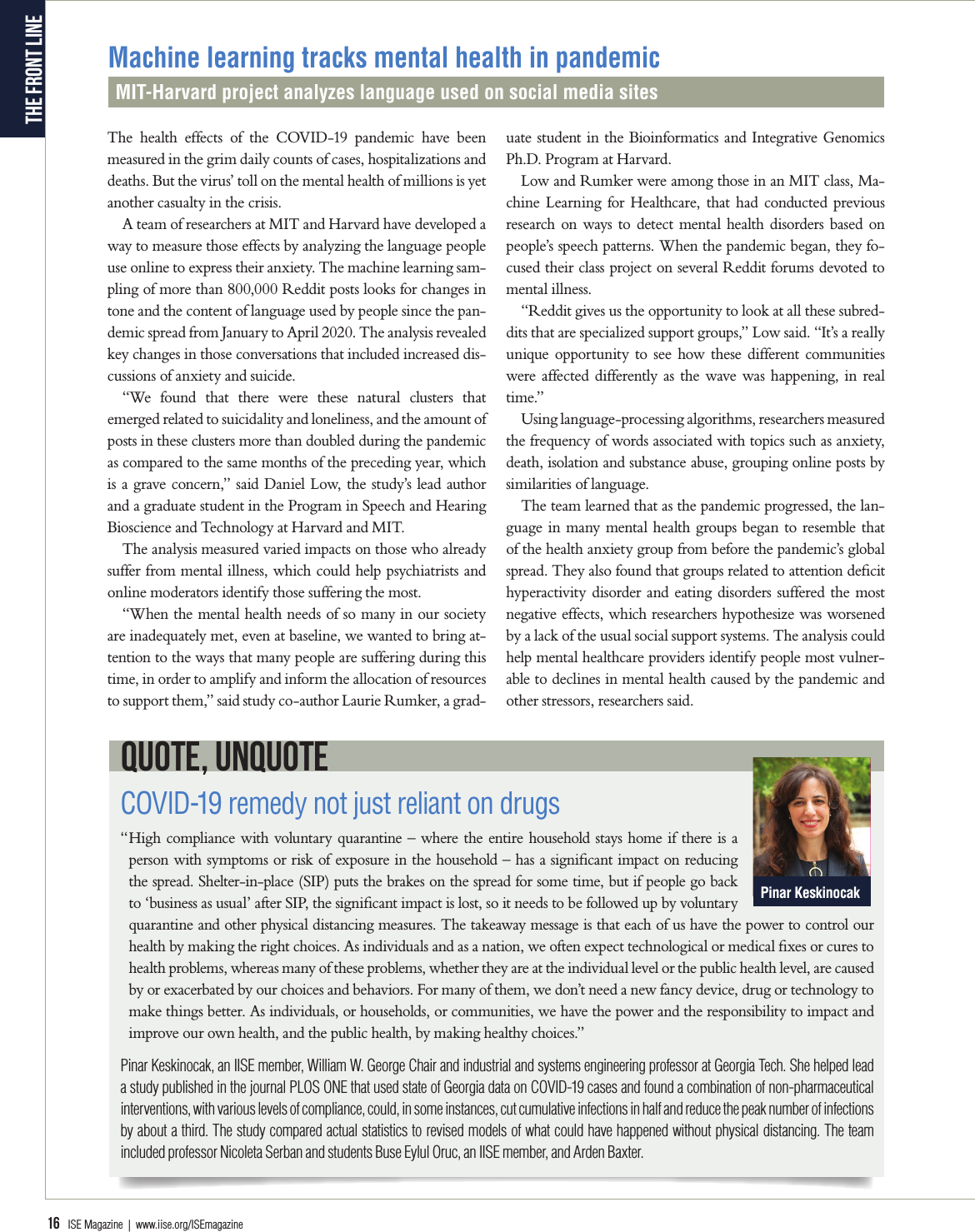 16
ISE Magazine | www.iise.org/ISEmagazine
Quote, unquote
COVID-19 remedy not just reliant on drugs
" High compliance with voluntary quarantine – where the entire household stays home if there is a
person with symptoms or risk of exposure in the household – has a significant impact on reducing
the spread. Shelter-in-place (SIP) puts the brakes on the spread for some time, but if people go back
to 'business as usual' after SIP, the significant impact is lost, so it needs to be followed up by voluntary
quarantine and other physical distancing measures. The takeaway message is that each of us have the power to control our
health by making the right choices. As individuals and as a nation, we often expect technological or medical fixes or cures to
health problems, whereas many of these problems, whether they are at the individual level or the public health level, are caused
by or exacerbated by our choices and behaviors. For many of them, we don't need a new fancy device, drug or technology to
make things better. As individuals, or households, or communities, we have the power and the responsibility to impact and
improve our own health, and the public health, by making healthy choices."
Pinar Keskinocak, an IISE member, William W. George Chair and industrial and systems engineering professor at Georgia Tech. She helped lead
a study published in the journal PLOS ONE that used state of Georgia data on COVID-19 cases and found a combination of non-pharmaceutical
interventions, with various levels of compliance, could, in some instances, cut cumulative infections in half and reduce the peak number of infections
by about a third. The study compared actual statistics to revised models of what could have happened without physical distancing. The team
included professor Nicoleta Serban and students Buse Eylul Oruc, an IISE member, and Arden Baxter.
the frontlinethe front line
Pinar Keskinocak
The health effects of the COVID-19 pandemic have been
measured in the grim daily counts of cases, hospitalizations and
deaths. But the virus' toll on the mental health of millions is yet
another casualty in the crisis.
A team of researchers at MIT and Harvard have developed a
way to measure those effects by analyzing the language people
use online to express their anxiety. The machine learning sam
-
pling of more than 800,000 Reddit posts looks for changes in
tone and the content of language used by people since the pan
-
demic spread from January to April 2020. The analysis revealed
key changes in those conversations that included increased dis
-
cussions of anxiety and suicide.
"We found that there were these natural clusters that
emerged related to suicidality and loneliness, and the amount of
posts in these clusters more than doubled during the pandemic
as compared to the same months of the preceding year, which
is a grave concern," said Daniel Low, the study's lead author
and a graduate student in the Program in Speech and Hearing
Bioscience and Technology at Harvard and MIT.
The analysis measured varied impacts on those who already
suffer from mental illness, which could help psychiatrists and
online moderators identify those suffering the most.
"When the mental health needs of so many in our society
are inadequately met, even at baseline, we wanted to bring at
-
tention to the ways that many people are suffering during this
time, in order to amplify and inform the allocation of resources
to support them," said study co-author Laurie Rumker, a grad
-
uate student in the Bioinformatics and Integrative Genomics
Ph.D. Program at Harvard.
Low and Rumker were among those in an MIT class, Ma
-
chine Learning for Healthcare, that had conducted previous
research on ways to detect mental health disorders based on
people's speech patterns. When the pandemic began, they fo
-
cused their class project on several Reddit forums devoted to
mental illness.
"Reddit gives us the opportunity to look at all these subred
-
dits that are specialized support groups," Low said. "It's a really
unique opportunity to see how these different communities
were affected differently as the wave was happening, in real
time."
Using language-processing algorithms, researchers measured
the frequency of words associated with topics such as anxiety,
death, isolation and substance abuse, grouping online posts by
similarities of language.
The team learned that as the pandemic progressed, the lan
-
guage in many mental health groups began to resemble that
of the health anxiety group from before the pandemic's global
spread. They also found that groups related to attention deficit
hyperactivity disorder and eating disorders suffered the most
negative effects, which researchers hypothesize was worsened
by a lack of the usual social support systems. The analysis could
help mental healthcare providers identify people most vulner
-
able to declines in mental health caused by the pandemic and
other stressors, researchers said.
Machine learning tracks mental health in pandemic
MIT-Harvard project analyzes language used on social media sites