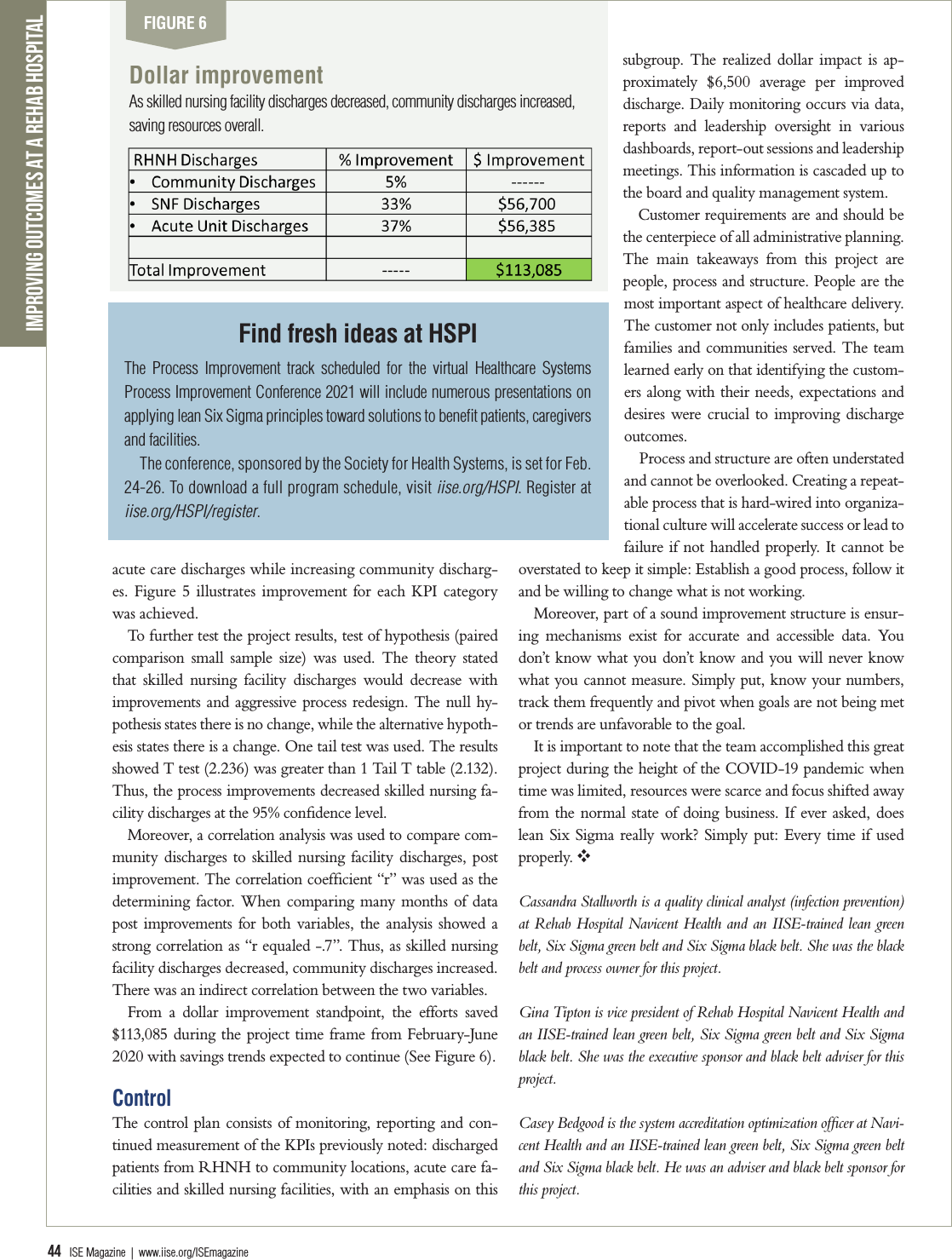 44
ISE Magazine | www.iise.org/ISEmagazine
Improving outcomes at a rehab hospital
acute care discharges while increasing community discharg
-
es. Figure 5 illustrates improvement for each KPI category
was achieved.
To further test the project results, test of hypothesis (paired
comparison small sample size) was used. The theory stated
that skilled nursing facility discharges would decrease with
improvements and aggressive process redesign. The null hy
-
pothesis states there is no change, while the alternative hypoth
-
esis states there is a change. One tail test was used. The results
showed T test (2.236) was greater than 1 Tail T table (2.132).
Thus, the process improvements decreased skilled nursing fa
-
cility discharges at the 95% confidence level.
Moreover, a correlation analysis was used to compare com
-
munity discharges to skilled nursing facility discharges, post
improvement. The correlation coefficient "r" was used as the
determining factor. When comparing many months of data
post improvements for both variables, the analysis showed a
strong correlation as "r equaled -.7". Thus, as skilled nursing
facility discharges decreased, community discharges increased.
There was an indirect correlation between the two variables.
From a dollar improvement standpoint, the efforts saved
$113,085 during the project time frame from February-June
2020 with savings trends expected to continue (See Figure 6).
Control
The control plan consists of monitoring, reporting and con
-
tinued measurement of the KPIs previously noted: discharged
patients from RHNH to community locations, acute care fa
-
cilities and skilled nursing facilities, with an emphasis on this
subgroup. The realized dollar impact is ap
-
proximately $6,500 average per improved
discharge. Daily monitoring occurs via data,
reports and leadership oversight in various
dashboards, report-out sessions and leadership
meetings. This information is cascaded up to
the board and quality management system.
Customer requirements are and should be
the centerpiece of all administrative planning.
The main takeaways from this project are
people, process and structure. People are the
most important aspect of healthcare delivery.
The customer not only includes patients, but
families and communities served. The team
learned early on that identifying the custom
-
ers along with their needs, expectations and
desires were crucial to improving discharge
outcomes.
Process and structure are often understated
and cannot be overlooked. Creating a repeat
-
able process that is hard-wired into organiza
-
tional culture will accelerate success or lead to
failure if not handled properly. It cannot be
overstated to keep it simple: Establish a good process, follow it
and be willing to change what is not working.
Moreover, part of a sound improvement structure is ensur
-
ing mechanisms exist for accurate and accessible data. You
don't know what you don't know and you will never know
what you cannot measure. Simply put, know your numbers,
track them frequently and pivot when goals are not being met
or trends are unfavorable to the goal.
It is important to note that the team accomplished this great
project during the height of the COVID-19 pandemic when
time was limited, resources were scarce and focus shifted away
from the normal state of doing business. If ever asked, does
lean Six Sigma really work? Simply put: Every time if used
Cassandra Stallworth is a quality clinical analyst (infection prevention)
at Rehab Hospital Navicent Health and an IISE-trained lean green
belt, Six Sigma green belt and Six Sigma black belt. She was the black
belt and process owner for this project.
Gina Tipton is vice president of Rehab Hospital Navicent Health and
an IISE-trained lean green belt, Six Sigma green belt and Six Sigma
black belt. She was the executive sponsor and black belt adviser for this
project.
Casey Bedgood is the system accreditation optimization officer at Navi
-
cent Health and an IISE-trained lean green belt, Six Sigma green belt
and Six Sigma black belt. He was an adviser and black belt sponsor for
this project.
FIGURE 6
Dollar improvement
As skilled nursing facility discharges decreased, community discharges increased,
saving resources overall.
Find fresh ideas at HSPI
The Process Improvement track scheduled for the virtual Healthcare Systems
Process Improvement Conference 2021 will include numerous presentations on
applying lean Six Sigma principles toward solutions to benefit patients, caregivers
and facilities.
The conference, sponsored by the Society for Health Systems, is set for Feb.
24-26. To download a full program schedule, visit
iise.org/HSPI
. Register at