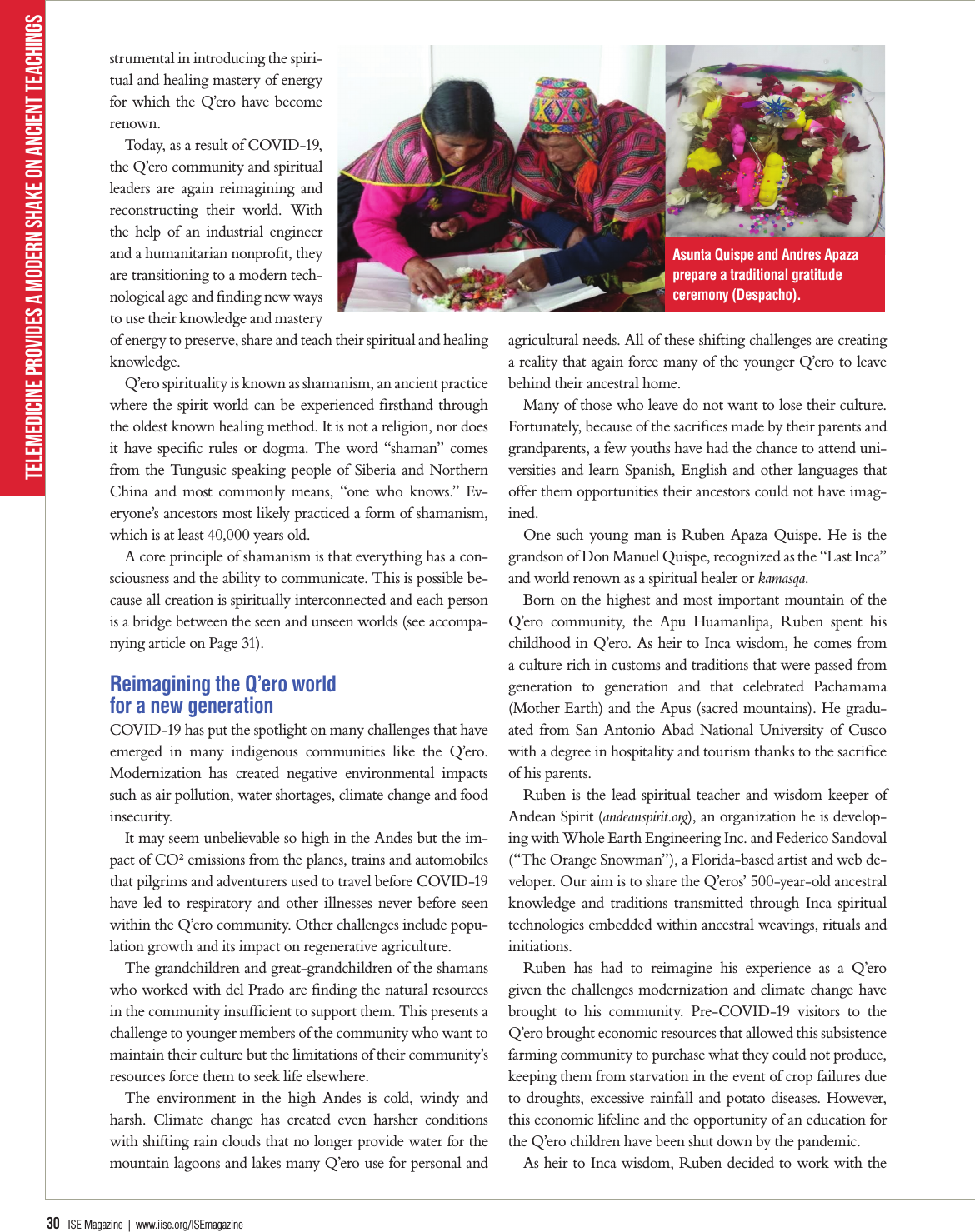 30
ISE Magazine | www.iise.org/ISEmagazine
Telemedicine provides a modern shake on ancient teachings
strumental in introducing the spiri
-
tual and healing mastery of energy
for which the Q'ero have become
renown.
Today, as a result of COVID-19,
the Q'ero community and spiritual
leaders are again reimagining and
reconstructing their world. With
the help of an industrial engineer
and a humanitarian nonprofit, they
are transitioning to a modern tech
-
nological age and finding new ways
to use their knowledge and mastery
of energy to preserve, share and teach their spiritual and healing
knowledge.
Q'ero spirituality is known as shamanism, an ancient practice
where the spirit world can be experienced firsthand through
the oldest known healing method. It is not a religion, nor does
it have specific rules or dogma. The word "shaman" comes
from the Tungusic speaking people of Siberia and Northern
China and most commonly means, "one who knows." Ev
-
eryone's ancestors most likely practiced a form of shamanism,
which is at least 40,000 years old.
A core principle of shamanism is that everything has a con
-
sciousness and the ability to communicate. This is possible be
-
cause all creation is spiritually interconnected and each person
is a bridge between the seen and unseen worlds (see accompa
-
nying article on Page 31).
Reimagining the Q'ero world
for a new generation
COVID-19 has put the spotlight on many challenges that have
emerged in many indigenous communities like the Q'ero.
Modernization has created negative environmental impacts
such as air pollution, water shortages, climate change and food
insecurity.
It may seem unbelievable so high in the Andes but the im
-
pact of CO² emissions from the planes, trains and automobiles
that pilgrims and adventurers used to travel before COVID-19
have led to respiratory and other illnesses never before seen
within the Q'ero community. Other challenges include popu
-
lation growth and its impact on regenerative agriculture.
The grandchildren and great-grandchildren of the shamans
who worked with del Prado are finding the natural resources
in the community insufficient to support them. This presents a
challenge to younger members of the community who want to
maintain their culture but the limitations of their community's
resources force them to seek life elsewhere.
The environment in the high Andes is cold, windy and
harsh. Climate change has created even harsher conditions
with shifting rain clouds that no longer provide water for the
mountain lagoons and lakes many Q'ero use for personal and
agricultural needs. All of these shifting challenges are creating
a reality that again force many of the younger Q'ero to leave
behind their ancestral home.
Many of those who leave do not want to lose their culture.
Fortunately, because of the sacrifices made by their parents and
grandparents, a few youths have had the chance to attend uni
-
versities and learn Spanish, English and other languages that
offer them opportunities their ancestors could not have imag
-
ined.
One such young man is Ruben Apaza Quispe. He is the
grandson of Don Manuel Quispe, recognized as the "Last Inca"
and world renown as a spiritual healer or
kamasqa

.
Born on the highest and most important mountain of the
Q'ero community, the Apu Huamanlipa, Ruben spent his
childhood in Q'ero. As heir to Inca wisdom, he comes from
a culture rich in customs and traditions that were passed from
generation to generation and that celebrated Pachamama
(Mother Earth) and the Apus (sacred mountains). He gradu
-
ated from San Antonio Abad National University of Cusco
with a degree in hospitality and tourism thanks to the sacrifice
of his parents.
Ruben is the lead spiritual teacher and wisdom keeper of
Andean Spirit (
andeanspirit.org), an organization he is develop

-
ing with Whole Earth Engineering Inc. and Federico Sandoval
("The Orange Snowman"), a Florida-based artist and web de
-
veloper. Our aim is to share the Q'eros' 500-year-old ancestral
knowledge and traditions transmitted through Inca spiritual
technologies embedded within ancestral weavings, rituals and
initiations.
Ruben has had to reimagine his experience as a Q'ero
given the challenges modernization and climate change have
brought to his community. Pre-COVID-19 visitors to the
Q'ero brought economic resources that allowed this subsistence
farming community to purchase what they could not produce,
keeping them from starvation in the event of crop failures due
to droughts, excessive rainfall and potato diseases. However,
this economic lifeline and the opportunity of an education for
the Q'ero children have been shut down by the pandemic.
As heir to Inca wisdom, Ruben decided to work with the
Asunta Quispe and Andres Apaza
prepare a traditional gratitude
ceremony (Despacho).