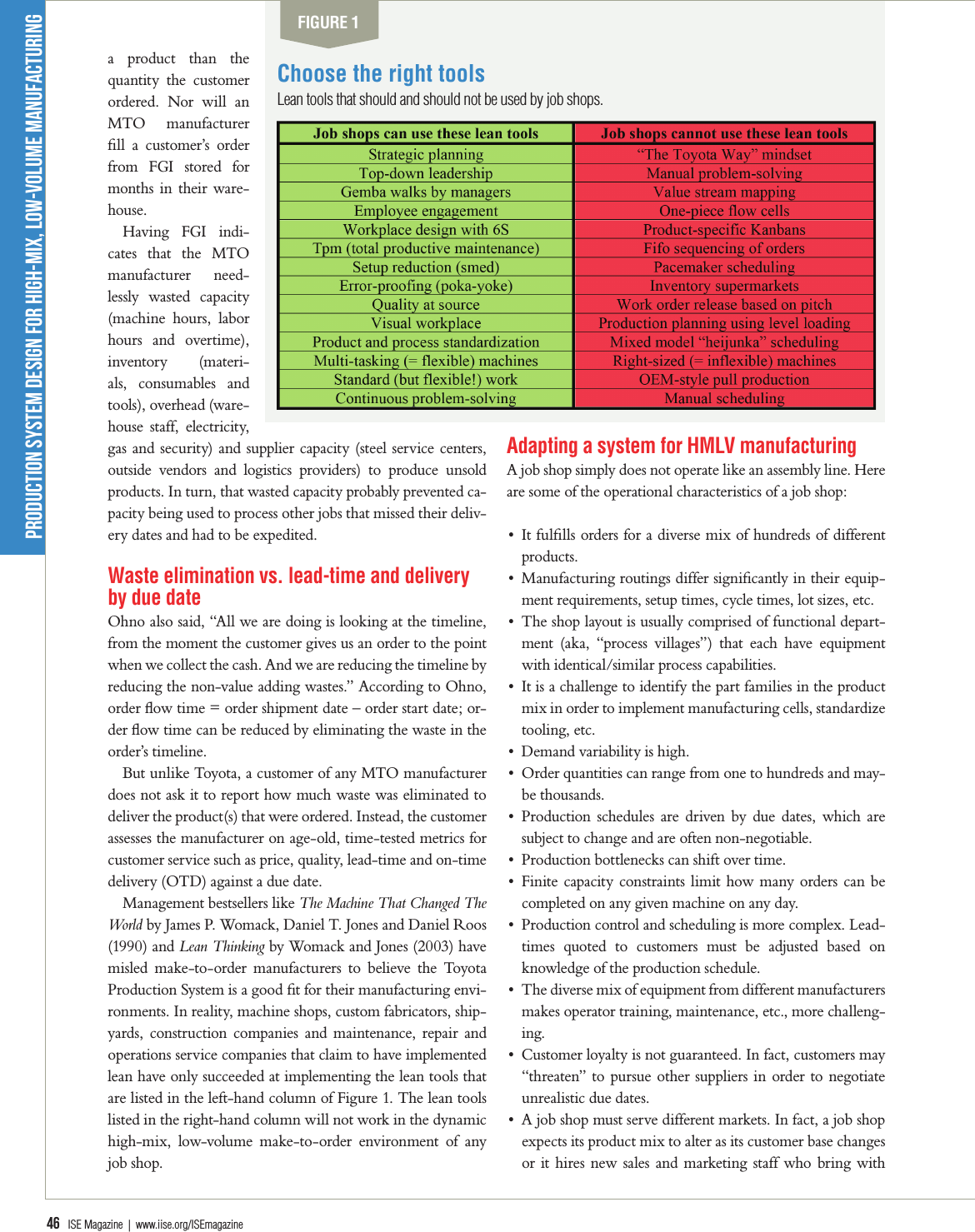 46
ISE Magazine | www.iise.org/ISEmagazine
Production system design for high-mix, low-volume manufacturing
a product than the
quantity the customer
ordered. Nor will an
MTO manufacturer
fill a customer's order
from FGI stored for
house.
cates that the MTO
lessly wasted capacity
(machine hours, labor
hours and overtime),
als, consumables and
house staff, electricity,
gas and security) and supplier capacity (steel service centers,
outside vendors and logistics providers) to produce unsold
products. In turn, that wasted capacity probably prevented ca
-
pacity being used to process other jobs that missed their deliv
-
ery dates and had to be expedited.
Waste elimination vs. lead-time and delivery
by due date
Ohno also said, "All we are doing is looking at the timeline,
from the moment the customer gives us an order to the point
when we collect the cash. And we are reducing the timeline by
reducing the non-value adding wastes." According to Ohno,
order flow time = order shipment date – order start date; or
-
der flow time can be reduced by eliminating the waste in the
order's timeline.
But unlike Toyota, a customer of any MTO manufacturer
does not ask it to report how much waste was eliminated to
deliver the product(s) that were ordered. Instead, the customer
assesses the manufacturer on age-old, time-tested metrics for
customer service such as price, quality, lead-time and on-time
delivery (OTD) against a due date.
Management bestsellers like
The Machine That Changed The
World
by James P. Womack, Daniel T. Jones and Daniel Roos
(1990) and
Lean Thinking
by Womack and Jones (2003) have
misled make-to-order manufacturers to believe the Toyota
Production System is a good fit for their manufacturing envi
-
ronments. In reality, machine shops, custom fabricators, ship
-
yards, construction companies and maintenance, repair and
operations service companies that claim to have implemented
lean have only succeeded at implementing the lean tools that
are listed in the left-hand column of Figure 1. The lean tools
listed in the right-hand column will not work in the dynamic
high-mix, low-volume make-to-order environment of any
job shop.
Adapting a system for HMLV manufacturing
A job shop simply does not operate like an assembly line. Here
are some of the operational characteristics of a job shop:
•
It fulfills orders for a diverse mix of hundreds of different
products.
•
Manufacturing routings differ significantly in their equip
-
ment requirements, setup times, cycle times, lot sizes, etc.
•
The shop layout is usually comprised of functional depart
-
ment (aka, "process villages") that each have equipment
with identical/similar process capabilities.
•
It is a challenge to identify the part families in the product
mix in order to implement manufacturing cells, standardize
tooling, etc.
• Demand variability is high.
• Order quantities can range from one to hundreds and may
-
be thousands.
• Production schedules are driven by due dates, which are
subject to change and are often non-negotiable.
• Production bottlenecks can shift over time.
•
Finite capacity constraints limit how many orders can be
completed on any given machine on any day.
•
Production control and scheduling is more complex. Lead-
times quoted to customers must be adjusted based on
knowledge of the production schedule.
•
The diverse mix of equipment from different manufacturers
makes operator training, maintenance, etc., more challeng
-
ing.
•
Customer loyalty is not guaranteed. In fact, customers may
"threaten" to pursue other suppliers in order to negotiate
unrealistic due dates.
•
A job shop must serve different markets. In fact, a job shop
expects its product mix to alter as its customer base changes
or it hires new sales and marketing staff who bring with
FIGURE 1
Choose the right tools
Lean tools that should and should not be used by job shops.