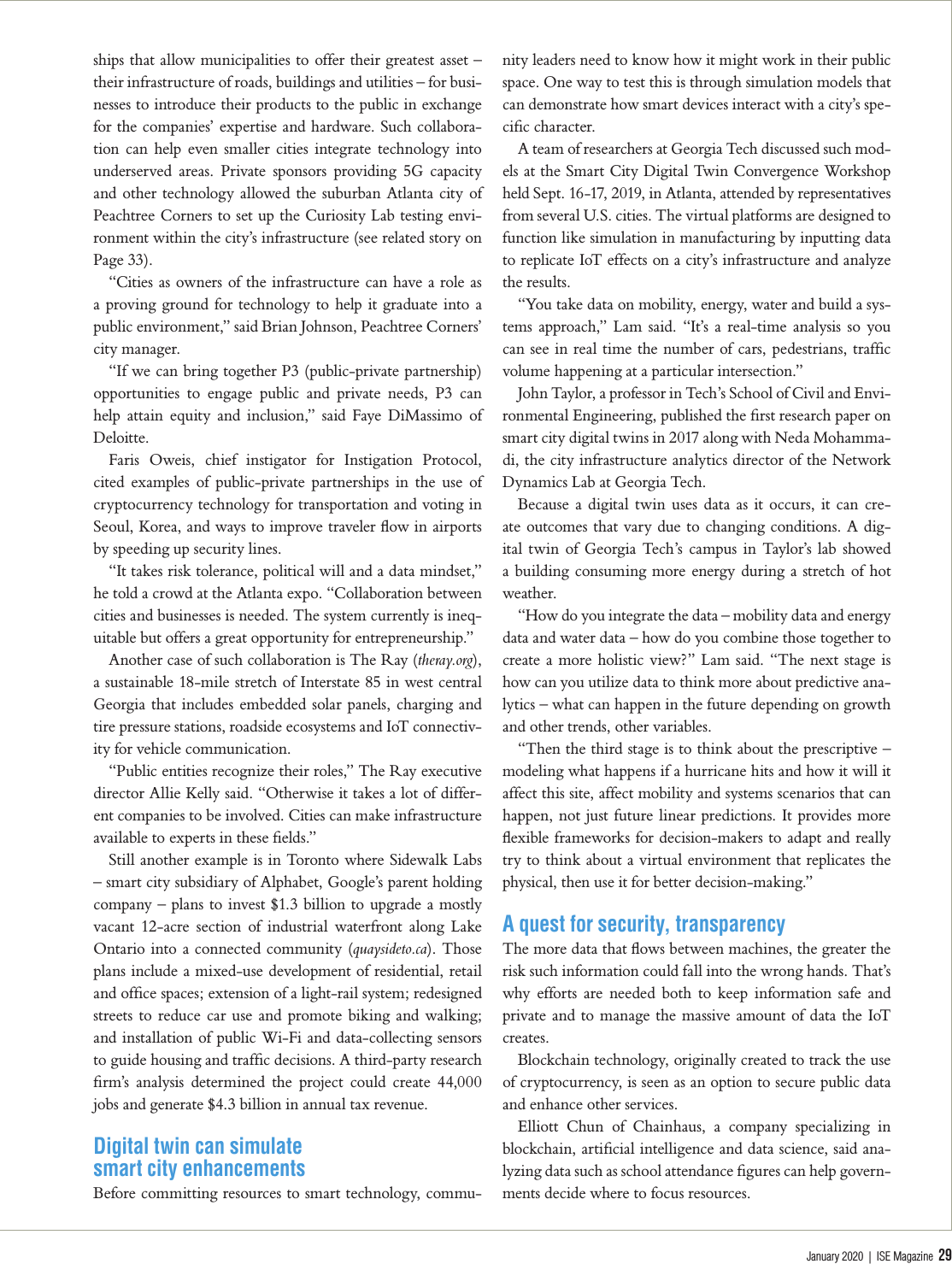 January 2020 | ISE Magazine
29
ships that allow municipalities to offer their greatest asset –
their infrastructure of roads, buildings and utilities – for busi
-
nesses to introduce their products to the public in exchange
for the companies' expertise and hardware. Such collabora
-
tion can help even smaller cities integrate technology into
underserved areas. Private sponsors providing 5G capacity
and other technology allowed the suburban Atlanta city of
Peachtree Corners to set up the Curiosity Lab testing envi
-
ronment within the city's infrastructure (see related story on
Page 33).
"Cities as owners of the infrastructure can have a role as
a proving ground for technology to help it graduate into a
public environment," said Brian Johnson, Peachtree Corners'
city manager.
"If we can bring together P3 (public-private partnership)
opportunities to engage public and private needs, P3 can
help attain equity and inclusion," said Faye DiMassimo of
Deloitte.
Faris Oweis, chief instigator for Instigation Protocol,
cited examples of public-private partnerships in the use of
cryptocurrency technology for transportation and voting in
Seoul, Korea, and ways to improve traveler flow in airports
by speeding up security lines.
"It takes risk tolerance, political will and a data mindset,"
he told a crowd at the Atlanta expo. "Collaboration between
cities and businesses is needed. The system currently is ineq
-
uitable but offers a great opportunity for entrepreneurship."
Another case of such collaboration is The Ray (
theray.org
),
a sustainable 18-mile stretch of Interstate 85 in west central
Georgia that includes embedded solar panels, charging and
tire pressure stations, roadside ecosystems and IoT connectiv
-
ity for vehicle communication.
"Public entities recognize their roles," The Ray executive
director Allie Kelly said. "Otherwise it takes a lot of differ
-
ent companies to be involved. Cities can make infrastructure
available to experts in these fields."
Still another example is in Toronto where Sidewalk Labs
– smart city subsidiary of Alphabet, Google's parent holding
company – plans to invest $1.3 billion to upgrade a mostly
vacant 12-acre section of industrial waterfront along Lake
Ontario into a connected community (
quaysideto.ca

). Those
plans include a mixed-use development of residential, retail
and office spaces; extension of a light-rail system; redesigned
streets to reduce car use and promote biking and walking;
and installation of public Wi-Fi and data-collecting sensors
to guide housing and traffic decisions. A third-party research
firm's analysis determined the project could create 44,000
jobs and generate $4.3 billion in annual tax revenue.
Digital twin can simulate
smart city enhancements
Before committing resources to smart technology, commu
-
nity leaders need to know how it might work in their public
space. One way to test this is through simulation models that
can demonstrate how smart devices interact with a city's spe
-
cific character.
A team of researchers at Georgia Tech discussed such mod
-
els at the Smart City Digital Twin Convergence Workshop
held Sept. 16-17, 2019, in Atlanta, attended by representatives
from several U.S. cities. The virtual platforms are designed to
function like simulation in manufacturing by inputting data
to replicate IoT effects on a city's infrastructure and analyze
the results.
"You take data on mobility, energy, water and build a sys
-
tems approach," Lam said. "It's a real-time analysis so you
can see in real time the number of cars, pedestrians, traffic
volume happening at a particular intersection."
John Taylor, a professor in Tech's School of Civil and Envi
-
ronmental Engineering, published the first research paper on
smart city digital twins in 2017 along with Neda Mohamma
-
di, the city infrastructure analytics director of the Network
Dynamics Lab at Georgia Tech.
Because a digital twin uses data as it occurs, it can cre
-
ate outcomes that vary due to changing conditions. A dig
-
ital twin of Georgia Tech's campus in Taylor's lab showed
a building consuming more energy during a stretch of hot
weather.
"How do you integrate the data – mobility data and energy
data and water data – how do you combine those together to
create a more holistic view?" Lam said. "The next stage is
how can you utilize data to think more about predictive ana
-
lytics – what can happen in the future depending on growth
and other trends, other variables.
"Then the third stage is to think about the prescriptive –
modeling what happens if a hurricane hits and how it will it
affect this site, affect mobility and systems scenarios that can
happen, not just future linear predictions. It provides more
flexible frameworks for decision-makers to adapt and really
try to think about a virtual environment that replicates the
physical, then use it for better decision-making."
A quest for security, transparency
The more data that flows between machines, the greater the
risk such information could fall into the wrong hands. That's
why efforts are needed both to keep information safe and
private and to manage the massive amount of data the IoT
creates.
Blockchain technology, originally created to track the use
of cryptocurrency, is seen as an option to secure public data
and enhance other services.
Elliott Chun of Chainhaus, a company specializing in
blockchain, artificial intelligence and data science, said ana
-
lyzing data such as school attendance figures can help govern
-
ments decide where to focus resources.