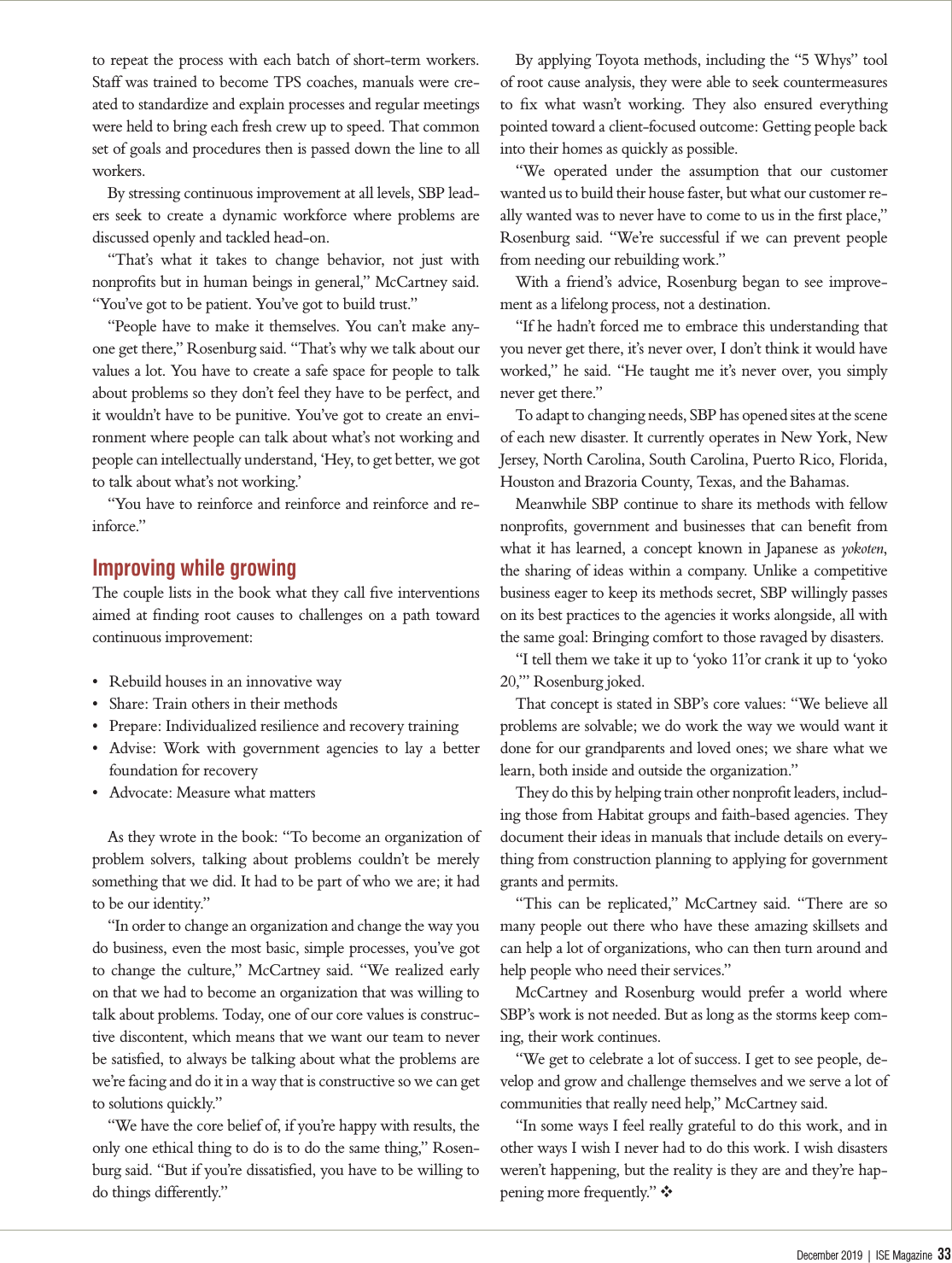 December 2019 | ISE Magazine
33
to repeat the process with each batch of short-term workers.
Staff was trained to become TPS coaches, manuals were cre
-
ated to standardize and explain processes and regular meetings
were held to bring each fresh crew up to speed. That common
set of goals and procedures then is passed down the line to all
workers.
By stressing continuous improvement at all levels, SBP lead
-
ers seek to create a dynamic workforce where problems are
discussed openly and tackled head-on.
"That's what it takes to change behavior, not just with
nonprofits but in human beings in general," McCartney said.
"You've got to be patient. You've got to build trust."
"People have to make it themselves. You can't make any
-
one get there," Rosenburg said. "That's why we talk about our
values a lot. You have to create a safe space for people to talk
about problems so they don't feel they have to be perfect, and
it wouldn't have to be punitive. You've got to create an envi
-
ronment where people can talk about what's not working and
people can intellectually understand, 'Hey, to get better, we got
to talk about what's not working.'
"You have to reinforce and reinforce and reinforce and re
-
inforce."
Improving while growing
The couple lists in the book what they call five interventions
aimed at finding root causes to challenges on a path toward
continuous improvement:
•
Rebuild houses in an innovative way
•
Share: Train others in their methods
•
Prepare: Individualized resilience and recovery training
•
Advise: Work with government agencies to lay a better
foundation for recovery
•
Advocate: Measure what matters
As they wrote in the book: "To become an organization of
problem solvers, talking about problems couldn't be merely
something that we did. It had to be part of who we are; it had
to be our identity."
"In order to change an organization and change the way you
do business, even the most basic, simple processes, you've got
to change the culture," McCartney said. "We realized early
on that we had to become an organization that was willing to
talk about problems. Today, one of our core values is construc
-
tive discontent, which means that we want our team to never
be satisfied, to always be talking about what the problems are
we're facing and do it in a way that is constructive so we can get
to solutions quickly."
"We have the core belief of, if you're happy with results, the
only one ethical thing to do is to do the same thing," Rosen
-
burg said. "But if you're dissatisfied, you have to be willing to
do things differently."
By applying Toyota methods, including the "5 Whys" tool
of root cause analysis, they were able to seek countermeasures
to fix what wasn't working. They also ensured everything
pointed toward a client-focused outcome: Getting people back
into their homes as quickly as possible.
"We operated under the assumption that our customer
wanted us to build their house faster, but what our customer re
-
ally wanted was to never have to come to us in the first place,"
Rosenburg said. "We're successful if we can prevent people
from needing our rebuilding work."
With a friend's advice, Rosenburg began to see improve
-
ment as a lifelong process, not a destination.
"If he hadn't forced me to embrace this understanding that
you never get there, it's never over, I don't think it would have
worked," he said. "He taught me it's never over, you simply
never get there."
To adapt to changing needs, SBP has opened sites at the scene
of each new disaster. It currently operates in New York, New
Jersey, North Carolina, South Carolina, Puerto Rico, Florida,
Houston and Brazoria County, Texas, and the Bahamas.
Meanwhile SBP continue to share its methods with fellow
nonprofits, government and businesses that can benefit from
what it has learned, a concept known in Japanese as
yokoten
,
the sharing of ideas within a company. Unlike a competitive
business eager to keep its methods secret, SBP willingly passes
on its best practices to the agencies it works alongside, all with
the same goal: Bringing comfort to those ravaged by disasters.
"I tell them we take it up to 'yoko 11'or crank it up to 'yoko
20,'" Rosenburg joked.
That concept is stated in SBP's core values: "We believe all
problems are solvable; we do work the way we would want it
done for our grandparents and loved ones; we share what we
learn, both inside and outside the organization."
They do this by helping train other nonprofit leaders, includ
-
ing those from Habitat groups and faith-based agencies. They
document their ideas in manuals that include details on every
-
thing from construction planning to applying for government
grants and permits.
"This can be replicated," McCartney said. "There are so
many people out there who have these amazing skillsets and
can help a lot of organizations, who can then turn around and
help people who need their services."
McCartney and Rosenburg would prefer a world where
SBP's work is not needed. But as long as the storms keep com
-
ing, their work continues.
"We get to celebrate a lot of success. I get to see people, de
-
velop and grow and challenge themselves and we serve a lot of
communities that really need help," McCartney said.
"In some ways I feel really grateful to do this work, and in
other ways I wish I never had to do this work. I wish disasters
weren't happening, but the reality is they are and they're hap
-
pening more frequently."
