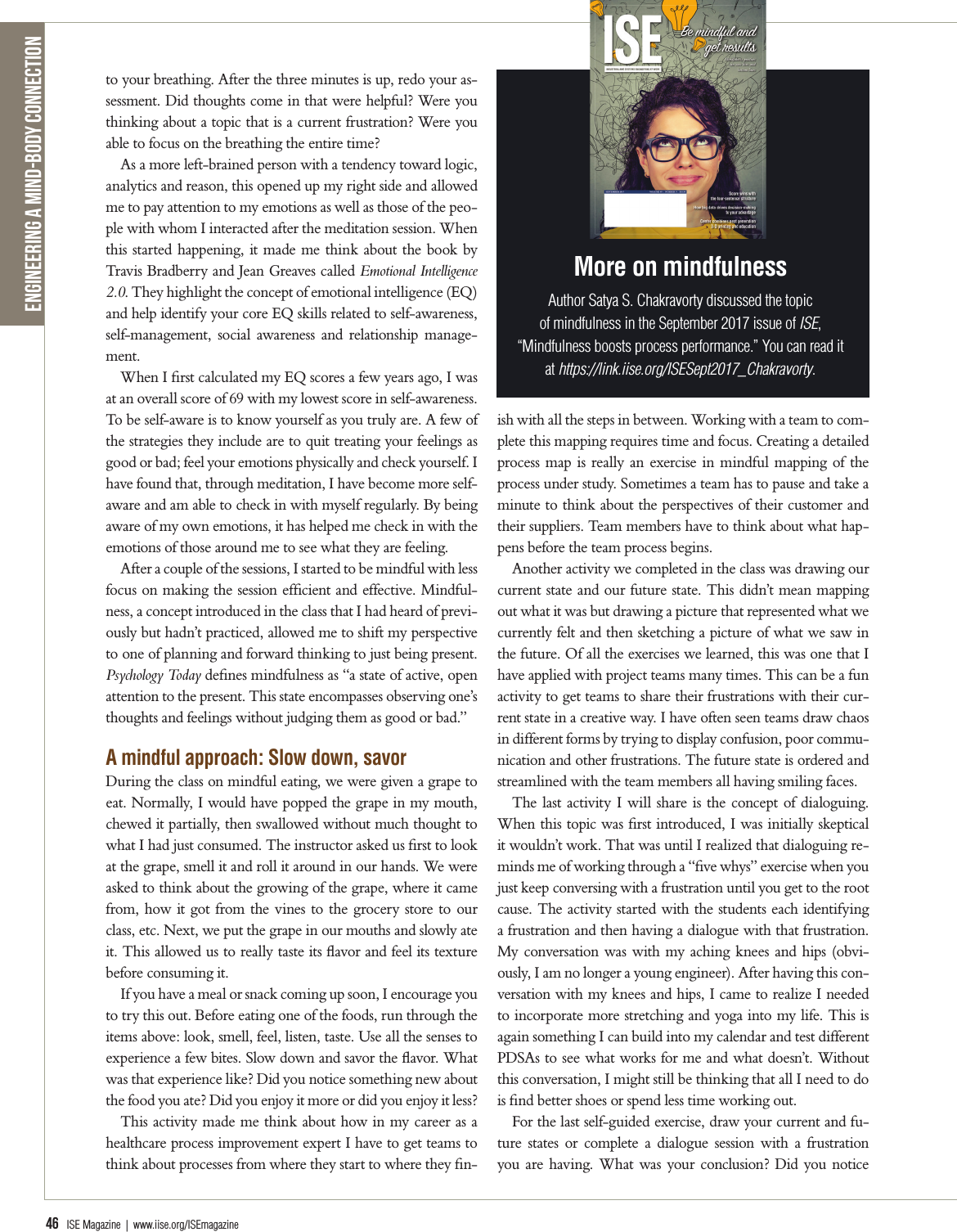 46
ISE Magazine | www.iise.org/ISEmagazine
Engineering a mind-body connection
to your breathing. After the three minutes is up, redo your as
-
sessment. Did thoughts come in that were helpful? Were you
thinking about a topic that is a current frustration? Were you
able to focus on the breathing the entire time?
As a more left-brained person with a tendency toward logic,
analytics and reason, this opened up my right side and allowed
me to pay attention to my emotions as well as those of the peo
-
ple with whom I interacted after the meditation session. When
this started happening, it made me think about the book by
Travis Bradberry and Jean Greaves called
Emotional Intelligence
2.0
. They highlight the concept of emotional intelligence (EQ)
and help identify your core EQ skills related to self-awareness,
self-management, social awareness and relationship manage
-
ment.
When I first calculated my EQ scores a few years ago, I was
at an overall score of 69 with my lowest score in self-awareness.
To be self-aware is to know yourself as you truly are. A few of
the strategies they include are to quit treating your feelings as
good or bad; feel your emotions physically and check yourself. I
have found that, through meditation, I have become more self-
aware and am able to check in with myself regularly. By being
aware of my own emotions, it has helped me check in with the
emotions of those around me to see what they are feeling.
After a couple of the sessions, I started to be mindful with less
focus on making the session efficient and effective. Mindful
-
ness, a concept introduced in the class that I had heard of previ
-
ously but hadn't practiced, allowed me to shift my perspective
to one of planning and forward thinking to just being present.
Psychology Today
defines mindfulness as "a state of active, open
attention to the present. This state encompasses observing one's
thoughts and feelings without judging them as good or bad."
A mindful approach: Slow down, savor
During the class on mindful eating, we were given a grape to
eat. Normally, I would have popped the grape in my mouth,
chewed it partially, then swallowed without much thought to
what I had just consumed. The instructor asked us first to look
at the grape, smell it and roll it around in our hands. We were
asked to think about the growing of the grape, where it came
from, how it got from the vines to the grocery store to our
class, etc. Next, we put the grape in our mouths and slowly ate
it. This allowed us to really taste its flavor and feel its texture
before consuming it.
If you have a meal or snack coming up soon, I encourage you
to try this out. Before eating one of the foods, run through the
items above: look, smell, feel, listen, taste. Use all the senses to
experience a few bites. Slow down and savor the flavor. What
was that experience like? Did you notice something new about
the food you ate? Did you enjoy it more or did you enjoy it less?
This activity made me think about how in my career as a
healthcare process improvement expert I have to get teams to
think about processes from where they start to where they fin
-
ish with all the steps in between. Working with a team to com
-
plete this mapping requires time and focus. Creating a detailed
process map is really an exercise in mindful mapping of the
process under study. Sometimes a team has to pause and take a
minute to think about the perspectives of their customer and
their suppliers. Team members have to think about what hap
-
pens before the team process begins.
Another activity we completed in the class was drawing our
current state and our future state. This didn't mean mapping
out what it was but drawing a picture that represented what we
currently felt and then sketching a picture of what we saw in
the future. Of all the exercises we learned, this was one that I
have applied with project teams many times. This can be a fun
activity to get teams to share their frustrations with their cur
-
rent state in a creative way. I have often seen teams draw chaos
in different forms by trying to display confusion, poor commu
-
nication and other frustrations. The future state is ordered and
streamlined with the team members all having smiling faces.
The last activity I will share is the concept of dialoguing.
When this topic was first introduced, I was initially skeptical
it wouldn't work. That was until I realized that dialoguing re
-
minds me of working through a "five whys" exercise when you
just keep conversing with a frustration until you get to the root
cause. The activity started with the students each identifying
a frustration and then having a dialogue with that frustration.
My conversation was with my aching knees and hips (obvi
-
ously, I am no longer a young engineer). After having this con
-
versation with my knees and hips, I came to realize I needed
to incorporate more stretching and yoga into my life. This is
again something I can build into my calendar and test different
PDSAs to see what works for me and what doesn't. Without
this conversation, I might still be thinking that all I need to do
is find better shoes or spend less time working out.
For the last self-guided exercise, draw your current and fu
-
ture states or complete a dialogue session with a frustration
you are having. What was your conclusion? Did you notice
More on mindfulness
Author Satya S. Chakravorty discussed the topic
of mindfulness in the September 2017 issue of
ISE
,
"Mindfulness boosts process performance." You can read it
at
https://link.iise.org/ISESept2017_Chakravorty

.