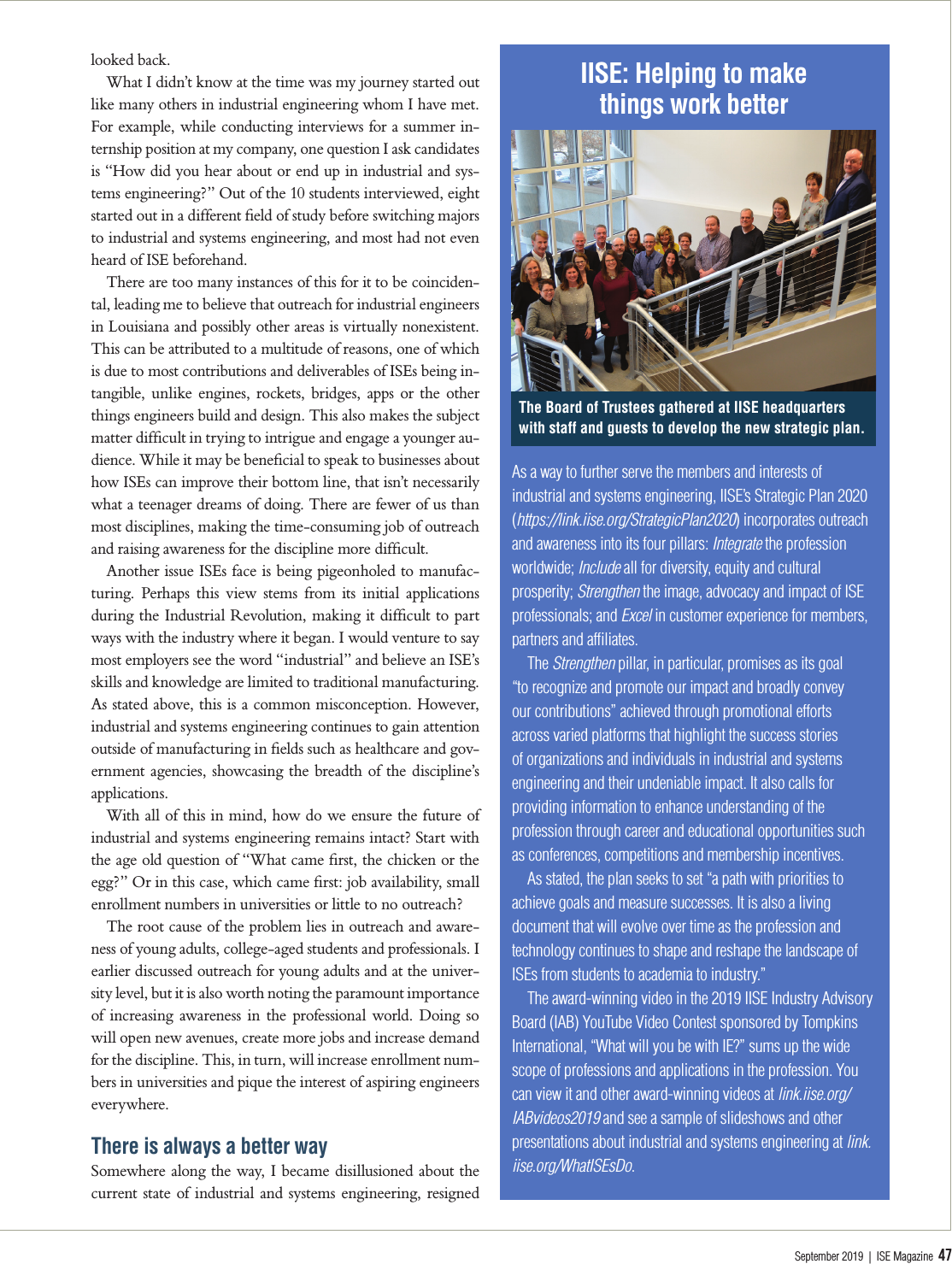 September 2019 | ISE Magazine
47
looked back.
What I didn't know at the time was my journey started out
like many others in industrial engineering whom I have met.
For example, while conducting interviews for a summer in
-
ternship position at my company, one question I ask candidates
is "How did you hear about or end up in industrial and sys
-
tems engineering?" Out of the 10 students interviewed, eight
started out in a different field of study before switching majors
to industrial and systems engineering, and most had not even
heard of ISE beforehand.
There are too many instances of this for it to be coinciden
-
tal, leading me to believe that outreach for industrial engineers
in Louisiana and possibly other areas is virtually nonexistent.
This can be attributed to a multitude of reasons, one of which
is due to most contributions and deliverables of ISEs being in
-
tangible, unlike engines, rockets, bridges, apps or the other
things engineers build and design. This also makes the subject
matter difficult in trying to intrigue and engage a younger au
-
dience. While it may be beneficial to speak to businesses about
how ISEs can improve their bottom line, that isn't necessarily
what a teenager dreams of doing. There are fewer of us than
most disciplines, making the time-consuming job of outreach
and raising awareness for the discipline more difficult.
Another issue ISEs face is being pigeonholed to manufac
-
turing. Perhaps this view stems from its initial applications
during the Industrial Revolution, making it difficult to part
ways with the industry where it began. I would venture to say
most employers see the word "industrial" and believe an ISE's
skills and knowledge are limited to traditional manufacturing.
As stated above, this is a common misconception. However,
industrial and systems engineering continues to gain attention
outside of manufacturing in fields such as healthcare and gov
-
ernment agencies, showcasing the breadth of the discipline's
applications.
With all of this in mind, how do we ensure the future of
industrial and systems engineering remains intact? Start with
the age old question of "What came first, the chicken or the
egg?" Or in this case, which came first: job availability, small
enrollment numbers in universities or little to no outreach?
The root cause of the problem lies in outreach and aware
-
ness of young adults, college-aged students and professionals. I
earlier discussed outreach for young adults and at the univer
-
sity level, but it is also worth noting the paramount importance
of increasing awareness in the professional world. Doing so
will open new avenues, create more jobs and increase demand
for the discipline. This, in turn, will increase enrollment num
-
bers in universities and pique the interest of aspiring engineers
everywhere.
There is always a better way
Somewhere along the way, I became disillusioned about the
current state of industrial and systems engineering, resigned
things work better
As a way to further serve the members and interests of
industrial and systems engineering, IISE's Strategic Plan 2020
(
https://link.iise.org/StrategicPlan2020
) incorporates outreach
and awareness into its four pillars:
Integrate
the profession
worldwide;
Include

all for diversity, equity and cultural
prosperity;
Strengthen
the image, advocacy and impact of ISE
professionals; and
Excel
in customer experience for members,
partners and affiliates.
The
Strengthen
pillar, in particular, promises as its goal
"to recognize and promote our impact and broadly convey
our contributions" achieved through promotional efforts
across varied platforms that highlight the success stories
of organizations and individuals in industrial and systems
engineering and their undeniable impact. It also calls for
providing information to enhance understanding of the
profession through career and educational opportunities such
as conferences, competitions and membership incentives.
As stated, the plan seeks to set "a path with priorities to
achieve goals and measure successes. It is also a living
document that will evolve over time as the profession and
technology continues to shape and reshape the landscape of
ISEs from students to academia to industry."
The award-winning video in the 2019 IISE Industry Advisory
Board (IAB) YouTube Video Contest sponsored by Tompkins
International, "What will you be with IE?" sums up the wide
scope of professions and applications in the profession. You
can view it and other award-winning videos at
link.iise.org/
IABvideos2019
and see a sample of slideshows and other
presentations about industrial and systems engineering at
link.
The Board of Trustees gathered at IISE headquarters
with staff and guests to develop the new strategic plan.