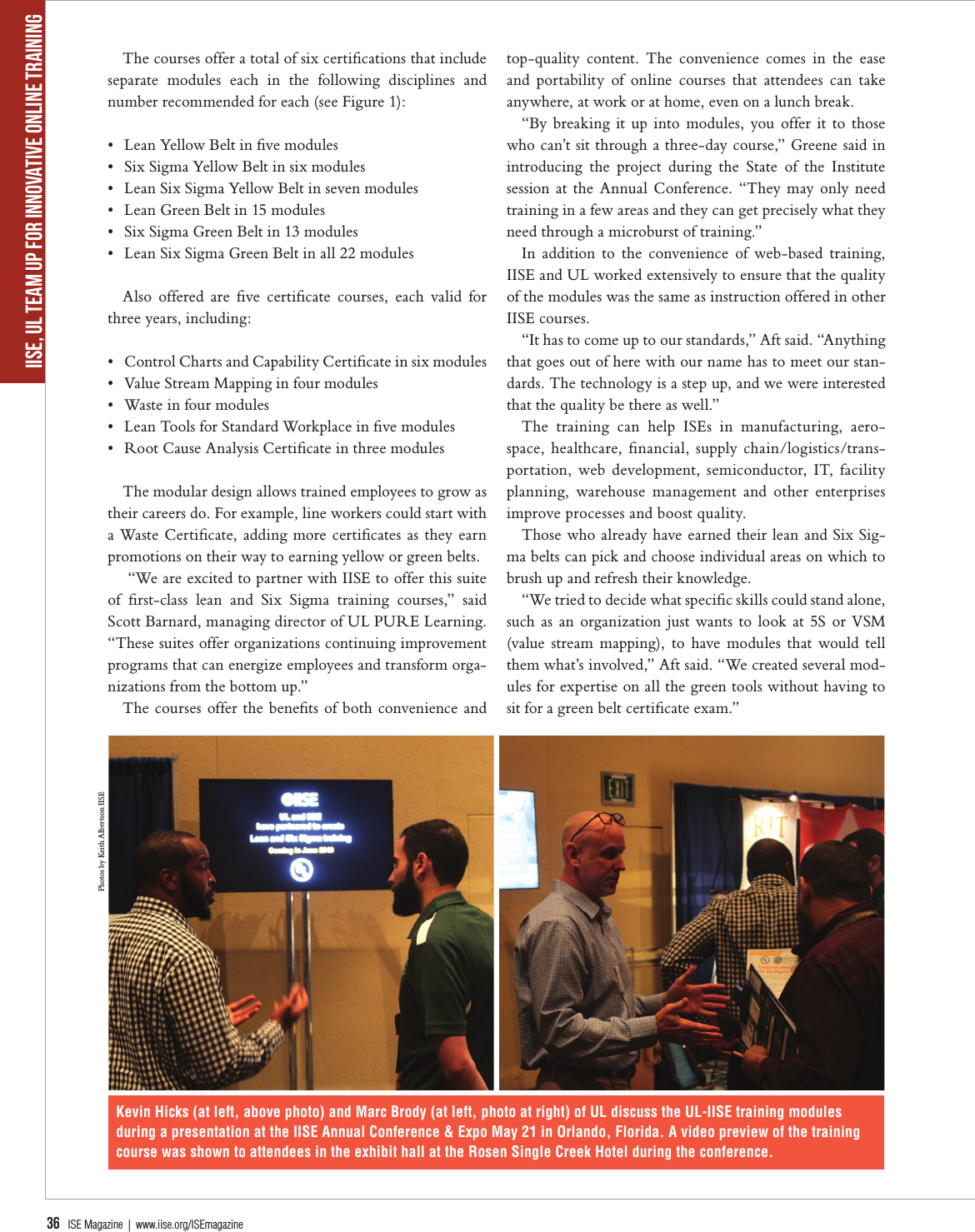 36
ISE Magazine | www.iise.org/ISEmagazine
IISE, UL team up for innovative online training
The courses offer a total of six certifications that include
separate modules each in the following disciplines and
number recommended for each (see Figure 1):
•
Lean Yellow Belt in five modules
•
Six Sigma Yellow Belt in six modules
•
Lean Six Sigma Yellow Belt in seven modules
•
Lean Green Belt in 15 modules
•
Six Sigma Green Belt in 13 modules
•
Lean Six Sigma Green Belt in all 22 modules
Also offered are five certificate courses, each valid for
three years, including:
•
Control Charts and Capability Certificate in six modules
•
Value Stream Mapping in four modules
•
Lean Tools for Standard Workplace in five modules
•
Root Cause Analysis Certificate in three modules
The modular design allows trained employees to grow as
their careers do. For example, line workers could start with
a Waste Certificate, adding more certificates as they earn
promotions on their way to earning yellow or green belts.
"We are excited to partner with IISE to offer this suite
of first-class lean and Six Sigma training courses," said
Scott Barnard, managing director of UL PURE Learning.
"These suites offer organizations continuing improvement
programs that can energize employees and transform orga
-
nizations from the bottom up."
The courses offer the benefits of both convenience and
top-quality content. The convenience comes in the ease
and portability of online courses that attendees can take
anywhere, at work or at home, even on a lunch break.
"By breaking it up into modules, you offer it to those
who can't sit through a three-day course," Greene said in
introducing the project during the State of the Institute
session at the Annual Conference. "They may only need
training in a few areas and they can get precisely what they
need through a microburst of training."
In addition to the convenience of web-based training,
IISE and UL worked extensively to ensure that the quality
of the modules was the same as instruction offered in other
IISE courses.
"It has to come up to our standards," Aft said. "Anything
that goes out of here with our name has to meet our stan
-
dards. The technology is a step up, and we were interested
that the quality be there as well."
The training can help ISEs in manufacturing, aero
-
space, healthcare, financial, supply chain/logistics/trans
-
portation, web development, semiconductor, IT, facility
planning, warehouse management and other enterprises
improve processes and boost quality.
Those who already have earned their lean and Six Sig
-
ma belts can pick and choose individual areas on which to
brush up and refresh their knowledge.
"We tried to decide what specific skills could stand alone,
such as an organization just wants to look at 5S or VSM
(value stream mapping), to have modules that would tell
them what's involved," Aft said. "We created several mod
-
ules for expertise on all the green tools without having to
sit for a green belt certificate exam."
Kevin Hicks (at left, above photo) and Marc Brody (at left, photo at right) of UL discuss the UL-IISE training modules
during a presentation at the IISE Annual Conference & Expo May 21 in Orlando, Florida. A video preview of the training
course was shown to attendees in the exhibit hall at the Rosen Single Creek Hotel during the conference.
Photos by Keith Albertson IISE