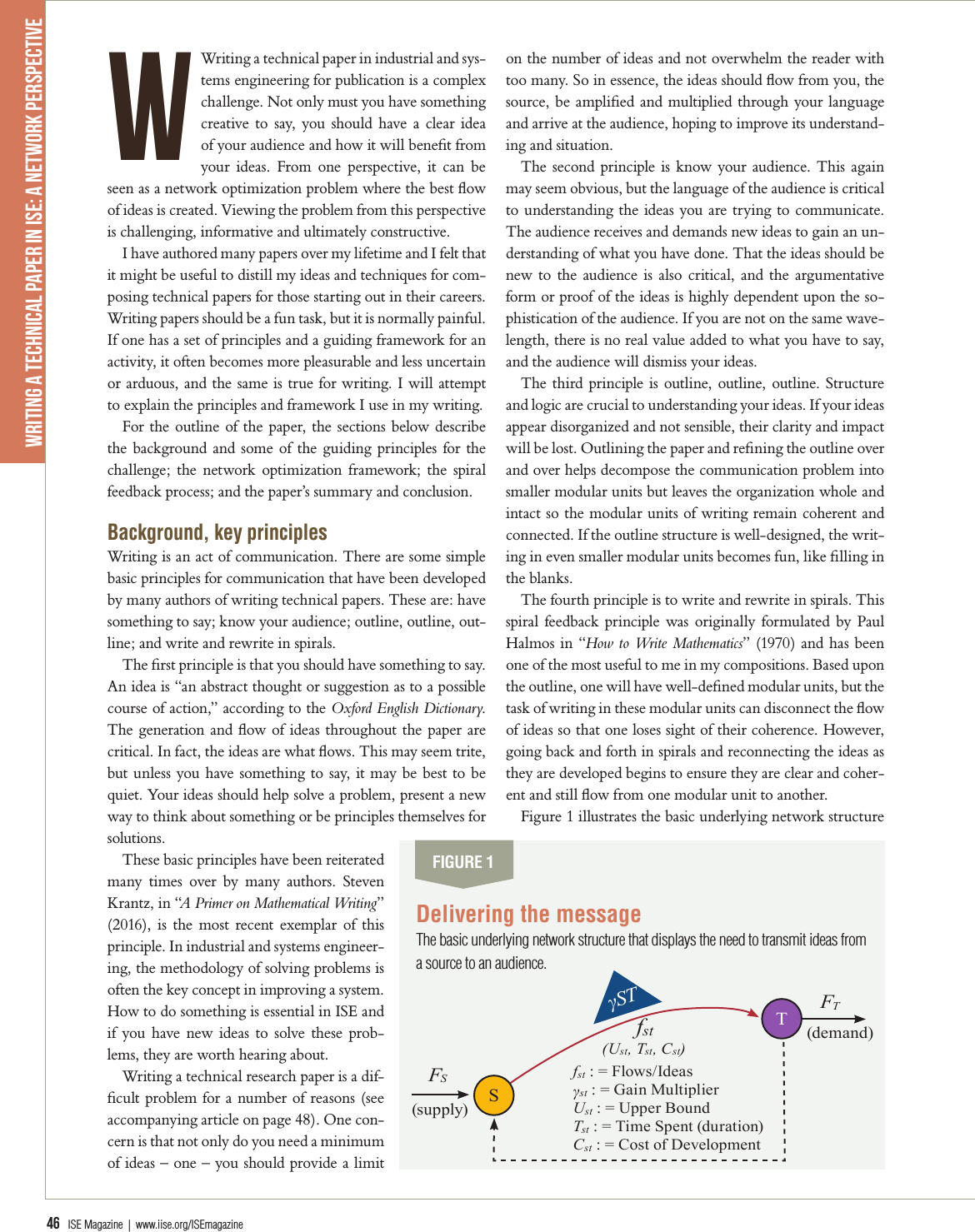 46
ISE Magazine | www.iise.org/ISEmagazine
Writing a technical paper in ISE: A network perspective
Writing a technical paper in industrial and sys
-
tems engineering for publication is a complex
challenge. Not only must you have something
creative to say, you should have a clear idea
of your audience and how it will benefit from
your ideas. From one perspective, it can be
seen as a network optimization problem where the best flow
of ideas is created. Viewing the problem from this perspective
is challenging, informative and ultimately constructive.
I have authored many papers over my lifetime and I felt that
it might be useful to distill my ideas and techniques for com
-
posing technical papers for those starting out in their careers.
Writing papers should be a fun task, but it is normally painful.
If one has a set of principles and a guiding framework for an
activity, it often becomes more pleasurable and less uncertain
or arduous, and the same is true for writing. I will attempt
to explain the principles and framework I use in my writing.
For the outline of the paper, the sections below describe
the background and some of the guiding principles for the
challenge; the network optimization framework; the spiral
feedback process; and the paper's summary and conclusion.
Background, key principles
Writing is an act of communication. There are some simple
basic principles for communication that have been developed
by many authors of writing technical papers. These are: have
something to say; know your audience; outline, outline, out
-
line; and write and rewrite in spirals.
The first principle is that you should have something to say.
An idea is "an abstract thought or suggestion as to a possible
course of action," according to the
Oxford English Dictionary

.
The generation and flow of ideas throughout the paper are
critical. In fact, the ideas are what flows. This may seem trite,
but unless you have something to say, it may be best to be
quiet. Your ideas should help solve a problem, present a new
way to think about something or be principles themselves for
solutions.
These basic principles have been reiterated
many times over by many authors. Steven
Krantz, in "
A Primer on Mathematical Writing

"
(2016), is the most recent exemplar of this
principle. In industrial and systems engineer
-
ing, the methodology of solving problems is
often the key concept in improving a system.
How to do something is essential in ISE and
if you have new ideas to solve these prob
-
lems, they are worth hearing about.
Writing a technical research paper is a dif
-
ficult problem for a number of reasons (see
accompanying article on page 48). One con
-
cern is that not only do you need a minimum
of ideas – one – you should provide a limit
on the number of ideas and not overwhelm the reader with
too many. So in essence, the ideas should flow from you, the
source, be amplified and multiplied through your language
and arrive at the audience, hoping to improve its understand
-
ing and situation.
The second principle is know your audience. This again
may seem obvious, but the language of the audience is critical
to understanding the ideas you are trying to communicate.
The audience receives and demands new ideas to gain an un
-
derstanding of what you have done. That the ideas should be
new to the audience is also critical, and the argumentative
form or proof of the ideas is highly dependent upon the so
-
phistication of the audience. If you are not on the same wave
-
length, there is no real value added to what you have to say,
and the audience will dismiss your ideas.
The third principle is outline, outline, outline. Structure
and logic are crucial to understanding your ideas. If your ideas
appear disorganized and not sensible, their clarity and impact
will be lost. Outlining the paper and refining the outline over
and over helps decompose the communication problem into
smaller modular units but leaves the organization whole and
intact so the modular units of writing remain coherent and
connected. If the outline structure is well-designed, the writ
-
ing in even smaller modular units becomes fun, like filling in
the blanks.
The fourth principle is to write and rewrite in spirals. This
spiral feedback principle was originally formulated by Paul
Halmos in "
How to Write Mathematics

" (1970) and has been
one of the most useful to me in my compositions. Based upon
the outline, one will have well-defined modular units, but the
task of writing in these modular units can disconnect the flow
of ideas so that one loses sight of their coherence. However,
going back and forth in spirals and reconnecting the ideas as
they are developed begins to ensure they are clear and coher
-
ent and still flow from one modular unit to another.
Figure 1 illustrates the basic underlying network structure
FIGURE 1
Delivering the message
The basic underlying network structure that displays the need to transmit ideas from
a source to an audience.
F
S
F
T
γST
(supply)
S
(demand)
T
(U
st
, T
st
, C
st
)
f
st
U
st
T
st
: = Time Spent (duration)
C
st
f
st
W