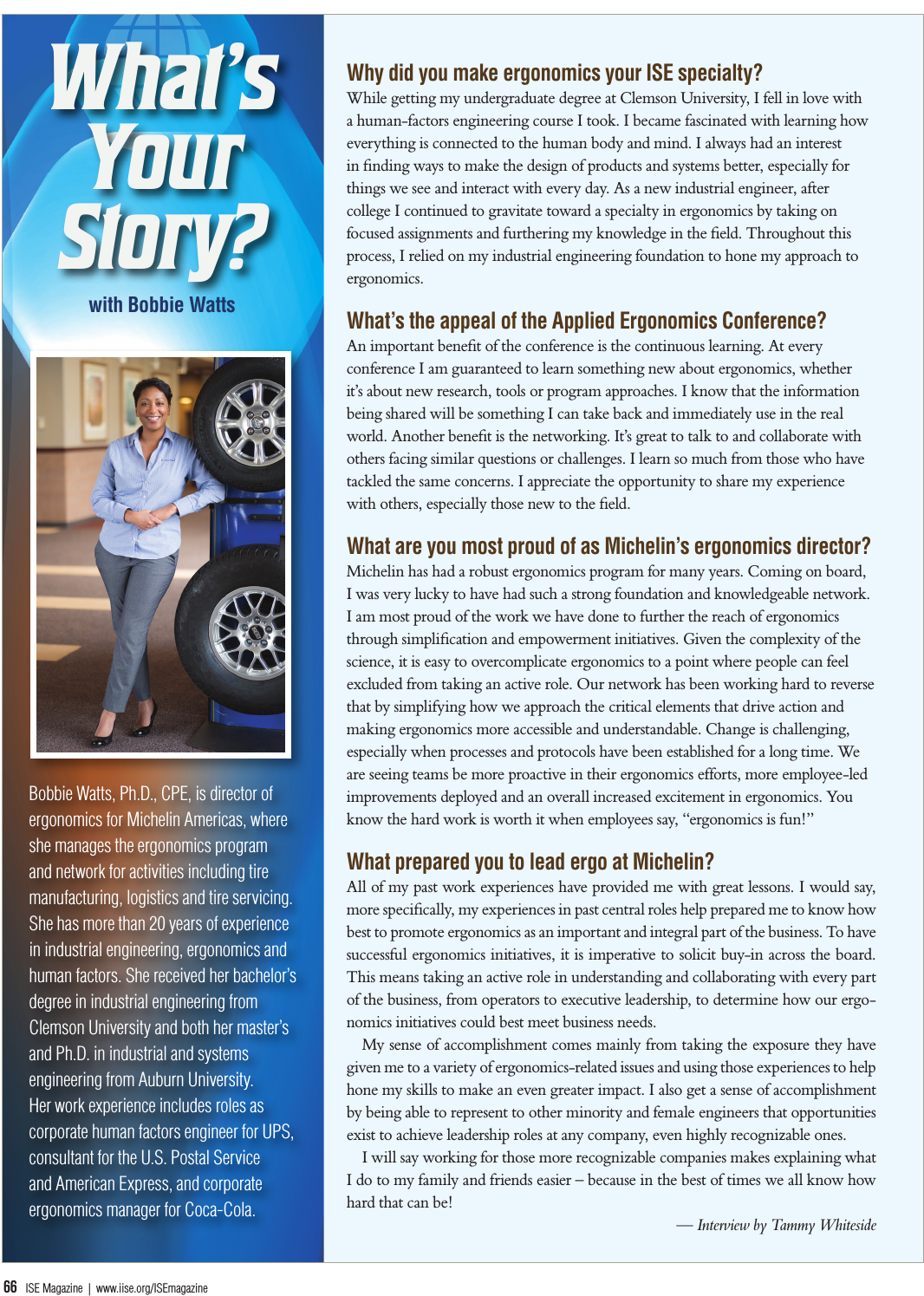 66
ISE Magazine | www.iise.org/ISEmagazine
with Bobbie Watts
Bobbie Watts, Ph.D., CPE, is director of
ergonomics for Michelin Americas, where
she manages the ergonomics program
and network for activities including tire
manufacturing, logistics and tire servicing.
She has more than 20 years of experience
in industrial engineering, ergonomics and
human factors. She received her bachelor's
degree in industrial engineering from
Clemson University and both her master's
and Ph.D. in industrial and systems
engineering from Auburn University.
Her work experience includes roles as
corporate human factors engineer for UPS,
consultant for the U.S. Postal Service
and American Express, and corporate
ergonomics manager for Coca-Cola.
Story?
Why did you make ergonomics your ISE specialty?
While getting my undergraduate degree at Clemson University, I fell in love with
a human-factors engineering course I took. I became fascinated with learning how
everything is connected to the human body and mind. I always had an interest
in finding ways to make the design of products and systems better, especially for
things we see and interact with every day. As a new industrial engineer, after
college I continued to gravitate toward a specialty in ergonomics by taking on
focused assignments and furthering my knowledge in the field. Throughout this
process, I relied on my industrial engineering foundation to hone my approach to
ergonomics.
What's the appeal of the Applied Ergonomics Conference?
An important benefit of the conference is the continuous learning. At every
conference I am guaranteed to learn something new about ergonomics, whether
it's about new research, tools or program approaches. I know that the information
being shared will be something I can take back and immediately use in the real
world. Another benefit is the networking. It's great to talk to and collaborate with
others facing similar questions or challenges. I learn so much from those who have
tackled the same concerns. I appreciate the opportunity to share my experience
with others, especially those new to the field.
What are you most proud of as Michelin's ergonomics director?
Michelin has had a robust ergonomics program for many years. Coming on board,
I was very lucky to have had such a strong foundation and knowledgeable network.
I am most proud of the work we have done to further the reach of ergonomics
through simplification and empowerment initiatives. Given the complexity of the
science, it is easy to overcomplicate ergonomics to a point where people can feel
excluded from taking an active role. Our network has been working hard to reverse
that by simplifying how we approach the critical elements that drive action and
making ergonomics more accessible and understandable. Change is challenging,
especially when processes and protocols have been established for a long time. We
are seeing teams be more proactive in their ergonomics efforts, more employee-led
improvements deployed and an overall increased excitement in ergonomics. You
know the hard work is worth it when employees say, "ergonomics is fun!"
What prepared you to lead ergo at Michelin?
All of my past work experiences have provided me with great lessons. I would say,
more specifically, my experiences in past central roles help prepared me to know how
best to promote ergonomics as an important and integral part of the business. To have
successful ergonomics initiatives, it is imperative to solicit buy-in across the board.
This means taking an active role in understanding and collaborating with every part
of the business, from operators to executive leadership, to determine how our ergo
-
nomics initiatives could best meet business needs.
My sense of accomplishment comes mainly from taking the exposure they have
given me to a variety of ergonomics-related issues and using those experiences to help
hone my skills to make an even greater impact. I also get a sense of accomplishment
by being able to represent to other minority and female engineers that opportunities
exist to achieve leadership roles at any company, even highly recognizable ones.
I will say working for those more recognizable companies makes explaining what
I do to my family and friends easier – because in the best of times we all know how
hard that can be!
— Interview by Tammy Whiteside
AFTER BREAKING THESE BARRIERS,
BOTTLENECKS ARE A BREEZE
Register now at
www.iise.org/Annual
#IISEAnnual2019
Stayce D. Harris became the U.S. Air Force's first African-American lieutenant general. Pascal
Van Hentenryck designed the foundation of constraint programming languages. Sylvia
Acevedo went from being told by a high school counselor that Hispanic "girls like you don't
go to college" to being a NASA rocket scientist/industrial engineer/author/entrepreneur,
she explained to NPR.
And you can hear all 3 of these keynote speakers at #IISEAnnual2019. Learning how they
broke through those barriers will make your next bottleneck a piece of cake.
NETWORKING
Discover your
next great
engineer.
EXHIBITORS/
VENDORS
Find the latest
to make process
improvement a
whiz.
FACILITY
TOURS
See how
everybody
else does it.
PRECONFERENCE
WORKSHOPS
Get in-depth
training.