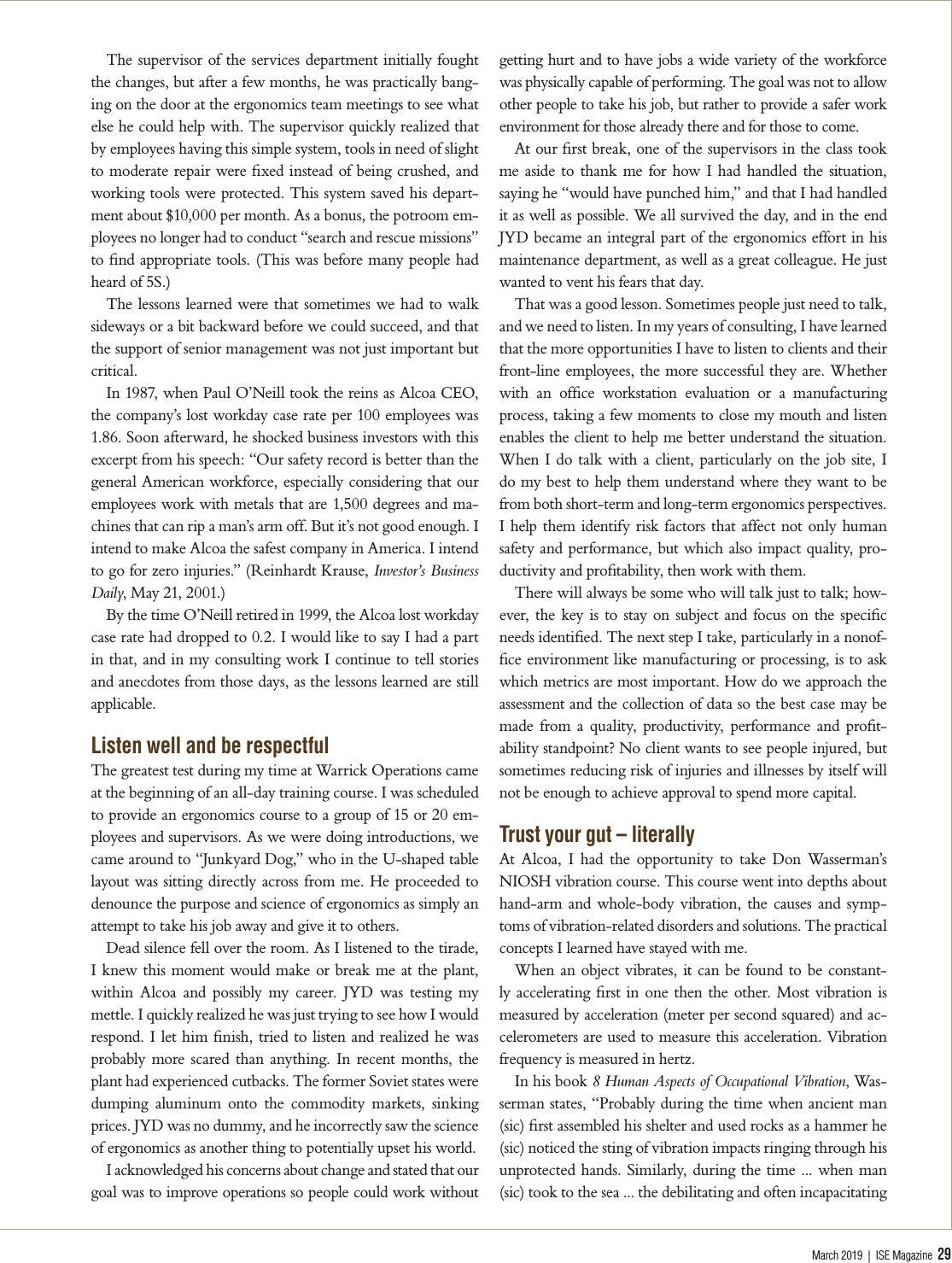 March 2019 | ISE Magazine
29
The supervisor of the services department initially fought
the changes, but after a few months, he was practically bang
-
ing on the door at the ergonomics team meetings to see what
else he could help with. The supervisor quickly realized that
by employees having this simple system, tools in need of slight
to moderate repair were fixed instead of being crushed, and
working tools were protected. This system saved his depart
-
ment about $10,000 per month. As a bonus, the potroom em
-
ployees no longer had to conduct "search and rescue missions"
to find appropriate tools. (This was before many people had
heard of 5S.)
The lessons learned were that sometimes we had to walk
sideways or a bit backward before we could succeed, and that
the support of senior management was not just important but
critical.
In 1987, when Paul O'Neill took the reins as Alcoa CEO,
the company's lost workday case rate per 100 employees was
1.86. Soon afterward, he shocked business investors with this
excerpt from his speech: "Our safety record is better than the
general American workforce, especially considering that our
employees work with metals that are 1,500 degrees and ma
-
chines that can rip a man's arm off. But it's not good enough. I
intend to make Alcoa the safest company in America. I intend
to go for zero injuries." (Reinhardt Krause,
Investor's Business
By the time O'Neill retired in 1999, the Alcoa lost workday
case rate had dropped to 0.2. I would like to say I had a part
in that, and in my consulting work I continue to tell stories
and anecdotes from those days, as the lessons learned are still
applicable.
Listen well and be respectful
The greatest test during my time at Warrick Operations came
at the beginning of an all-day training course. I was scheduled
to provide an ergonomics course to a group of 15 or 20 em
-
ployees and supervisors. As we were doing introductions, we
came around to "Junkyard Dog," who in the U-shaped table
layout was sitting directly across from me. He proceeded to
denounce the purpose and science of ergonomics as simply an
attempt to take his job away and give it to others.
Dead silence fell over the room. As I listened to the tirade,
I knew this moment would make or break me at the plant,
within Alcoa and possibly my career. JYD was testing my
mettle. I quickly realized he was just trying to see how I would
respond. I let him finish, tried to listen and realized he was
probably more scared than anything. In recent months, the
plant had experienced cutbacks. The former Soviet states were
dumping aluminum onto the commodity markets, sinking
prices. JYD was no dummy, and he incorrectly saw the science
of ergonomics as another thing to potentially upset his world.
I acknowledged his concerns about change and stated that our
goal was to improve operations so people could work without
getting hurt and to have jobs a wide variety of the workforce
was physically capable of performing. The goal was not to allow
other people to take his job, but rather to provide a safer work
environment for those already there and for those to come.
At our first break, one of the supervisors in the class took
me aside to thank me for how I had handled the situation,
saying he "would have punched him," and that I had handled
it as well as possible. We all survived the day, and in the end
JYD became an integral part of the ergonomics effort in his
maintenance department, as well as a great colleague. He just
wanted to vent his fears that day.
That was a good lesson. Sometimes people just need to talk,
and we need to listen. In my years of consulting, I have learned
that the more opportunities I have to listen to clients and their
front-line employees, the more successful they are. Whether
with an office workstation evaluation or a manufacturing
process, taking a few moments to close my mouth and listen
enables the client to help me better understand the situation.
When I do talk with a client, particularly on the job site, I
do my best to help them understand where they want to be
from both short-term and long-term ergonomics perspectives.
I help them identify risk factors that affect not only human
safety and performance, but which also impact quality, pro
-
ductivity and profitability, then work with them.
There will always be some who will talk just to talk; how
-
ever, the key is to stay on subject and focus on the specific
needs identified. The next step I take, particularly in a nonof
-
fice environment like manufacturing or processing, is to ask
which metrics are most important. How do we approach the
assessment and the collection of data so the best case may be
made from a quality, productivity, performance and profit
-
ability standpoint? No client wants to see people injured, but
sometimes reducing risk of injuries and illnesses by itself will
not be enough to achieve approval to spend more capital.
Trust your gut – literally
At Alcoa, I had the opportunity to take Don Wasserman's
NIOSH vibration course. This course went into depths about
hand-arm and whole-body vibration, the causes and symp
-
toms of vibration-related disorders and solutions. The practical
concepts I learned have stayed with me.
When an object vibrates, it can be found to be constant
-
ly accelerating first in one then the other. Most vibration is
measured by acceleration (meter per second squared) and ac
-
celerometers are used to measure this acceleration. Vibration
frequency is measured in hertz.
In his book
8 Human Aspects of Occupational Vibration, Was

-
serman states, "Probably during the time when ancient man
(sic) first assembled his shelter and used rocks as a hammer he
(sic) noticed the sting of vibration impacts ringing through his
unprotected hands. Similarly, during the time ... when man
(sic) took to the sea ... the debilitating and often incapacitating