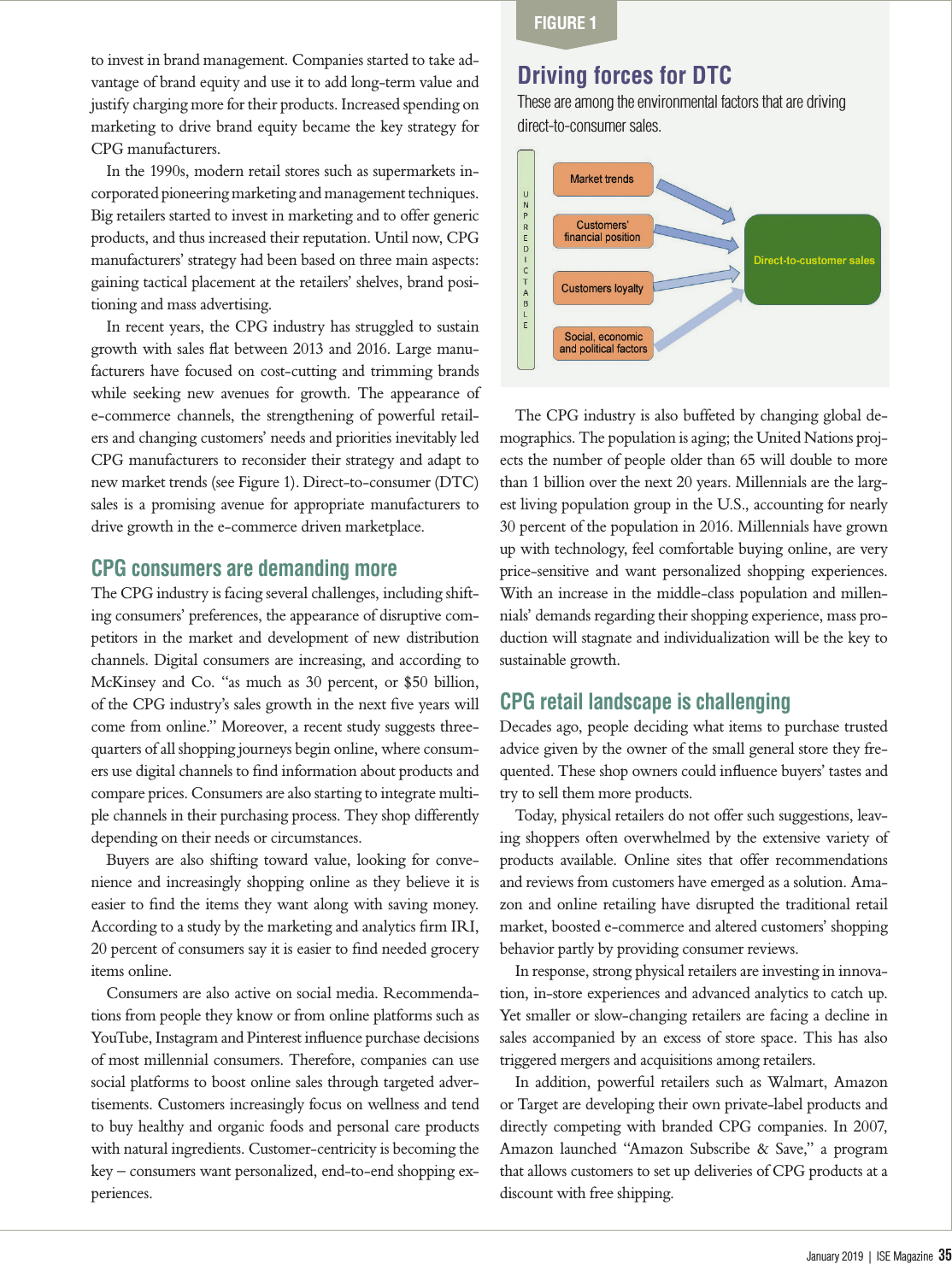 January 2019 | ISE Magazine
35
to invest in brand management. Companies started to take ad
-
vantage of brand equity and use it to add long-term value and
justify charging more for their products. Increased spending on
marketing to drive brand equity became the key strategy for
CPG manufacturers.
In the 1990s, modern retail stores such as supermarkets in
-
corporated pioneering marketing and management techniques.
Big retailers started to invest in marketing and to offer generic
products, and thus increased their reputation. Until now, CPG
manufacturers' strategy had been based on three main aspects:
gaining tactical placement at the retailers' shelves, brand posi
-
tioning and mass advertising.
In recent years, the CPG industry has struggled to sustain
growth with sales flat between 2013 and 2016. Large manu
-
facturers have focused on cost-cutting and trimming brands
while seeking new avenues for growth. The appearance of
e-commerce channels, the strengthening of powerful retail
-
ers and changing customers' needs and priorities inevitably led
CPG manufacturers to reconsider their strategy and adapt to
new market trends (see Figure 1). Direct-to-consumer (DTC)
sales is a promising avenue for appropriate manufacturers to
drive growth in the e-commerce driven marketplace.
CPG consumers are demanding more
The CPG industry is facing several challenges, including shift
-
ing consumers' preferences, the appearance of disruptive com
-
petitors in the market and development of new distribution
channels. Digital consumers are increasing, and according to
McKinsey and Co. "as much as 30 percent, or $50 billion,
of the CPG industry's sales growth in the next five years will
come from online." Moreover, a recent study suggests three-
quarters of all shopping journeys begin online, where consum
-
ers use digital channels to find information about products and
compare prices. Consumers are also starting to integrate multi
-
ple channels in their purchasing process. They shop differently
depending on their needs or circumstances.
Buyers are also shifting toward value, looking for conve
-
nience and increasingly shopping online as they believe it is
easier to find the items they want along with saving money.
According to a study by the marketing and analytics firm IRI,
20 percent of consumers say it is easier to find needed grocery
items online.
Consumers are also active on social media. Recommenda
-
tions from people they know or from online platforms such as
YouTube, Instagram and Pinterest influence purchase decisions
of most millennial consumers. Therefore, companies can use
social platforms to boost online sales through targeted adver
-
tisements. Customers increasingly focus on wellness and tend
to buy healthy and organic foods and personal care products
with natural ingredients. Customer-centricity is becoming the
key – consumers want personalized, end-to-end shopping ex
-
periences.
The CPG industry is also buffeted by changing global de
-
mographics. The population is aging; the United Nations proj
-
ects the number of people older than 65 will double to more
than 1 billion over the next 20 years. Millennials are the larg
-
est living population group in the U.S., accounting for nearly
30 percent of the population in 2016. Millennials have grown
up with technology, feel comfortable buying online, are very
price-sensitive and want personalized shopping experiences.
With an increase in the middle-class population and millen
-
nials' demands regarding their shopping experience, mass pro
-
duction will stagnate and individualization will be the key to
sustainable growth.
CPG retail landscape is challenging
Decades ago, people deciding what items to purchase trusted
advice given by the owner of the small general store they fre
-
quented. These shop owners could influence buyers' tastes and
try to sell them more products.
Today, physical retailers do not offer such suggestions, leav
-
ing shoppers often overwhelmed by the extensive variety of
products available. Online sites that offer recommendations
and reviews from customers have emerged as a solution. Ama
-
zon and online retailing have disrupted the traditional retail
market, boosted e-commerce and altered customers' shopping
behavior partly by providing consumer reviews.
In response, strong physical retailers are investing in innova
-
tion, in-store experiences and advanced analytics to catch up.
Yet smaller or slow-changing retailers are facing a decline in
sales accompanied by an excess of store space. This has also
triggered mergers and acquisitions among retailers.
In addition, powerful retailers such as Walmart, Amazon
or Target are developing their own private-label products and
directly competing with branded CPG companies. In 2007,
Amazon launched "Amazon Subscribe & Save," a program
that allows customers to set up deliveries of CPG products at a
discount with free shipping.
FIGURE 1
Driving forces for DTC
These are among the environmental factors that are driving
direct-to-consumer sales.