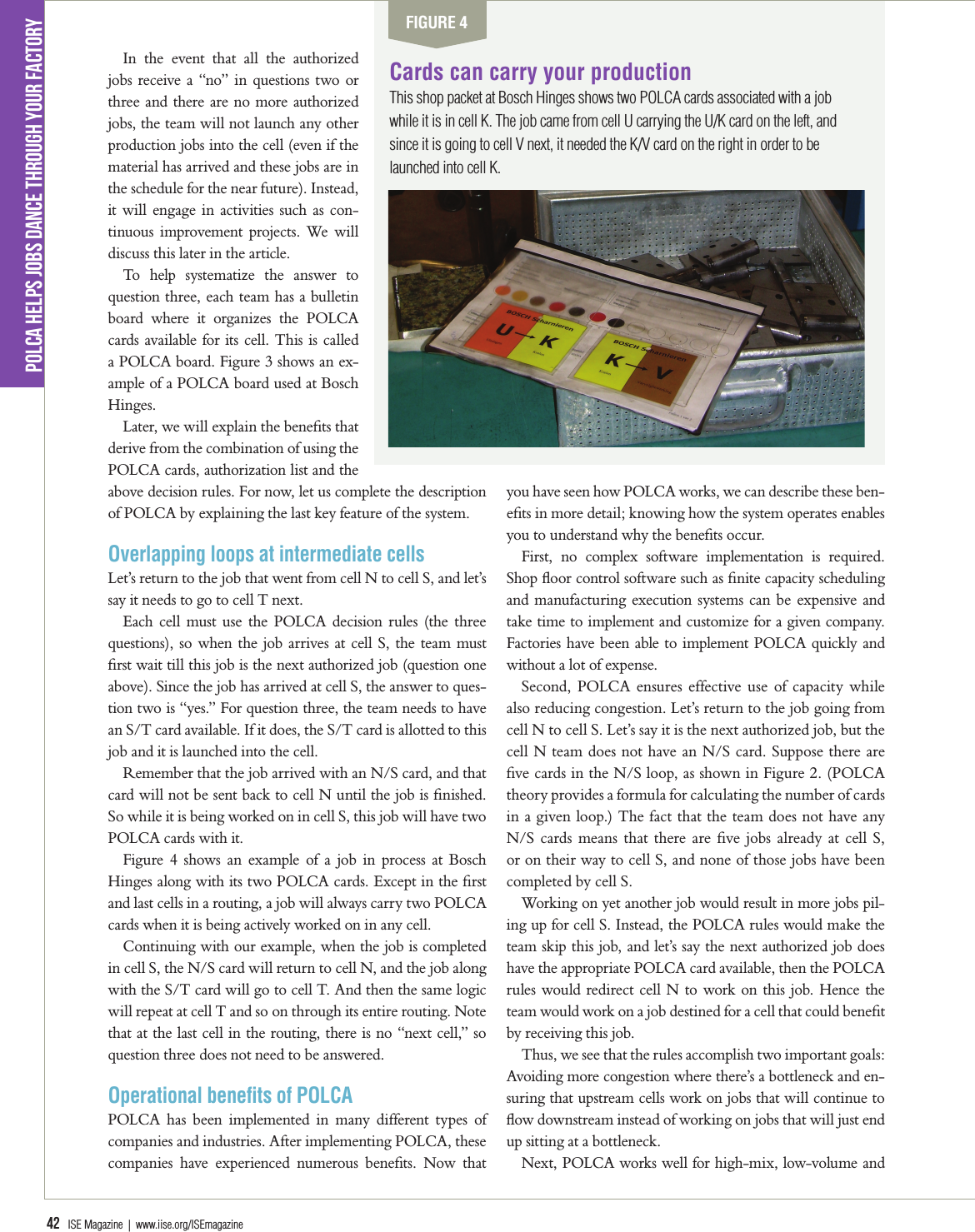 42
ISE Magazine | www.iise.org/ISEmagazine
POLCA helps jobs dance through your factory
In the event that all the authorized
jobs receive a "no" in questions two or
three and there are no more authorized
jobs, the team will not launch any other
production jobs into the cell (even if the
material has arrived and these jobs are in
the schedule for the near future). Instead,
it will engage in activities such as con
-
tinuous improvement projects. We will
discuss this later in the article.
To help systematize the answer to
question three, each team has a bulletin
board where it organizes the POLCA
cards available for its cell. This is called
a POLCA board. Figure 3 shows an ex
-
ample of a POLCA board used at Bosch
Hinges.
Later, we will explain the benefits that
derive from the combination of using the
POLCA cards, authorization list and the
above decision rules. For now, let us complete the description
of POLCA by explaining the last key feature of the system.
Overlapping loops at intermediate cells
Let's return to the job that went from cell N to cell S, and let's
say it needs to go to cell T next.
Each cell must use the POLCA decision rules (the three
questions), so when the job arrives at cell S, the team must
first wait till this job is the next authorized job (question one
above). Since the job has arrived at cell S, the answer to ques
-
tion two is "yes." For question three, the team needs to have
an S/T card available. If it does, the S/T card is allotted to this
job and it is launched into the cell.
Remember that the job arrived with an N/S card, and that
card will not be sent back to cell N until the job is finished.
So while it is being worked on in cell S, this job will have two
POLCA cards with it.
Figure 4 shows an example of a job in process at Bosch
Hinges along with its two POLCA cards. Except in the first
and last cells in a routing, a job will always carry two POLCA
cards when it is being actively worked on in any cell.
Continuing with our example, when the job is completed
in cell S, the N/S card will return to cell N, and the job along
with the S/T card will go to cell T. And then the same logic
will repeat at cell T and so on through its entire routing. Note
that at the last cell in the routing, there is no "next cell," so
question three does not need to be answered.
Operational benefits of POLCA
POLCA has been implemented in many different types of
companies and industries. After implementing POLCA, these
companies have experienced numerous benefits. Now that
you have seen how POLCA works, we can describe these ben
-
efits in more detail; knowing how the system operates enables
you to understand why the benefits occur.
First, no complex software implementation is required.
Shop floor control software such as finite capacity scheduling
and manufacturing execution systems can be expensive and
take time to implement and customize for a given company.
Factories have been able to implement POLCA quickly and
without a lot of expense.
Second, POLCA ensures effective use of capacity while
also reducing congestion. Let's return to the job going from
cell N to cell S. Let's say it is the next authorized job, but the
cell N team does not have an N/S card. Suppose there are
five cards in the N/S loop, as shown in Figure 2. (POLCA
theory provides a formula for calculating the number of cards
in a given loop.) The fact that the team does not have any
N/S cards means that there are five jobs already at cell S,
or on their way to cell S, and none of those jobs have been
completed by cell S.
Working on yet another job would result in more jobs pil
-
ing up for cell S. Instead, the POLCA rules would make the
team skip this job, and let's say the next authorized job does
have the appropriate POLCA card available, then the POLCA
rules would redirect cell N to work on this job. Hence the
team would work on a job destined for a cell that could benefit
by receiving this job.
Thus, we see that the rules accomplish two important goals:
Avoiding more congestion where there's a bottleneck and en
-
suring that upstream cells work on jobs that will continue to
flow downstream instead of working on jobs that will just end
up sitting at a bottleneck.
Next, POLCA works well for high-mix, low-volume and
FIGURE 4
Cards can carry your production
This shop packet at Bosch Hinges shows two POLCA cards associated with a job
while it is in cell K. The job came from cell U carrying the U/K card on the left, and
since it is going to cell V next, it needed the K/V card on the right in order to be
launched into cell K.