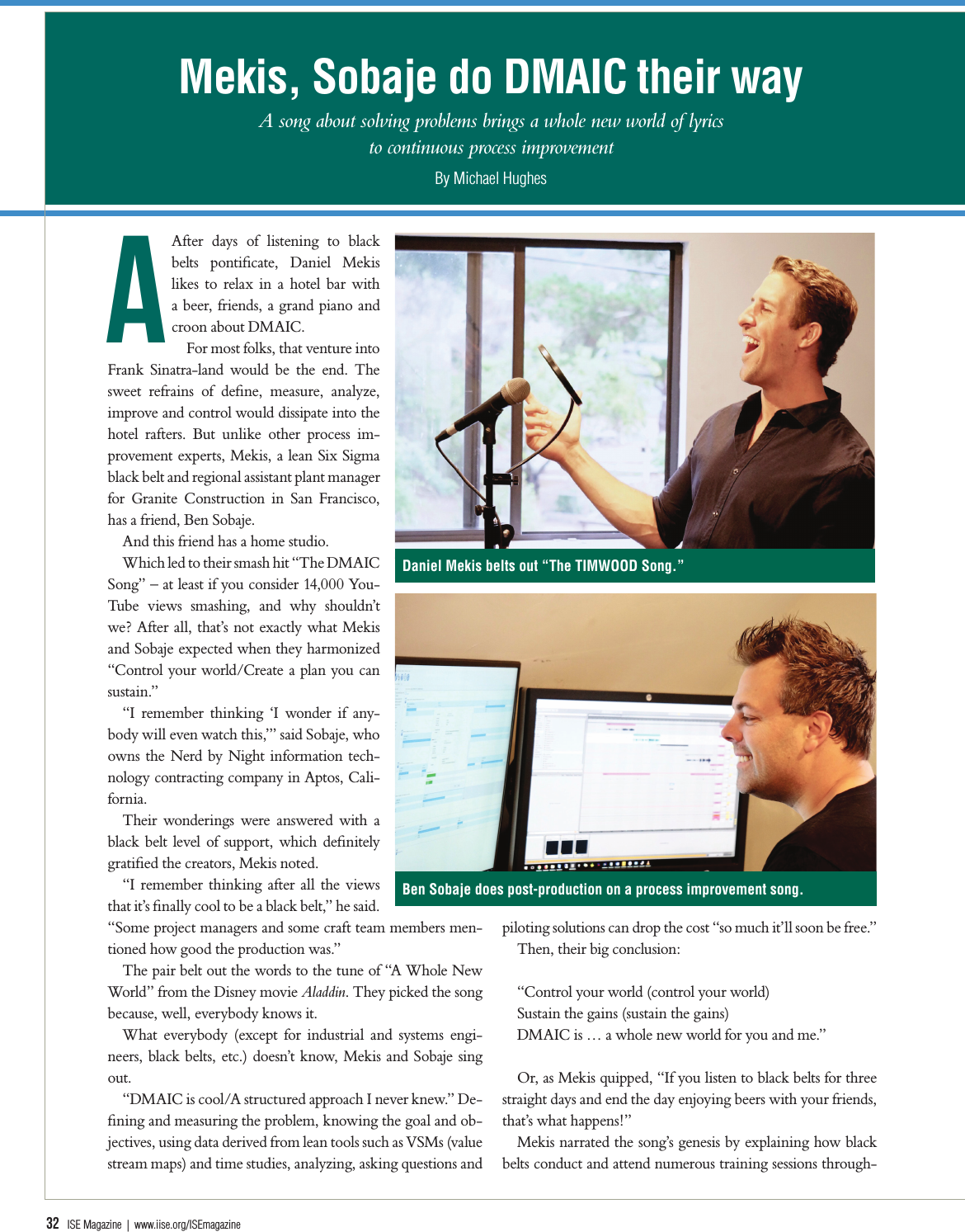 32
ISE Magazine | www.iise.org/ISEmagazine
After days of listening to black
belts pontificate, Daniel Mekis
likes to relax in a hotel bar with
a beer, friends, a grand piano and
croon about DMAIC.
For most folks, that venture into
Frank Sinatra-land would be the end. The
sweet refrains of define, measure, analyze,
improve and control would dissipate into the
hotel rafters. But unlike other process im
-
provement experts, Mekis, a lean Six Sigma
black belt and regional assistant plant manager
for Granite Construction in San Francisco,
has a friend, Ben Sobaje.
And this friend has a home studio.
Which led to their smash hit "The DMAIC
Song" – at least if you consider 14,000 You
-
Tube views smashing, and why shouldn't
we? After all, that's not exactly what Mekis
and Sobaje expected when they harmonized
"Control your world/Create a plan you can
sustain."
"I remember thinking 'I wonder if any
-
body will even watch this,'" said Sobaje, who
owns the Nerd by Night information tech
-
nology contracting company in Aptos, Cali
-
fornia.
Their wonderings were answered with a
black belt level of support, which definitely
gratified the creators, Mekis noted.
"I remember thinking after all the views
that it's finally cool to be a black belt," he said.
"Some project managers and some craft team members men
-
tioned how good the production was."
The pair belt out the words to the tune of "A Whole New
World" from the Disney movie
Aladdin
. They picked the song
because, well, everybody knows it.
What everybody (except for industrial and systems engi
-
neers, black belts, etc.) doesn't know, Mekis and Sobaje sing
out.
"DMAIC is cool/A structured approach I never knew." De
-
fining and measuring the problem, knowing the goal and ob
-
jectives, using data derived from lean tools such as VSMs (value
stream maps) and time studies, analyzing, asking questions and
piloting solutions can drop the cost "so much it'll soon be free."
Then, their big conclusion:
"Control your world (control your world)
Sustain the gains (sustain the gains)
DMAIC is … a whole new world for you and me."
Or, as Mekis quipped, "If you listen to black belts for three
straight days and end the day enjoying beers with your friends,
that's what happens!"
Mekis narrated the song's genesis by explaining how black
belts conduct and attend numerous training sessions through
-
A
Mekis, Sobaje do DMAIC their way
A song about solving problems brings a whole new world of lyrics
to continuous process improvement
By Michael Hughes
Daniel Mekis belts out "The TIMWOOD Song."
Ben Sobaje does post-production on a process improvement song.