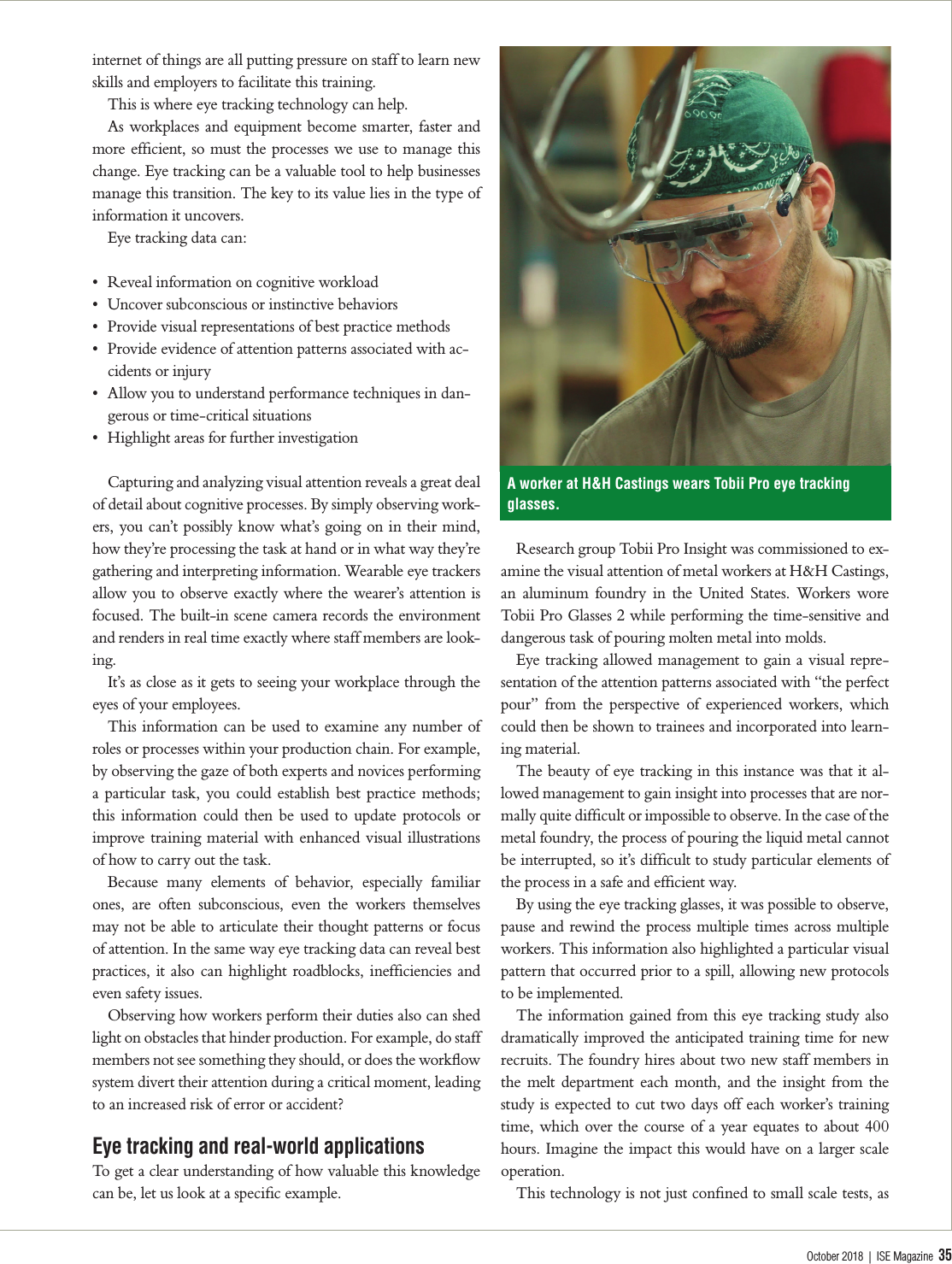 October 2018 | ISE Magazine
35
internet of things are all putting pressure on staff to learn new
skills and employers to facilitate this training.
This is where eye tracking technology can help.
As workplaces and equipment become smarter, faster and
more efficient, so must the processes we use to manage this
change. Eye tracking can be a valuable tool to help businesses
manage this transition. The key to its value lies in the type of
information it uncovers.
Eye tracking data can:
•
Reveal information on cognitive workload
•
Uncover subconscious or instinctive behaviors
•
Provide visual representations of best practice methods
•
Provide evidence of attention patterns associated with ac
-
cidents or injury
•
Allow you to understand performance techniques in dan
-
gerous or time-critical situations
•
Highlight areas for further investigation
Capturing and analyzing visual attention reveals a great deal
of detail about cognitive processes. By simply observing work
-
ers, you can't possibly know what's going on in their mind,
how they're processing the task at hand or in what way they're
gathering and interpreting information. Wearable eye trackers
allow you to observe exactly where the wearer's attention is
focused. The built-in scene camera records the environment
and renders in real time exactly where staff members are look
-
ing.
It's as close as it gets to seeing your workplace through the
eyes of your employees.
This information can be used to examine any number of
roles or processes within your production chain. For example,
by observing the gaze of both experts and novices performing
a particular task, you could establish best practice methods;
this information could then be used to update protocols or
improve training material with enhanced visual illustrations
of how to carry out the task.
Because many elements of behavior, especially familiar
ones, are often subconscious, even the workers themselves
may not be able to articulate their thought patterns or focus
of attention. In the same way eye tracking data can reveal best
practices, it also can highlight roadblocks, inefficiencies and
even safety issues.
Observing how workers perform their duties also can shed
light on obstacles that hinder production. For example, do staff
members not see something they should, or does the workflow
system divert their attention during a critical moment, leading
to an increased risk of error or accident?
Eye tracking and real-world applications
To get a clear understanding of how valuable this knowledge
can be, let us look at a specific example.
Research group Tobii Pro Insight was commissioned to ex
-
amine the visual attention of metal workers at H&H Castings,
an aluminum foundry in the United States. Workers wore
Tobii Pro Glasses 2 while performing the time-sensitive and
dangerous task of pouring molten metal into molds.
Eye tracking allowed management to gain a visual repre
-
sentation of the attention patterns associated with "the perfect
pour" from the perspective of experienced workers, which
could then be shown to trainees and incorporated into learn
-
ing material.
The beauty of eye tracking in this instance was that it al
-
lowed management to gain insight into processes that are nor
-
mally quite difficult or impossible to observe. In the case of the
metal foundry, the process of pouring the liquid metal cannot
be interrupted, so it's difficult to study particular elements of
the process in a safe and efficient way.
By using the eye tracking glasses, it was possible to observe,
pause and rewind the process multiple times across multiple
workers. This information also highlighted a particular visual
pattern that occurred prior to a spill, allowing new protocols
to be implemented.
The information gained from this eye tracking study also
dramatically improved the anticipated training time for new
recruits. The foundry hires about two new staff members in
the melt department each month, and the insight from the
study is expected to cut two days off each worker's training
time, which over the course of a year equates to about 400
hours. Imagine the impact this would have on a larger scale
operation.
This technology is not just confined to small scale tests, as
A worker at H&H Castings wears Tobii Pro eye tracking
glasses.